The Pop-Tart at 50: Perfect Just the Way It Is
Brave thinkers have tried to change the indomitable toaster pastry. They have not succeeded.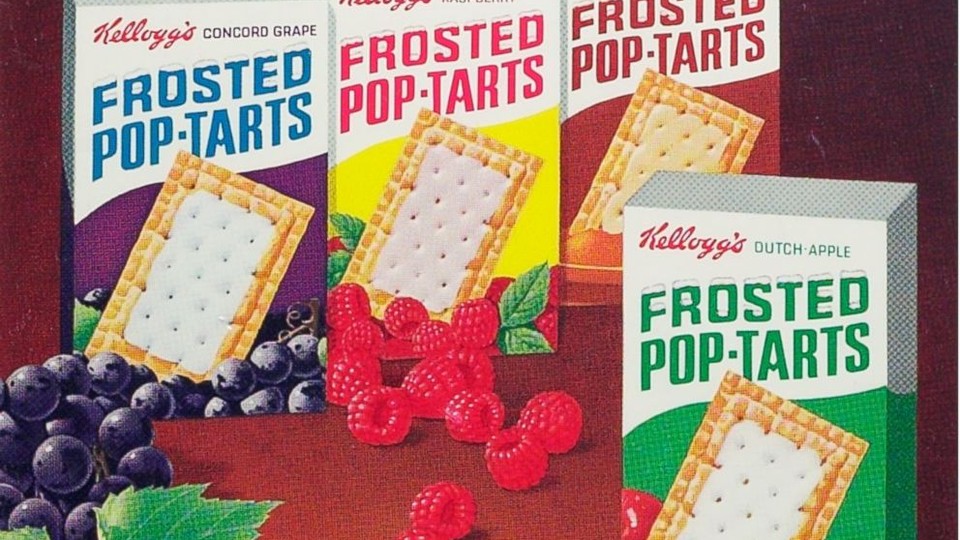 As of this week, Pop-Tarts have been part of Americans' breakfasts—and, let's be honest, late-night snacks—for 50 years. What's remarkable about their reign (besides the fact that, despite an increasingly health-conscious public, sales of the Kellogg product have grown each of the past 32 years) is how little Pop-Tarts have changed since they were introduced in 1964. The rectangular shape? The shiny swipe of frosting? The smattering of sprinkles? Their ingredients may have changed; but today's Pop-Tarts look, at least, like the Pop-Tarts of yore.
Which doesn't mean that the Kellogg company hasn't tried to build on the success of its product. It has, many times. It's just that those attempts have, for the most part, failed. People like Pop-Tart classic, it seems; variations on a theme? Not so much.
Here are some of the attempts Kellogg has made to disrupt the Pop-Tart:
Pastry Swirls: Introduced in the 1990s, Pastry Swirls were essentially a knockoff of Toaster Strudels. They were larger and thicker than standard Pop-Tarts; they also had less icing. They were discontinued in 2001.
Snak-Stix: Introduced in 2002, these were meant to be portable Pop-Tarts. You could break apart the pieces into individual sticks—making, the thinking went, for an easy after-school snack. Snak-Stix were discontinued in 2003.
"Ice Cream Shoppe" Flavors: Trying to expand on its offerings for the classically shaped Pop-Tart, Kellogg introduced "Ice Cream Shoppe" flavors in 2005. (Think flavors like "hot fudge sundae.") The new flavors boasted 25-percent less sugar than their classic counterparts; this was, apparently, not a selling point. The new flavors were discontinued in 2012.
Go-Tarts: Go-Tarts were another try at a smaller, even more portable version of the Pop-Tart. Introduced in 2006, they were thicker and narrower than regular Pop-Tarts, and wrapped individually (rather than in packages of two). They were discontinued in 2008.
Pop-Tarts Splitz: Perhaps attempting to capitalize on consumers' indecision when it comes to flavor selection, Kellogg introduced these two-in-one Pop-Tarts in 2007. Each pastry was split down the middle, with each flavor on each side, resulting in combinations like chocolate-vanilla and strawberry-blueberry. Splitz were discontinued in 2012.
Pop-Tarts Mini Crisps: Launched in 2011, mini crisps are bite-sized versions of Pop-Tarts. They may represent a peak in Pop-Tarts as junk food, since they have no fruit filling: They are simply flavored pastry with frosting. (They're also marketed as something of a health food: They're sold in pouches that advertise the fact that they contain only 60 calories per pouch). Mini Crisps may be Pop-Tarts' most successful attempt at Pop-Tart innovation to date: Kellogg originally made them in four flavors; so far, it has only discontinued two of them.