What Is Pandora Doing Right?
The music streaming service has more female employees than many of its peers in tech.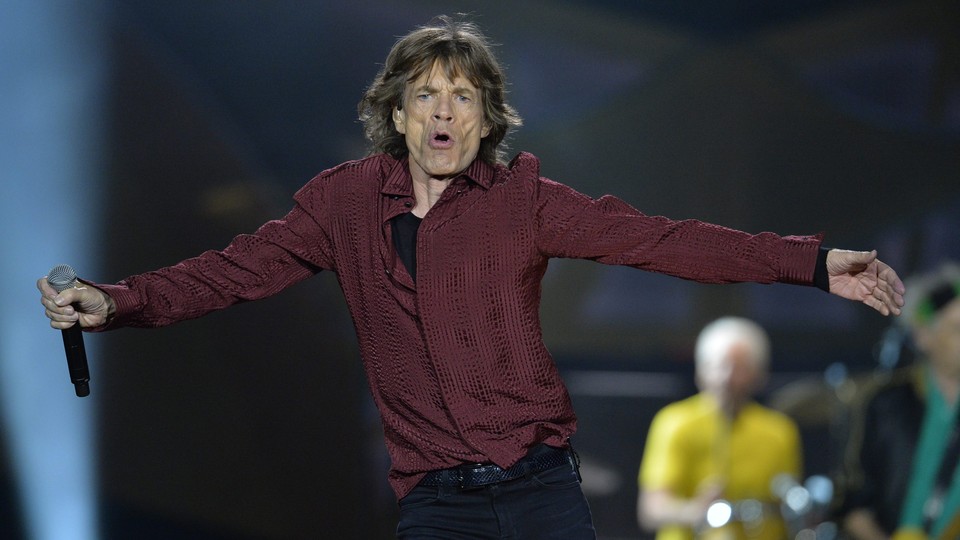 Another week, another addition to Silicon Valley's diversity data parade.
All summer long, leading tech companies have been trumpeting slash apologizing for the numbers that show how few women and people of color most of them employ.
The typical gender breakdown seems to be about 70-30 men-to-women (Google, Facebook, Twitter)—with some companies slightly more balanced (LinkedIn, Yahoo, eBay) than others. But few of the leading tech firms that have stepped forward to share their diversity details have workforces that reflect the actual 50-50 gender split in the larger population.
Which is why Pandora stood out when it announced this week that 51 percent of its employees are men and 49 percent of them are women. (To put that in perspective, Ericsson also released gender diversity data this week: Its global workforce is 78 percent male.)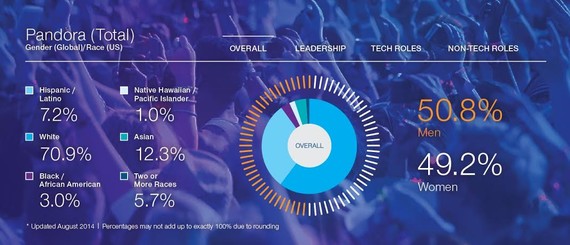 An overall look at gender, of course, is only a slice of the diversity picture. Pandora's leadership is 61 percent male, and men have 82 percent of the company's tech jobs. Plus, like its peers in Silicon Valley, Pandora's workforce is overwhelmingly (83 percent) white and Asian.
But Pandora's relative gender equity is still noteworthy. And it raises a couple of important questions: What is Pandora doing differently? What can we learn from the its approach?
Unfortunately, Pandora—just like the two dozen other leading tech companies I've asked this summer—won't talk on-record about the issue. A blog post published yesterday by Pandora founder Tim Westergren offered little of substance, at one point making a bizarre connection between the diversity of his staff and the many culinary offerings in Oakland, California, where Pandora is headquartered. (The population of Oakland is far more diverse than the Pandora workforce.)
Here's what we do know, though: Pandora is now specifically focused on recruiting more women and people of color for leadership and technology roles, according to Westergren. And, if its gender numbers and the programs already in place at the company are any indication, Pandora may actually be able to accomplish some of its diversity goals.
Earlier this year, Pandora hired Facebook's Lisa Lee as the company's first diversity program manager. And for years the company has had an internal collective of female employees called Pandora Women who participate in industry events, and spend time collaborating in mentorship and community outreach roles. (They also have a book club, and, yes, they've read Lean In.) More recently, Pandora established a similar in-house collective for the people of color who work there.
Pandora has also joined a handful of other companies in committing to publicly releasing annual updates about the diversity of its staff. And the ability to track progress over time is critically important. But the companies that step forward to talk publicly about diversity in the coming months and years—not just in charts and statements but in casual and formal conversations—will be the ones that might truly change the industry.