My Week on the All-Emoji Diet
Fifty-nine foods are immortalized as emoji. Can someone eat only their real-life counterparts—and survive?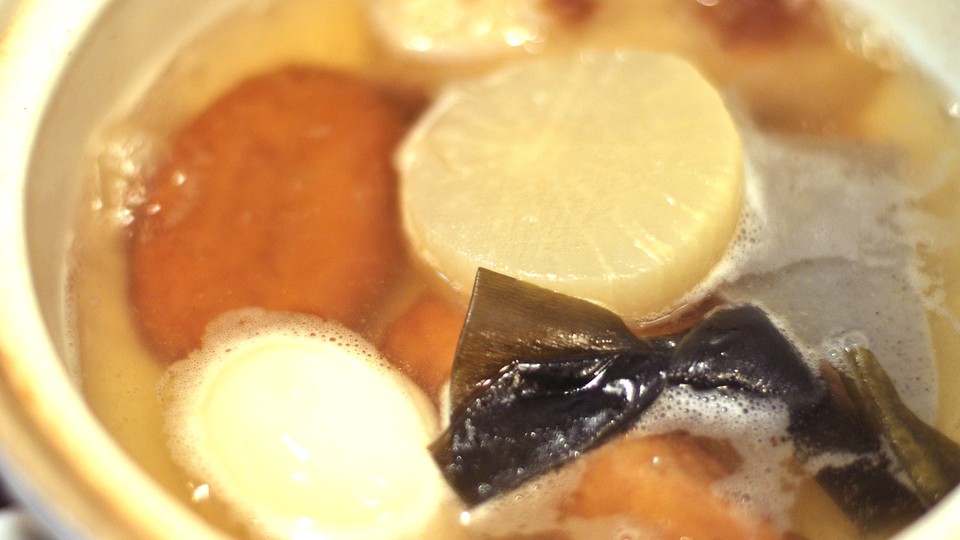 "Why isn't there a sandwich emoji?"
The instant message flashed on my screen from a coworker suggesting lunch. It was followed by: "TRAGEDY."
Tragedy may be an overstatement to apply to emoji, the standardized set of symbols used in texts and online messaging. But when the Unicode Consortium released an update this July expanding its library to include 250 new emoji, my coworker wasn't the only one disappointed that the only new food is a chili pepper. A Change.org petition calls for a hot dog emoji, a Facebook page demanding a taco emoji has more than 1,000 likes, and thousands follow a Twitter account advocating for an avocado emoji.
As these foods continue to wait for emoji immortalization, I wondered why so many of my everyday foods lack a presence in computer text. Including the chili pepper, there are 59 food-themed emoji. What are they? How can they be assembled into recipes? And most importantly, could someone live on emoji alone?
I had to know. I undertook a challenge:
For seven days, I would only eat foods represented by emoji.
I would eat every emoji food by the end of the seven days.
Some further specifications were needed. Though it can be argued that pigs, cows, and other emoji in Apple's Nature category are food sources, I sacrificed bacon and stuck with the clearly defined foods grouped under Objects to avoid sliding down the "technically edible" slope. As I scoured New York for items such as oden and dango, I also learned about the origins of these tiny pictographs from Japan.
Day One
I start the first day of the diet by assessing the contents of my refrigerator. A breakfast smoothie uses bananas, milk (which I judge to be the bottle character) and strawberries, checking three items off the list already. Confidence sets in: This week will be a breeze.
I begin to make a list of what I plan to eat for the week, but some pictures prove hard to interpret. My confusion is cleared up with a visit to Emojipedia, which lists the symbols' official names as designated by the Unicode Consortium. Some of the names give me more dietary leeway than I expected, such as the ambiguous "pot of food," which I eat for lunch in the form of a vegetable stew. Others I've been misinterpreting all along—what I thought was rice and beans is actually curry, and the orange is technically a tangerine. I edit my list accordingly and stock up on fruits and veggies for the week.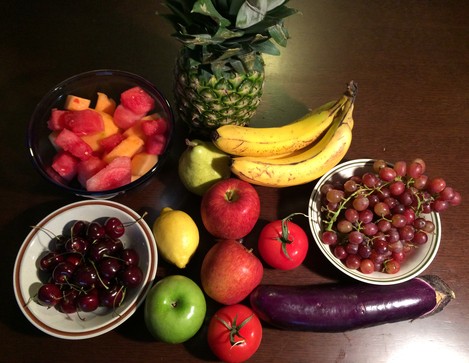 All this produce is offset by a chocolate bar, cookie, and candies. I have a lollipop on my list as well, but this candy seems to have fallen out of modern favor. I can't find one at two different grocery stores and have to make a special pilgrimage to F.A.O. Schwarz (famed for the oversized keyboard scene in the movie Big), where I find them stocked with other old-timey sugar relics. As I wait in line with my single lollipop, I suspect that I'm the only one there to fulfill a diet.
Dinner is spaghetti and red wine. It's not a far stretch from my usual diet, though I have a moment of dismay when I realize there is no cheese emoji, and I must pass up the aged Gruyere I had bought a few days earlier.
Breakfast: coffee ("hot beverage"), banana, strawberries, milk; lunch: veggie stew ("pot of food"), cherries, lollipop; dinner: spaghetti, red wine.
Day Two
I'm already scrounging for breakfast without my go-tos of yogurt, oatmeal, cereal, or bagels. After settling for an apple and green tea with honey, I decide to get more creative with lunch. I chop up roasted sweet potato, eggplant and tomato and combine it into an improvised emoji ratatouille, which suffices for a filling meal, especially supplemented with mid-afternoon chocolate.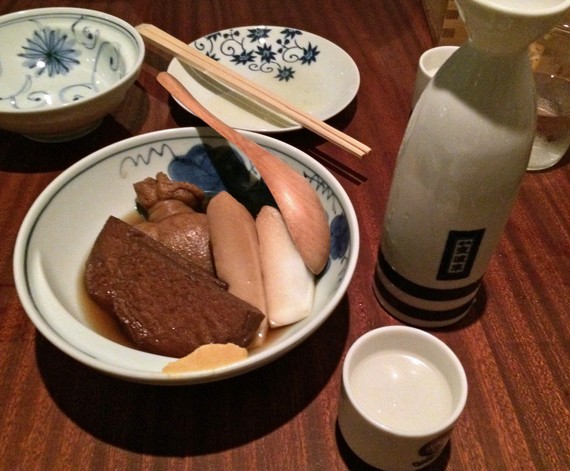 For dinner, it's time to face down my fear of the unknown: Specifically, the mystery brown shapes on a stick. I'm relieved to learn that though this emoji resembles some primitive meat-based weapon, it's actually oden, a soul-food dish of varying ingredients such as eggs and fish cakes stewed in a dashi broth. Like many of the foods, it reflects emoji's origins as a character set created for a Japanese phone operator in 1999. If Western users feel that the characters aren't representative of their daily diets, it's because they were never expected to catch on globally.
I use this opportunity to visit a neighborhood Japanese restaurant and order items I usually skim past due to unfamiliarity. My oden arrives in a bowl rather than on a stick, but I'm told that skewers are more typical of the street-food variety. The meal is rounded out with a carafe of sake and shaved ice with plum syrup.
Breakfast: green tea with honey ("honey pot"), red apple; lunch: roasted sweet potato with eggplant ("aubergine") and tomato, chocolate bar; dinner: oden, fish cake, sake, shaved ice.
Day Three
Thus far, I've made an effort to stay true to the emoji depictions of the food. Since my iPhone shows a chocolate glazed doughnut with sprinkles, that's the variety I order for breakfast, even though someone on an Android or Windows operating system may see a different picture. The Unicode Consortium has standardized the characters descriptions, but emoji fonts—and the technology firms that, for now, are their only designers—are free to interpret those descriptions however they choose. (Android eschews the sprinkles.)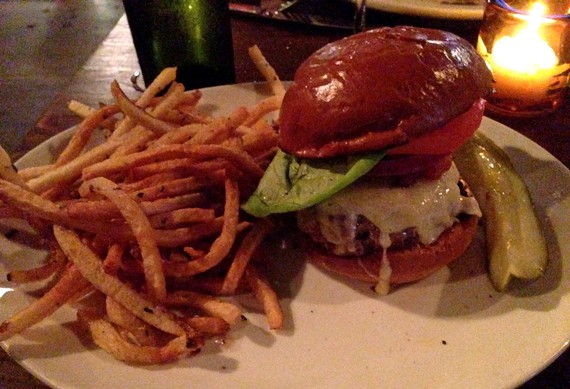 For lunch, I make my way to a bustling Japanese grocer and find neatly packaged rice balls for $1.50 each. It's by far the cheapest lunch I've seen in this business district of $14 salads, which explains why the line to check out is 30 people deep. I devour the sticky rice stuffed with tuna and regret that it took an emoji to discover this place.
Since I'm usually goading my boyfriend into healthy dinners of salmon and quinoa, he's thrilled when I suggest burgers and fries instead. We order at our local gastropub, and I wash it down with a fruity gin sling—since surely "tropical drink" means "tropical cocktail."
Breakfast: coffee, doughnut, grapes; lunch: rice ball, green apple, cookie dinner: hamburger, fries, tropical drink.
Day Four
I'm still feeling bloated from yesterday's starch fest, so I stick with a peach for breakfast and then make a healthy vegetable curry for lunch.
By evening, I've  recovered and am ready for more greasy goodness. I've learned on emojitracker, which shows emoji usage on Twitter in real time, that pizza and beer are the most popular of the food emoji. Who am I to argue with millions of Twitter users? I pick up a six-pack on the way home from work and order in a pepperoni pizza. It's over halfway through the week and I've had a different kind of alcohol every night—clearly the emoji diet is not for teetotalers.
Breakfast: green tea with lemon, peach; lunch: curry and rice, watermelon; dinner: pizza, beer.
Day Five
Aside from Day 3's rice-ball discovery, lunches have been a low point of the emoji diet. With sandwiches, soups, and salads all banned, there are few places I can join my coworkers during lunch breaks. I'm also missing Mexican food, a dietary staple since my days living in Texas.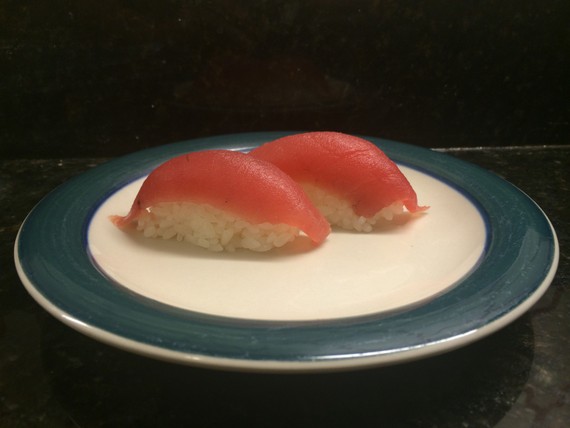 By now, some friends have suggested ways I can cheat in order to expand my diet. One friend is particularly concerned that I can't have tacos and attempts to draw me one with a series of slashes and underscores. However, simple emoticons like :) and more complex ASCII art are not interchangeable terms for emoji, as each emoji corresponds to a specific two-byte Unicode sequence. In lieu of tacos, I have breaded shrimp and a mid-afternoon ice cream cone. Dinner is sushi and rice, making this the most seafood-centric day of my diet.
Breakfast: coffee, fruit salad of watermelon, melon and pineapple; lunch: fried shrimp, tangerine, soft ice cream; dinner: sushi, cooked rice.
Day 6
The emoji diet has had me eating more seafood and fresh fruit, which I welcome as healthy additions. But as I assess what I still need to cover in the final days, I notice two common themes: white rice and sugar.
This diet is essentially the opposite of Atkins. Of the 59 food emoji, eight incorporate rice, and 11 are desserts. One manages to be both—the colored balls on a stick are dango, sweet dumplings made from rice flour and often filled with red bean paste. I locate them at a Japanese food market in SoHo along with a sesame chicken bento box for lunch and rice crackers, a crispy snack food.
After a dinner of veggie ramen (the "steaming pot" emoji), I realize that I'm facing a problem most dieters have never experienced: I need to step up the dessert eating if I'm going to reach my goal. I still have to cross off custard, shortcake, ice cream, and birthday cake, so I stop by a couple shops to purchase the first three and then ride out the ensuing sugar rush.
Breakfast: green tea, fried egg (officially named "cooking," but represented as an egg in a pan); lunch: bento box, dango, rice crackers; dinner: ramen, custard, shortcake, ice cream.
Day 7
It's the last day, and I'm ready to wrap things up. The emoji diet hasn't left me hungry or dissatisfied—if anything, my dessert binge has added some pounds—but it has slimmed down my wallet, since I've been making more food purchases as I avoid the majority of my pantry. I now have lots of recommendations for new food emoji, from my typical cooking staples like garlic, onion, and spinach to snacks like chips, cheese, and popcorn.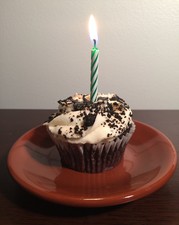 To celebrate my last emoji meal, I invite friends to join me at a new restaurant on my block, and we gorge on the final items on my list with a meal that manages to be as true to emoji as it is to Southern home-style cooking: ribs ("meat on bone"), fried chicken ("poultry leg"), corn on the cob ("ear of maize") and biscuits ("bread").
The final remaining food is birthday cake, since my attempts to crash a birthday party this week failed. With only a few hours until midnight, we procure a cupcake, stick a candle in it, and look up which celebrities are celebrating their birthdays today. My week of emoji eating ends in a way that deserves some smiley faces, or at least a thumbs up: with us toasting martini glasses and singing "Happy Birthday" to Tom Hanks.
Breakfast: coffee, banana; lunch: ramen leftovers, pear, candy; dinner: ribs ("meat on bone"), poultry leg, ear of maize, bread, birthday cake, martini ("cocktail glass").
So is the emoji diet a contender in the weight-loss market? Not likely, given its emphasis on white rice, alcohol, and indulging in a dessert (or three) each day. I did, however, enjoy exploring new foods and restaurants as I undertook my phone-food mission. I won't be limiting myself to emoji again, but I will be eagerly watching to see which foods are added in future releases.
For now, you can find me on Team Sandwich.