A Digital Search for the Long-Dead Grandmother I Never Knew
You can't find everything on the Internet.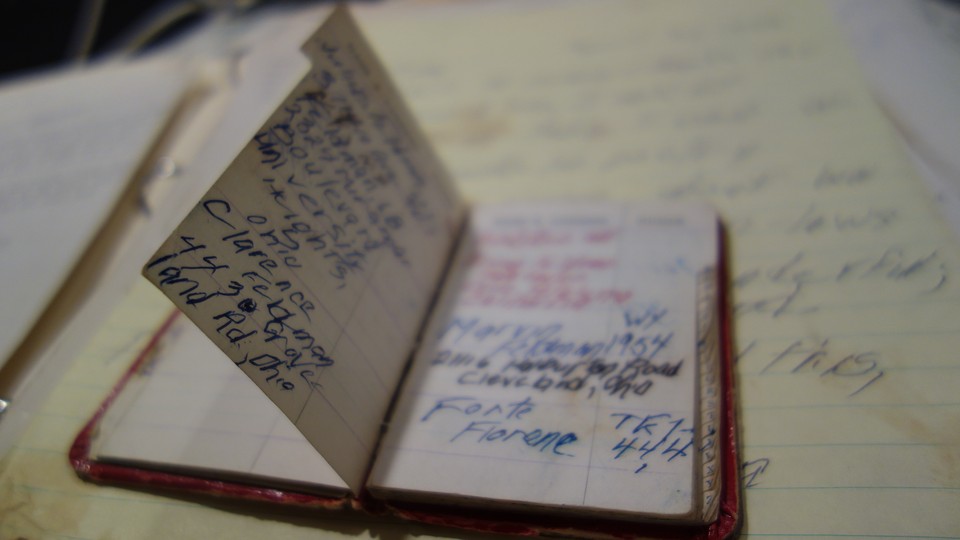 After three years of haphazard searching for a great uncle I never knew, I'm ready to conclude that there are many Irving Feldmans scattered across the continent.
There is Irving Feldman the celebrated poet, who won a MacArthur Fellowship and shares odd biographical details, though not quite enough of them, with the man I've tried to find. There is Irving Feldman the accountant in Toronto, whose name I've tracked through 1960s Canadian Jewish Review records, only to realize it isn't a match. There is Irving Feldman the eye doctor, Irving Feldman the well-compensated executive, Irving Feldman the photochemist.
One of these men could be the Irving Feldman from Brooklyn, the brother of the nurse who was my mom's mother until she succumbed to multiple sclerosis at the age of 40. But not one of them is.
I know. I've asked.
The money spent—on postage affixed to envelopes mailed to octogenarians who might not have emails to check, on registration fees for people-search websites with names like ZabaSearch and PeopleFinders—is modest and easily shrugged aside. But the time and the energy, the late nights spent hunched over these eerie, invasive sites—that's a trickier thing. Still, I know why I continued a search that seemed futile. Tracking down a great uncle I never knew was a strange attempt to track down a grandmother I can never know.
Her name was Sylvia. Hers is a ghostly, long-faded presence in my family. There are black-and-white photos, a tiny red address book. But because she died so young (my mom and her brothers were not yet past high-school age) and because my grandfather remarried shortly after (to the only grandparent I have left today), she's not spoken of often—or not, at least, by anyone who can remember her before she was sick.
Sylvia was like me, my mom would tell me. Same green eyes, same dark curly hair. She was a writer, too, or wanted to be one. For decades, my mom has kept a worn, overflowing binder of her papers—letters, diary entries, poems, and nonfiction pieces from a creative writing course she took in 1963. From a small sampling, you sense the unrelenting tragedy of her life. There is the three-page memoir about losing her child to a drowning accident the same month she lost her mother, the journal entries about being diagnosed with multiple sclerosis—recorded in a shaky, unsteady hand. Then there is the letter from a brother in California. Irving, he was named, though Sylvia called him Sonny and wrote in her diary that she loved him dearly. He'd gone out west to be a professor. Details were vague. My mom had met him several times, but after Sylvia died, her family seemed to vanish with her. What ever became of him? No one knew.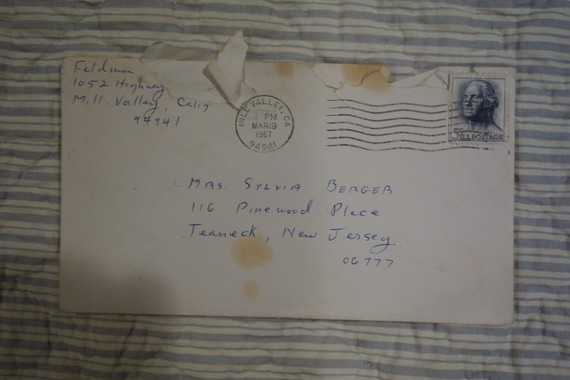 I could find him, I said. You can do that now, with social media and LinkedIn and such. Sylvia had had a sister, too, but we knew she'd since died. But Irving was out there somewhere, I decided, stubbornly and without evidence, the last surviving sibling, waiting to be contacted by a great-nephew across the country he never knew existed. The information economy, I thought, would reconnect us with the lost Feldmans, severed from one another by generations and death.
I've long been fascinated by family history, for reasons I can't quite explain; now I was obsessed, more of a private investigator than a politely curious grandchild. My mom's family is big, sprawling, full of tragedy and untold drama. By establishing contact with the portion of it that's been lost for 30 or 40 years, I seemed to think, I could fill in a yawning gap that no one else seemed compelled to fill. Maybe I'd learn something about Sylvia. Maybe there'd be more questions than answers.
There wasn't much to go on in Sylvia's book: a name ("Irving Feldman?" "Sonny Feldman?" "Irving 'Sonny' Feldman?"), a Petaluma, California address (I tried: no answer), and a phone number (I tried: out-of-service). Without knowing his birth year or middle name or where he'd been born or wound up, the database results were overwhelming. I came across maybe 100 Irving Feldmans. And in regular Google searches, the poet dominated what popped up. I kept up the search. I Facebook messaged the 10 or so users I found with that name, tweeted pointlessly at Irving Feldmans with egg avatars. I tried people-search sites recommended by a friend's mother who worked as a genealogist. Eventually, I pooled together five or six addresses that the Internet claimed belonged to Irving Feldmans in California and drafted a letter to send to each of them. "If you are, in fact, the correct Irving Feldman, we would greatly appreciate a response," I wrote.
But then: mostly just radio silence.
My mailed letters to the Irving Feldman diaspora went unanswered. A few scattered replies came in from the Irvings I had emailed and Facebooked, politely letting me know they were not the correct Irving Feldman but wishing me luck nonetheless. There were coincidences. Irving Feldman the accountant said he had a first cousin named Sylvia Feldman living in New York. Irving Feldman the celebrated poet replied in graceful, apologetic detail. He had once had a college friend Sylvia, he said, who'd gone on to marry a Feldman. "Last saw SF in Great Neck about 30 years ago," he reported. "Is my Sylvia your grandmother?" But of course, no: My grandmother had by then been dead for 12, maybe 15 years. There is another Irving Feldman out there; his Sylvia is—was, would have been—my grandmother. But where?
* * *
Social media has made the world more open and connected, especially if you're interested in live updates on toddlers belonging to the kid who tied your shoelaces together in sixth-grade gym class. But if it's a member of the Greatest Generation you're trying to find, you may as well be shouting into a cave. A recent Pew survey found that only 37 percent of adults aged 80 or older use the Internet. Sylvia's long-lost brother, if he's out there somewhere, probably isn't in that minority. The yellowed scratchings in her tiny, old address book simply aren't a match for the deluge of human data on today's Internet. Maybe he'd died decades ago after all.
But my efforts weren't entirely without reward. Thumbing through that same address book several summers ago, my mom found another curious entry: A Clarence and Marvin Feldman, each paired with a Cleveland address. Sylvia once had cousins in Ohio, mom knew; the names must belong to them. Were they still there? By coincidence, I was already planning a trip through Ohio for an unrelated research project. I set about combing through online directories again and emailed half a dozen elderly Jewish men. I landed on some professional profiles. There was Marvin Feldman the finance broker, Marvin Feldman the resource economist, Marvin Feldman the attorney who'd been practicing since the 1950s. My email was brief, its subject line questioning: "Marvin Feldman from Cleveland?"
Three days later, the attorney replied. He described an uncle. The uncle's daughter, Sylvia. His first cousin. Names matched. There was a phone number. "I would welcome a call from you."
So I called. It was confirmed: This man, a vague scribble in a 1950s address book conjured suddenly to life, was my 81-year-old first cousin twice-removed—the only relative of Sylvia's whose existence in this century I could seem to confirm. Sylvia's notes and diaries and life seemed suddenly more real. Her family existed, traceable somewhere in the digital ether!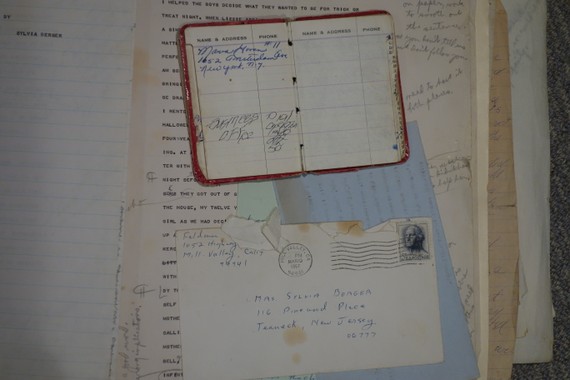 Plans were set: I would soon be driving to Ohio with a friend; Marvin and his wife wanted to meet me; how about they take us out to dinner? Of course, I said, and when we arrived at their Cleveland streetcar suburb, they were beaming at the opportunity to meet these out-of-town youngsters who'd contacted them entirely out of nowhere. Marvin and his wife had no children or grandchildren of their own, we soon learned. It was strange to realize I'd appeared seemingly out of nowhere like some visiting surrogate grandchild, but stranger still to see the obvious delight Marvin and Alva took in this materialization: They would take me out to the Cleveland Skating Club, the unspoken agreement seemed to be, and feed me and fuss over my portions as if they'd been my kindly Jewish grandparents all along. Observing from afar, you'd think that's who they were, if not for my sharp questioning and the obsessive notes I was keeping in a reporter's notebook. This was my only chance to hear about Sylvia's family. I needed to take a full report.
Except there wasn't much to tell. Marvin had met Sylvia only once or twice. He'd heard about her illness, though not much, and knew nothing of what became of Irving. It was his brother, by then deceased, who'd corresponded with her. So instead I learned about Sylvia's father—Marvin's uncle—and his many brothers—my great-great-uncles—who had perished in the Holocaust, and about the Polish town they'd come from.
"I've talked more about your family tonight than I have in 40 years," Marvin told me. Then the subject shifted. I learned about his life, his health ailments, his law career, his favorite handicap parking spots in town, but mostly, he and his wife wanted to know about me. It's a strange thing, contacting an estranged blood relative out of the blue and crossing state lines to meet them weeks later; they could be understood for wanting to know who I was, what I was studying in college, how I spent my free time. As any grandparents would, they took obvious pleasure in the most mundane details of my life. I had come a long way expecting to learn much about the grandmother I never knew, but so many years had passed and there I was instead, telling this man and his wife about a grandson they'd never had.
That was something, too.