Why Snapchat Cares Where You Are
As Snapchat adds location features, is it becoming less Snapchatlike?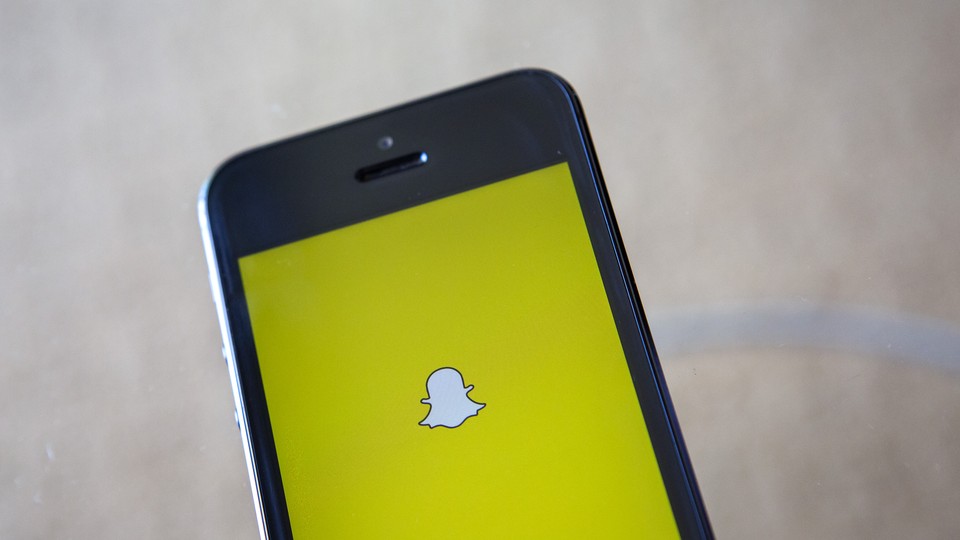 When Team Snapchat announced the launch of Snapchat Stories last fall, it expanded the intimacy of the service so that users could "share your day with friends—or everyone." More recently, though, the service is fixated on the concept of everywhere, with the addition of location-based filters and other geotagging practices that indicate at an increasing interest in where its users are.
Both steps—in the direction of everyone and everywhere—hint at the larger ways in which the ephemeral photo sharing service is evolving.
Perhaps to keep up with apps like Instagram that allow users to add the location of photos, Snapchat has launched a new filter system for users in New York and Los Angeles. Depending on which neighborhood you're in, you can unlock different possible filters—some of which seem downright ad-like. Waiting in line at Disneyland? Why not take a snap, swipe to the right, and add the Disney-themed art to your creation?
At the same time, Snapchat is expanding uses for 'Our Story,' a collective snap-narrative created by users in one location but viewable by people everywhere. The new feature, first tested on a smaller scale at the Electric Daisy Carnival this past June, allows complete strangers to share moments from a shared popular event by adding snaps to the same story. (Snapchat launched this cooperative project to appeal, too, to users who can't attend these events, but still want to experience the action.)
A recent high-profile test case came from the final match of the FIFA World Cup, at the game between Germany and Argentina. When viewing Snapchat stories, users had the option of opening "Rio Live," a global story that included selfies from beautiful women on Brazil's beaches, videos of screaming fans, and scenes from inside the arena. (Whereas past updates have required users to opt-in, Our Story automatically appeared on phones.)
In one snap, fans taunt Argentinian star player Lionel Messi following his loss as he broods up a staircase and exits the stadium. Over 200 seconds of stories were added to the Our Story feed, including a snap of Lebron James sitting in the crowd, listening to his Beats headphones. From Snapchat's perspective, it seemed, there was a natural narrative to be woven by users who were all congregated in one place. Why not give them a tool that would help bring them together through Snaps as well as physical proximity?
This wasn't how Snapchat users saw it. The lack of choice in adding Rio Live immediately caused contention. As more and more snaps appeared in the story, people wondered how Rio Live ended up on their phone in the first place. They felt vulnerable:
Why do I have "riolive2014" on snapchat? I don't remember adding him... 😰

— Akash (@OfficialAkash) July 13, 2014
Many expressed sentiments of bemusement or outright anger:
I DO NOT CARE ABOUT RIO LIVE. GET OFF MY SNAPCHAT STORY!

— Emily Webster (@emmaleetayla_xo) July 13, 2014
Understandably, fans of Argentina didn't necessarily adore the automatic updates of the crowd belting "Olé" after the win, which could explain some of the backlash. But the tweets hint at the larger questions which users have about the new direction in which Snapchat—once known for the sense of exclusivity and coziness it created among users—is headed. It's clear that Our Story, which automatically gives users access to a worldwide audience, has upset the community of Snapchatters.
The new emphasis on location may strike some users as too intrusive, un-Snapchatlike, even. Which is why it feels a bit like a subtle shift in Snapchat's mission. With RioLive and with geofilters, it seems Snapchat wants to be the destination for users who want to share not just temporary—and often context-free—vignettes, but for those who want what they share to be rooted in something identifiable, something trackable: a place. (Snapchatters are required to turn on location services to use the new features, although these locations are not stored by the company, it says.)
Another question has to do with what value users' locations may have to Snapchat. Depending on where a person is snapping, there may be the opportunity for partnerships with high-profile destinations. It seems possible that Disneyland, for example, is already partnering with Snapchat, Mashable recently reported, since visitors to the amusement park can access special Disney filters.
All this is a reminder that what makes Snapchat successful may be different from what made it popular. Use of the app continues to rise, with nearly a quarter of 18-29 year-olds owning an account. There are more than 1 billion Snapchat Stories viewed per day. As Snapchat continues to gain ground, though, many who use it are beginning to question just how deep into their lives they want the app to reach.