Gambling Online, Gambling in Casinos: What's More Addictive?
Researchers say architectural design cues make people want to gamble, perhaps more than digital environments do.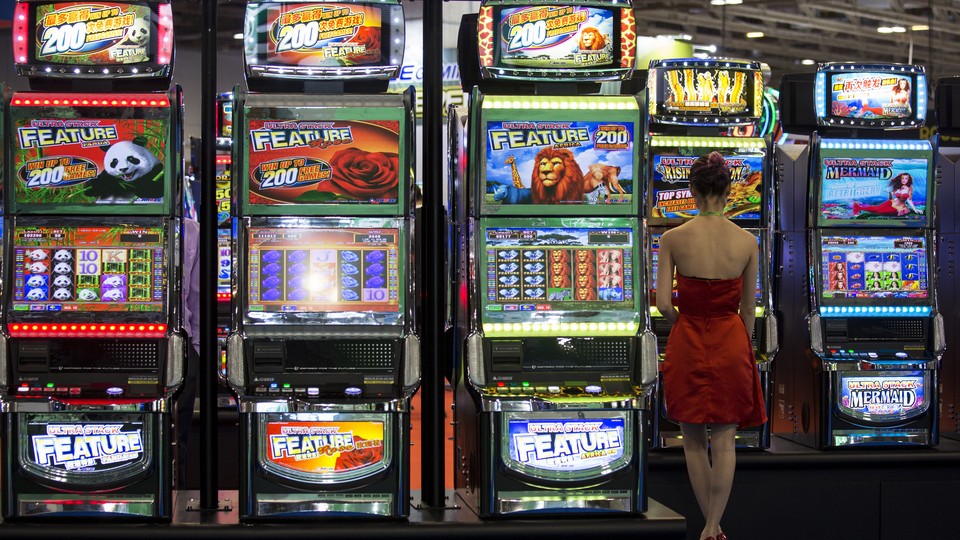 The first time I ever stepped foot inside a poker club I could feel my gut tighten as I walked through the door. Just the thought of losing even a small fraction of my meager savings was enough to cause my body to spasm in trepidation.
And yet I was immediately seduced. The place seemed to convulse with frenetic activity. Players shoved piles of money across the gaming tables as they playfully antagonized their opponents. Long-time regulars laughed together about the legendary gamblers that had struck it big or gone broke. Losers grieved and berated the dealers, while winners gloated and tossed them fat tips. The symphony of fortunes swelling and collapsing was, to me, enchanting.
Over the next few years the online poker boom reached its height, and I spent a good deal of time in the privacy of my home, gambling on the Internet. I enjoyed the speed and convenience of playing online: In a matter of seconds, I could use a debit card to deposit money into my account and play several different tables at once. I also liked certain aspects of being anonymous. There was no physical audience present to be embarrassed in front of when I made a foolish play or lost a lot of money. If I busted my account, I could simply close my laptop and try again some other day, and no one else had to know.
But despite both the efficiency and accessibility of gambling online, I still often found myself craving the inside of a poker club or a casino. The games offered in brick and mortar institutions were the same as the ones I could find online, so what then was the allure of these places that made me forgo the obvious comforts of gambling in my own room?
* * *
For decades, those who tried to study the habits of gamblers have been frustrated by one crucial complication: a lack of reliable data. Studies often have to contend with unreliably small samples sizes and monitoring environments that don't effectively simulate those of gambling establishments. The misreporting of statistics—both intentional and unintentional—by study subjects also compromises findings. But with the emergence of online gambling, researchers have an unprecedented opportunity to collect large amounts of unbiased data about gamblers as they operate in authentic gambling environments.
And they've unearthed one finding in particular that is noteworthy: Overwhelmingly, Internet gamblers exhibit a remarkable amount of restraint.
A series of studies conducted by the Harvard Medical School's Division on Addiction, aimed at providing public policy makers with empirical research about Internet gambling, have reached a few general conclusions about the behavior of online gamblers. In partnership with bwin, a large European gambling site, the researchers were able to collect and analyze the data of tens of thousands sports bettors, online casino gamblers, and poker players over a period of two years.
From these studies, a prominent, unifying theme emerged: In each gambling category, the vast majority of players gambled infrequently and in moderation, while a small subset of players (between 1 percent and 5 percent) exhibited intense gambling behavior that far exceeded that of the rest of the sample.
Out of over 4,000 online casino gamblers examined, the median betting frequency over a period of nine months was once every two weeks, with a median outcome of around a 5.5 percent loss of all money wagered. One analysis of the roughly 40,000 sports bettors examined determined that participants placed a median of 2.5 bets of $5.50 every fourth day. And researchers at the University of Hamburg, in a study intended in part to supplement some of the work accomplished by the Harvard Medical School, found that from the over two million online poker identities they observed over a period of six months, the median player played only 4.88 hours and most players paid less than a dollar in rake fees per hour per table. (The separate studies placed emphasis on the median values, as they derived that the small group of intense gamblers drove up the mean values considerably.)
All this data suggests that broadly available online gambling won't likely be an agent of wholesale societal destruction, as some have claimed. In fact, the effects of the vast increase in exposure to gambling that the Internet offers are, on a large scale, relatively mild. In 2011, Howard Shaffer and Ryan Martin, then staff members at Harvard's Division on Addiction, wrote that "contrary to predictions derived from the exposure model, the prevalence of PG [pathological gambling] has remained stable or been influenced by adaptation during the past 35 years despite an unprecedented increase in opportunities and access to gambling." According to Shaffer, when new opportunities to gamble are introduced into an area there is a short term increase in gambling behavior, but the frenzy eventually subsides and returns to normal levels. In the case of Internet gambling, many people simply acclimate to the increased availability of betting options or become quickly tired of it—sometimes in a matter of weeks.
Part of this has to do with human adaptability. Novelty wears off pretty quickly for most people. But beyond our neurological ability to adapt to new environments and technologies, there may also be a psychological basis for what tempers the seduction of online gambling over the long-term—one that might help to explain my frequent urges to ditch my laptop and rush out to the local poker club.
* * *
In 2006, researchers at the University of Guelph published a paper in which they concluded that a specific type of casino design was best for stoking people's desire to gamble. The study's authors collected the emotional and psychological responses of subjects to the "playground" model of casinos—distinguished by warm colors, "the presence of accessible green space and moving water"—and the Friedman-design model, in which the "gambling equipment should be the dominant decorative feature in a casino, and décor should be used only to highlight and enhance the equipment layout."
The researchers determined that the playground model elicited higher responses of pleasure as well as mental restoration, a quality they found to be linked to a person's willingness to gamble. Appearing to validate these conclusions are the financial reports of the Roger Thomas-designed Bellagio and Wynn hotel-casinos in Las Vegas, which contain extreme archetypes of the playground-style gaming floor and have trounced many of their Friedman-style competitors. One of the authors of the University of Guelph study, Karen Finlay, told the New Yorker that "gamblers in a playground casino will stay longer, feel better, and bet more. Although they come away with bigger losses, they're more likely to return." In other words, it's possible that many gamblers are not actually seeking the most convenient or efficient place to win money, but the most comfortable space in which to lose it.
If the Bellagio lies at the far end of the playground side of the design spectrum, then the personal computer lies at the far opposite end, on the Friedman side. When I play poker on my laptop, not only is the gambling equipment the dominant decorative feature of the casino, but it's also the only feature. In fact, the casino and the gambling equipment are one and the same. Although I'm able to play in the comfort of my own home, when I do, I am rarely mentally relaxed. I don't see any opulent chandeliers, gold mirrored ceilings, or lotus-flower sculptures—hallmarks of a calming, restorative Thomas-designed casino. Instead, I am wholly engulfed in a chaotic world crowded by my flashing LCD monitor, frantically beeping game alerts, and the distractions of myriad open Internet tabs. This is one of the reasons why, after several days of gambling online, I feel a sense of relief and rejuvenation when I step foot inside a poker club.
Another reason is because inside a gambling establishment I am part of a community. Online, the playing sessions are too brief and anonymous for social connections to easily develop, but in a casino or card room I can almost immediately plug into some sort of social hierarchy. In the countless hours I've played online I've never made a single acquaintance, but through gambling in-person I've developed several strong friendships and become part of a tight-knit subculture. The mutual exposure to the danger of losing money engenders a kind of camaraderie at the gaming table that I've rarely found elsewhere. As a result, when I gamble in brick and mortar institutions, I can gain status and meaningful ties to others. When I gamble on the Internet, all I have to win or lose are the contents of my account.
There is little quantitative research in the way of investigating sociological influences on gambling habits. However, the University of Guelph study on casino design did yield one small, intriguing piece of evidence in this respect. Study participants were asked to grade specific elements they observed in various casino models. "Commonly high rated elements were vegetation, an uncluttered scene, water, visually interesting décor, and blue skies," the researchers found. "Low rated elements tended to include a focus on one individual operating a slot machine."
Perhaps gambling privately online loses some of its appeal simply because, for extended amounts of time, people just don't want to be alone.