The Original Patent for the Slip 'N Slide
The "portable aquatic play device for body planing" was inspired by the design of a roll of film.
Ah, the slick yellow quintessence of summer vacation.
For generations of former children, the Slip 'N Slide evokes a strain of nostalgia that pairs perfectly with Super Soakers, water ballooons, and Fla-Vor-Ice.
Beloved though it may be, Slip 'N Sliding has always been a sort of a dicey activity. Compared with the smooth gliding of happy children in commercials, many found the roll-out backyard slide was instead an opportunity to careen into metal brackets used to staple it to the grass, collide with a slippery friend, or acquire bruises while bumping over uneven divots of dirt.
In a 1993 recall, consumers were cautioned that only children should use the slides—teens and adults were too tall and heavy to slide, which put them at risk of permanent spinal cord injury resulting in quadriplegia or paraplegia.
Today's Slip 'N Slides are fancier than they used to be—with sprinklers lining the edges, extra wide lanes, and pools to land in. But the original slide, patented in 1961, was relatively high-tech in its day. It was inspired by the long, durable-yet-flexible design of the filmstrip, and invented to turn an activity people were already doing into a user-friendly product. That's according to patent documents from Robert Carrier, who called his idea "a portable aquatic play device for body planing."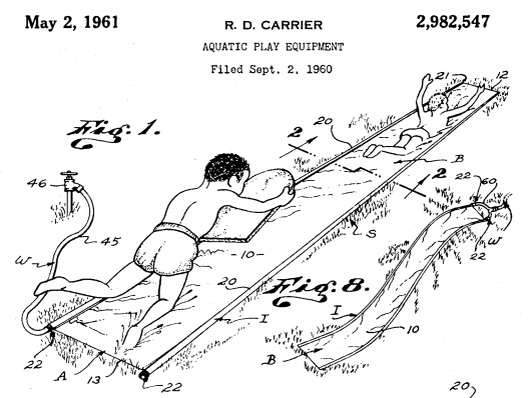 Body planing, Carrier explained, referred to the practice of hurling oneself into shallow water then gliding across a slick coating of muddy earth—which may have been fun, but wasn't for everyone. From Carrier's patent filing:
The primary disadvantages with the ideal natural environments for body planing and sliding set forth above are, first, the scarcity of such places, second, the fact that mud and clay frequently carry sharp and abrasive materials which are dangerous, and, third, such material is extremely messy and generally distasteful or unpleasant, and requires that one having played therein bathe and clean himself and his wearing apparel vigorously and thoroughly.
Carrier wanted to take all of the good, fun parts of body planing (sliding! cool water!) and eliminate the not so good (mud! sharp objects!). And so, the "flexible, soft, smooth, water-lubricated" aquatic play device—later marketed by toy maker Wham-o as the Slip 'N Slide—was born. "It's crazy," an early ad promised, "people scoot like seals!"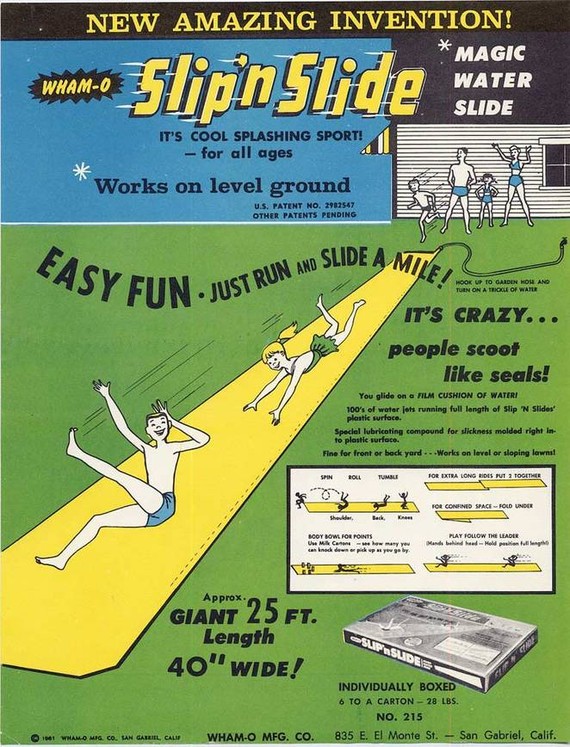 The slide quickly established itself among Wham-o's oeuvre of hit toys, which included the Frisbee, the Hula Hoop, Silly String, and the SuperBall. (Toy legend has it that a giant SuperBall made for promotional purposes was once accidentally dropped from the 23rd floor of a hotel in Australia. "It shot back up 15 floors, then down again into a parked convertible car. The car was totaled but the ball survived the 'test' in perfect condition," according to Wham-o's website.)
By the Slip 'N Slide's 50th birthday in 2011, more than 30 million of the rain-slicker-yellow slides had been sold, according to Wham-O. And the company has been patenting new slides to slip on ever since.