The Lost and Found Legacy of Barbara Ringer
Remembering one of the architects of American copyright law—and one of the legal world's pioneering women
I came across a quote a few weeks ago—one that so perfectly encapsulates the outdatedness and skepticism surrounding copyright law—that I couldn't believe I hadn't seen before: "The 1976 Copyright Act is a good 1950 copyright law."
It was attributed to someone I didn't know: Barbara Ringer.
She was one of only a few women in her graduating class at Columbia Law School back in 1949. Just after graduation, she took a position with the Copyright Office as an examiner, where she determined the registrability of applicants' submitted works. When she wasn't busy working her way up through nearly every position at the Copyright Office, Ringer was drafting the Universal Copyright Convention, attending international copyright conferences, and teaching at Georgetown Law Center as the university's first woman adjunct professor of law.
She conducted empirical research. She published her work in law journals. She even wrote the article about copyright law for the Fifteenth Edition of the Encyclopedia Britannica.
And then I realized that I did know her. We all sort of know her: She was one of the lead architects of the 1976 Copyright Act. I went to law school to become a copyright lawyer. I had read her copyright law. I'd taken classes about her copyright law. I'd even written about her copyright law. And yet, I had never heard a word about her.
When I read the existing Wikipedia page about Barbara Ringer, though, I was unimpressed. I had been editing Wikipedia since college, so I decided to learn about Ringer by re-writing her Wikipedia article as part of the WikiCon 2014 article edit-a-thon. What I found was the story of a brilliant woman ahead of her time and—in some ways, still—ahead of ours.
Almost as soon as she joined the Copyright Office, Ringer set about updating the 1909 Copyright Law, an effort that had been tabled due to World War II. She reignited interest in reform, and spent more than two decades proposing legislation, negotiating among copyright owners, and lobbying Congress. She drafted most of the bill by herself.
Ringer's efforts brought United States copyright law—previously, one that had been passed before the advent of commercial radio, television, and copyright machines—into the modern era. To the chagrin of many, her legislation sparked the trend in expanding copyright protection. The 1976 Copyright Act extended the length of copyright protection, from 28 years under the 1909 Copyright Act to the lifetime of the author plus 50 years. Her efforts also codified the fair-use doctrine, which permits some unlicensed and unauthorized uses of copyrighted works.
And, at her insistence, the Copyright Act used both "he" and "she," making it one of the first pieces of federal legislation to include dual gender pronouns.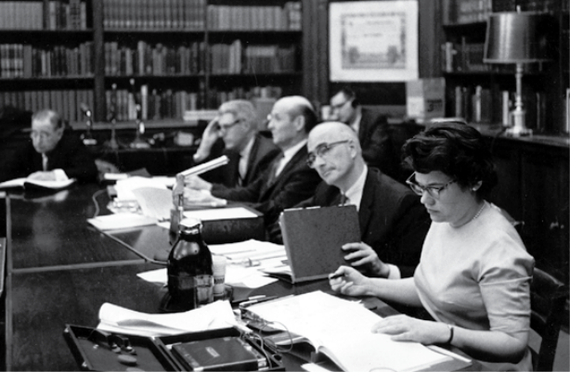 I felt like I was getting to know a kindred spirit in copyright law. A role model.
When I found a photograph of Ringer at a copyright hearing, wearing horn-rimmed glasses and sitting at a table filled with men, I couldn't help wondering what she was like in that room. I imagined that her voice was quietly commanding. I started thinking of her as "Babs."
And the more I got to know Babs, the more I realized that she was a bona fide badass.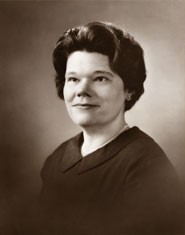 Not only was she almost singlehandedly responsible for overhauling a copyright law that predated World War I, she was the first woman to serve as Register of Copyright—a job she finally received because she successfully sued the Copyright office for sex and race discrimination. And while she waited for the Copyright Office to get its act together, she served as the Director of the Copyright Division of UNESCO.
I learned something else about Babs that, as a copyright nerd, completely blew my mind: The Supreme Court cited her testimony before Congress in footnote 22 of Sony v. Universal Studios, better known simply as "Betamax."
Babs—the animating force behind the United States' new copyright law, the former Register of Copyrights—had testified before Congress that recording a song off the radio for personal use would not violate her copyright law. "You simply cannot control it," she'd said, "My own opinion, whether this is philosophical dogma or not, is that sooner or later there is going to be a crunch here. But that is not what this legislation is addressed to, and I do not see the crunch coming in the immediate future... I do not see anybody going into anyone's home and preventing this sort of thing, or forcing legislation that would engineer a piece of equipment not to allow home taping." And, sure enough, the Supreme Court held that copyright law could not squelch out home recorders like the Betamax even if they were capable of recording copyrighted works.
Babs had so thoroughly engaged me that I somehow managed to lose track of why there were detailed pieces about her career in the Washington Post and Wall Street Journal: Barbara Ringer passed away in 2009. She died alone, in Lexington, Virginia, due to complications from dementia.
The corner of my eyes stung. I felt a tightness in my chest.
I had spent hours sharing Babs's story in a way it had never been shared with me. I felt like I'd just gotten to know her. And almost as quickly as I'd found her, she was gone again.
I wish I could know what Babs would have thought of the recent Supreme Court decision in Aereo, striking down perhaps the biggest television innovations of the 21st century. The Court held that Aereo's business model—a warehouse of teeny antenna, one for each customer, that provided an individual stream so people could watch television on their computers—constituted an infringing public performance.
Aereo is the most recent decision in a line of copyright cases that fulfill Babs's predictions about her "good 1950 copyright law." In a 1981 law review article, Authors' Rights in the Electronic Age: Beyond the Copyright Act of 1976, she explained that copyright law "may be resilient enough to serve the public interest for some time to come... [but] some of its inadequacies are already becoming apparent, and no prophet is needed to foretell the need for substantial restructuring of our copyright system before the end of this century."
As much as Babs accomplished, there is much that hasn't changed. Too many tables are filled predominantly with men and, despite persistent petitioning of Congress, little movement has been made on copyright reform. For all that Babs did, it is her vision of the Next Great Copyright Act that stays with me the most. Barbara Ringer said that the public interest of copyright law should be "to provide the widest possible access to information of all kinds."
It's a goal that fits so perfectly into my personal ethos that I can't help feeling like she wrote it, impossibly, for me to find.