New York City Musical References, Mapped
Music is embedded in the streets, like the streets are embedded in the music.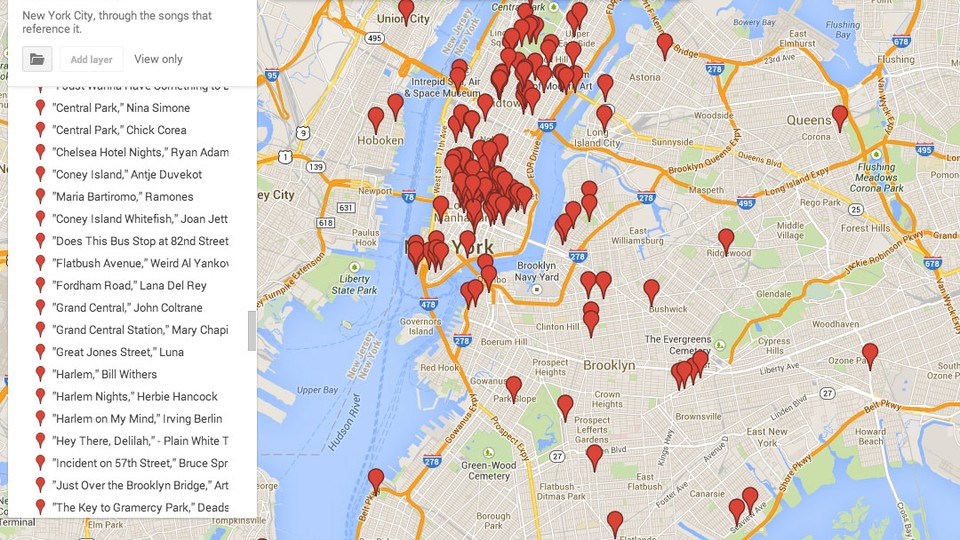 As the nation's cultural mecca, New York City has been honored by musicians inside and outside the five boroughs. They invoke its streets and namecheck its neighborhoods in song after song.
Wikipedia hosts a list of songs about New York City. It is very long, but it's not all that interesting.
And that's where a guy named Constantine Valhouli (of Facebook Fakelore fame) comes in. As a side project to his real estate development activities, he created a map of about two hundred New York references in popular music. (You can submit more to: musicmapnyc@gmail.com.)
Valhouli turned the music into a spatial database, layering different eras of the city and genres of music onto the streets.
The clusters on the map tell stories. Like this stretch in Brooklyn, which Jay-Z and M.O.P., and Bob Dylan have all referenced in their music.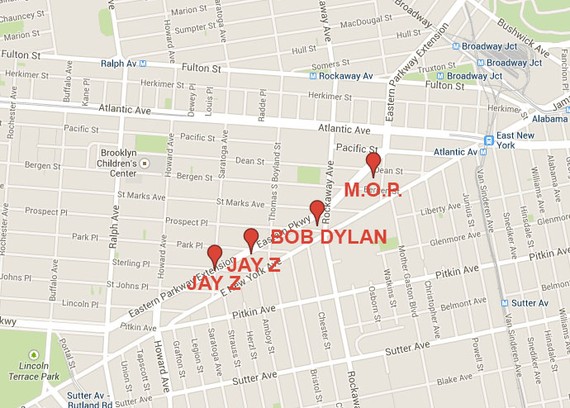 Or this bit of the West Village, which features the Stones, The Clash, Lou Reed, Leonard Bernstein, and (again) Bob Dylan: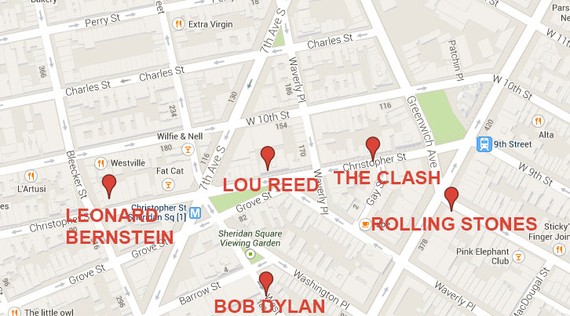 The music map only shows one city within the city. There are many more. The places filmed in movies. The Internet tubes. The lost agricultural infrastructure.
A now-defunct startup called Small Demons once tried to create an atlas for books, connecting people around the data hiding inside books. Caterina Fake's Findery tries to draw everyday users' stories from their brains onto city maps, too.
But mostly, this sort of local folk knowledge exists as a side project, or at best, a series of crazy quests like Bob Egan's attempts to track down famous album covers shot in Manhattan.