The Cats of the World, Mapped
A lesson in digital privacy
There are a lot of cats in the world, and there are a lot of cats on the Internet. These two facts—one a longstanding reality, the other a longstanding cliche—often collide with each other in predictable ways. And sometimes in less predictable ways. Did you ever think, for example, that someone would take the time to locate the many cats of the world on a digital map?
Well, someone has.
Owen Mundy, an artist, designer, and programmer who teaches at Florida State University, recently published "I Know Where Your Cat Lives," a project that tracks the world's cats—or, well, 1 million of those cats—on, yep, an interactive world map.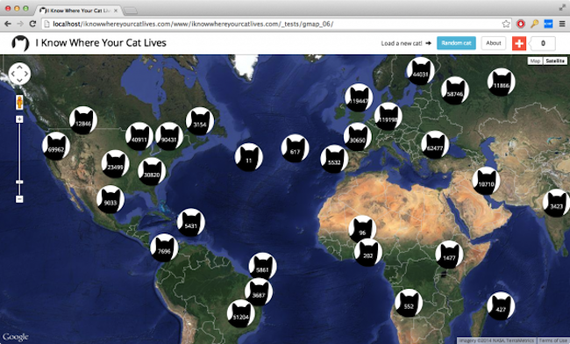 To make his cat-map, Mundy used data provided by cat owners—and/or cat fanciers generally—themselves. Humans, when they post a picture of their cats on Instagram or Facebook or Twitter or what have you, often add a "cat" tag to the image to clarify, organize, connect with other cat-fanciers, etc. That tag is the key piece of information Mundy used for the project. He accessed photo-sharing sites' publicly available APIs, searching for those "cat" tags, and then ran the results through clustering algorithms (using, he notes, "a supercomputer at Florida State University in order to represent the enormity of the data source"). Then, he "located" the cats through the latitude and longitude coordinates embedded in the metadata of the photos that depict them. 
Then, he cat-mapped.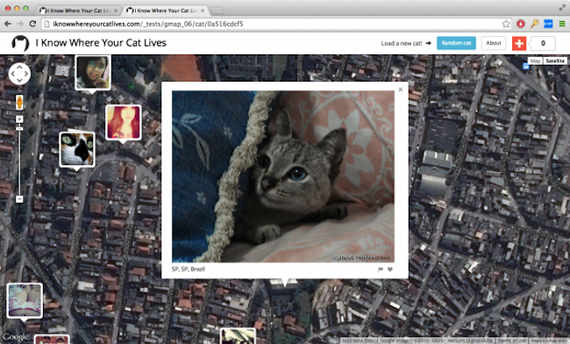 To make the map itself, Mundy had to scale down his original ambition. "Currently," he writes, "there are 15 million images tagged with the word 'cat' on public image hosting sites, and daily thousands more are uploaded from unlimited positions on the globe." So tracking just a million cats was a compromise.
But, then again, cat-tracking wasn't actually the point of the exercise. The point, instead, was to use cats to offer insight into how much information we reveal about ourselves—and our pets—every day. Often without realizing it. If I put up a "cat" photo on Instagram, I am not just sharing a cat photo on Instagram. I am offering up data about my, and my cat's, location. "I Know Where Your Cat Lives" is, as a title, meant to be vaguely threatening.
"This website," Mundy explains, "doesn't visualize all of the cats on the net, only the ones that allow you to track where their owners have been."