Barry Diller Stands Behind Tinder and Its CEO Amidst Sexual Harassment Allegations
This article is from the archive of our partner
.
Despite an embarrassing lawsuit from a former co-founder, InterActiveCorp (IAC) chairman Barry Diller is standing Sean Rad, the CEO of Tinder. Whitney Wolfe, a co-founder who was stripped of her title, is currently suing Tinder for sexual harassment, naming Rad and chief marketing officer Justin Mateen as the main aggressors. IAC, which owns Tinder, offered a public statement almost immediately, in which they supported both Rad and Mateen, saying they "believe that Ms. Wolfe's allegations with respect to Tinder and its management are unfounded." Since then Diller has come out with even more force to show his approval of the Tinder CEO. 
At the annual Allen & Co. media and technology conference, Diller said, "We've been doing an internal investigation that is not yet complete, but so far has not given us any reason to believe that the CEO was engaged in any negative practices." He went on to say the harassment case has not affected his confidence in Tinder as a company. 
While most of the harassment Wolfe notes came from Mateen (who Diller not mention directly) she informed Rad of the behavior and claims he did nothing to change the situation. Rad stated that she was being a "dramatic or emotional girl" when she complained about Mateen's treatment and harassing text messages. Mateen has been suspended from Tinder as IAC investigates Wolfe's claims.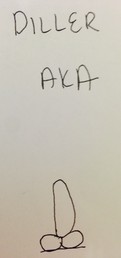 In the filing by Wolfe, she included a variety of harassing texts she received from both parties. In addition, the New York Post learned of another text message that directly targeted Diller. During a meeting of IAC's Match Group (IAC also owns Match.com), Rad texted Wolfe a picture of Diller's initials "BD" formed into the shaped of a penis. Diller's name was also written across the top of the page on which the penis was drawn, with the letters "AKA" below it.
It is unclear if Diller is aware of that text message, or if he made his comments supporting Rad without this information.
Tinder is continuing business as usual, even as groups online call for women to stop using the app in light of the harassment suit. The company even launched a wearable-tech version of Tinder just this past weekend.
This article is from the archive of our partner The Wire.