You Might Soon Be Able to Watch Netflix on Amtrak Wifi
Assuming the rail service's business proposal goes through.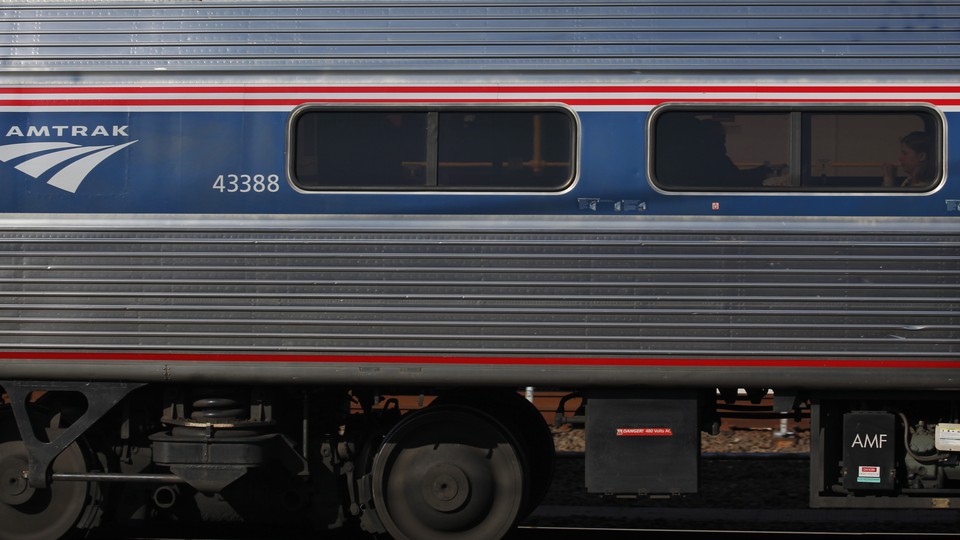 They may snake through the hills and vales of New England at more than 150 miles per hour, but many Amtrak passengers have a complaint: It's just not fast enough.
The wifi, they mean. (Though some of them probably mean the train speed, too.) When it's working, Amtrak's existing free wifi service performs fine for sending email or checking Facebook, but it chokes when users to try to stream movies or songs.
Now, the service has announced it wants to improve the quality of its wifi. According to a press release Monday, Amtrak intends to build a "high-capacity, broadband-speed" wifi network along the length of its Northeast Corridor track, replacing the 3G-based mobile service it currently uses.
This new network should remove the final coverage gaps along the Boston-to-Washington, D.C. route. (In this reporter's experience, there's a particularly pesky one around Baltimore.) It should also "allow Amtrak to drop current restrictions on streaming media and large file downloads," which means—yes—you could now watch Netflix on Amtrak. Or listen to Spotify. Or download a movie.
"We know that our customers want a consistently reliable and fast on-board Wi-Fi experience–something we cannot guarantee today on our busiest trains when hundreds of customers want to go online at the same time," said Matt Hardison, Amtrak's marketing chief, in the release. "We want to make that possible."
The news is welcome for intercity straphangers, but nothing to celebrate yet. The announcement, while promising, essentially only constitutes a request for business proposals. Amtrak would like companies to pitch it different wifi options—it hopes to boost Internet speeds to "at least 25 Mbps," which is about as fast as an entry-level cable connection—but it hasn't committed to implementing anything yet. Bids are due on July 28, according to Amtrak's procurement site. "Results of the test project will be used to determine whether it is technically and financially feasible to construct such a network along the entire 457-mile [Northeast Corridor]," it says.
Amtrak first began offering free wifi to riders on its fastest service, the Acela, four years ago. The city-skipping executives who make up that service's ridership reacted at first with celebration, but by popular account have since soured. In 2012, the wifi received the ultimate in coastal elite rebukes: It was the subject of a New York Times trend story. "The wireless service," the Grey Lady sighed, citing annoyed laptop users, "has become a symbol of the problematic state of train travel in the Internet era."
Since then, Amtrak has expanded the wifi to routes beyond the northeast corridor. Many trains in and around Chicago now boast the service. I've found the service often works just fine, especially outside the most crowded hours. You cannot, however, watch Orange Is the New Black with it.