This Delivery Cube Promises to End the Scourge of Pizza Slippage
High-tech packaging that will keep your cheese intact ... and disrupted
You order the pizza—pepperoni, extra cheese. You wait. And wait. And wait. And then your pizza arrives. And it looks like this:
Dominoes has decided to brand this not-very-tragic tragedy a #pizzafail. And it is, apparently, a steamy scourge that is plaguing family dinners and late-night parties the world over. Which is why the chain developed a new kind of pizza box: the Steady Pizza, a delivery device that keeps pizza pies flat as they travel. The device is basically a sphere, wrapped in a pendulum, wrapped in a cube, wrapped in cheese. Inside, it looks like this: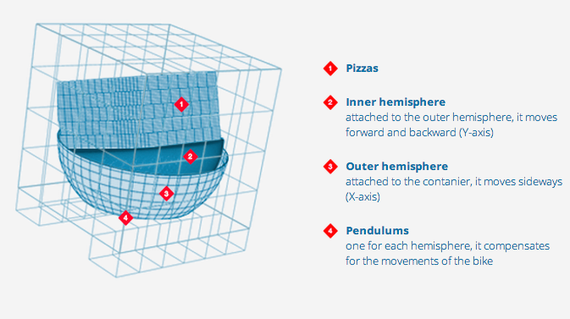 The Steady Pizza makes use of "balance by weight compensation" to keep its chewy, gooey cargo stable as it travels (which is particularly useful in other countries, where pizza is often transported not in cars, but atop bikes and motorbikes).
It steadies the pizza by, essentially, suspending it in a swing. 
"
The system," Dominoes explains, "consists of two hemispheres. One is fixed on the X-axis, and one is fixed on the Y-axis. Pendulums of lead compensate for movements keeping the pizza container inside level at all times. Currently, it's designed for bike delivery but there's no reason this couldn't roll out for cars, as well."
No reason at all.