The Playable Virtual Dolphin Created to Help Stroke Patients Recover
The Kata Project is a bold experiment in motor control learning.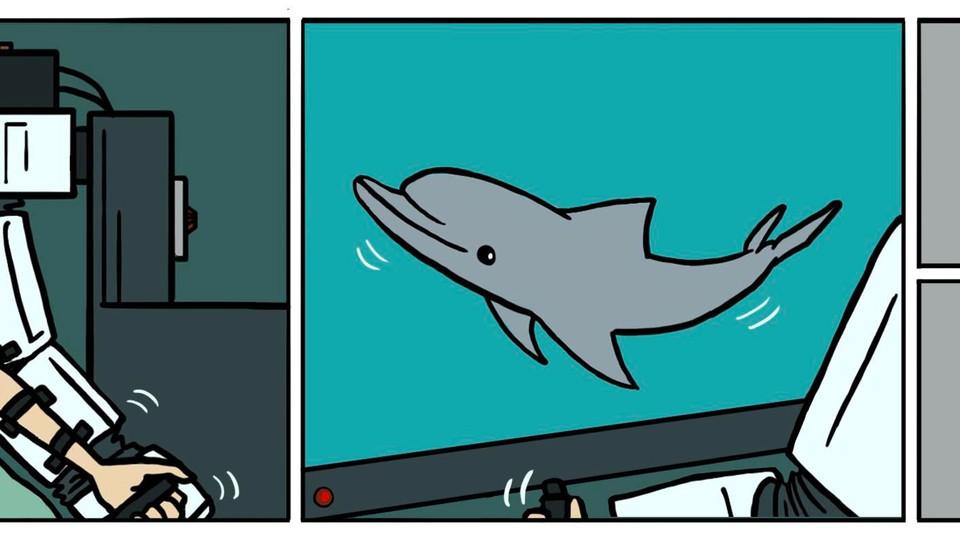 Controlling the body is a form of cognition.
That's the fundamental insight that's powering a new project, Kata, centered loosely at Johns Hopkins' Brain, Learning, Animation, and Movement lab.
The lab's chief, John Krakauer had "been wondering for a long time: Where does the cognitive stop and the motor begin?" Krakauer told National Geographic. But, we read, "they're inseparable: Movement is cognition. And by studying movement and what it does to people—why they love it, why they're devastated when they lose it—we can learn so much more about the brain."
Krakauer chose videogames as the place where they could do that learning, but realized that his team would need to create their own game in which players moved a character on-screen in a realistic way.
Now, after years of development, they've created a virtual dolphin that the researchers think could speed stroke patients' ability to recover their movement.
They call the little animal, Bandit.
Later this summer, in a series of clinical trials, post-stroke patients will get a chance to 'be' Bandit themselves. If the immersive, dynamic experience helps them recover lost motor function faster than the repetitive exercises of conventional treatment, it could signal a paradigm shift in rehabilitative therapy. Bandit's back story is just as novel. The virtual dolphin is the result of an unlikely consortium—of scientists and animators, software engineers and animal-intelligence experts—finding common cause in the science of movement.
---
This is one of today's 5 Intriguing Things, my daily curated look at our world's futures. You can read the full newsletter and get all five links delivered to your inbox each morning by subscribing here.