Not Quite Tinder for Senior Citizens
Andrew Dowling is launching an app to solve the loneliness epidemic among older adults.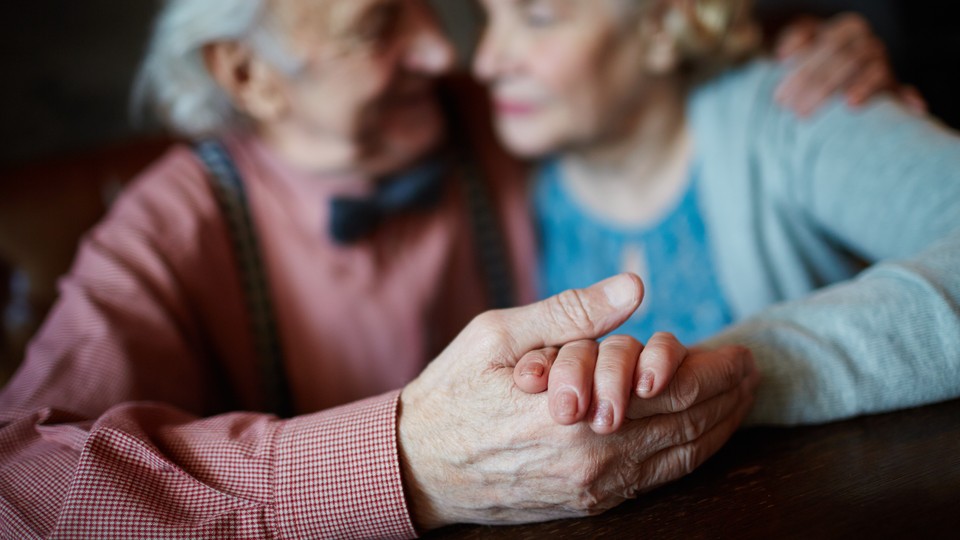 Dating is a rough world, no matter what your age. And in this day of online/mobile dating, it can be terrifying and exhausting. You can fill out endless questionnaires about your beliefs and morals for a mathematically arranged match (OkCupid), find mutual single friends via Facebook (Hinge), or do what humans have been doing for time immemorial: look for someone good looking (Tinder).
But none of these options have been designed for grandmas and grandpas who might be craving companionship in their golden years.
Meet Andrew Dowling, the founder of Australian-based Tapestry, a growing service that connects younger, more tech-savvy family members who use social media with older adults who may not understand the nuances of Facebook but want to nevertheless connect with kin and see photos and posts.
Through that work, Dowling has seen that older adults want to find companionship, a word he uses specifically and often instead of "dating" or "love."
"In one community in northern California, we were asked 'Do you know who's single here?' about half a dozen times," Dowling recalled. "This got us thinking that technology to help people connect to their existing families is really only part of the battle. Just as important is helping them find companionship as they age."
Tapestry wasn't designed to help people find companions, so he came up with a new service, Stitch, an online community designed to help senior citizens find each other.
It's been popularly misconstrued by the media as "Tinder for seniors," and while that's not completely true, Dowling isn't against the hype. "[It's] a misconception that only young people seem to have, so we're actually okay with it," he said. "Most of the older adults who look at our site can immediately tell we're offering something totally different. It's not geared towards casual hookups the way Tinder is. In fact, it's the complete opposite."
And Dowling isn't just catering to singletons in their sixties and seventies – he's trying to connect people with common interests. Dowling is, in other words, not just trying to be a romantic matchmaker, but a friend matchmaker of sorts.
"One of the inevitabilities of getting older is that your social circle eventually starts to shrink," Dowling noted. "Friends die or move, relationships break down. And many people find that illness can sometimes get in the way of doing the activities they love."
Isolation among the elderly is becoming a topic of concern among social scientists and gerontologists alike. With families living further apart and singlehood an increasingly common occurrence among the silver set, finding friends and/or significant others is increasingly difficult. Throw in the technological tidal wave that fundamentally altered how we've lived our lives over the past couple decades and it can all be disorientingly frustrating—and lonely—for senior citizens.
"It's not just a social issue but a health issue, too," Dowling told me. "Some of the latest research now rates it as big a health hazard as smoking or obesity."
Stitch officially launches in the next couple months in the U.S., U.K, Canada, and Dowling's native Australia. He envisions Stitch eventually going global beyond English-speaking nations.
One obstacle that remains in Dowling's quest to connect seniors to each other is profitability. That's a hurdle to consider given that many senior citizens are on a fixed income.
"We're going to be exploring a few different pricing models to find out what is going to work best," Dowling said. "Many of our users are on fixed incomes so affordability is a big concern—which is one reason why some companies haven't traditionally focused on older users."
That said, Dowling hasn't had a problem getting requests from people inquiring about Stitch's launch date. And Stitch is grabbing media attention for being a way for older people to connect without the travails of online dating.
For this part, Dowling sees what he's doing as a broader service for older people looking to click.
"There needs to be an easier way to meet new companions, no matter how old you are," Dowling said. "As one of our users said to us, 'I kept trying online dating sites because I didn't have any other options.' We'd like to be that other option."