My Internet Hometown
One day, a stranger introduced me to a special place, a small town that shared my name. Now, I can't stop going back.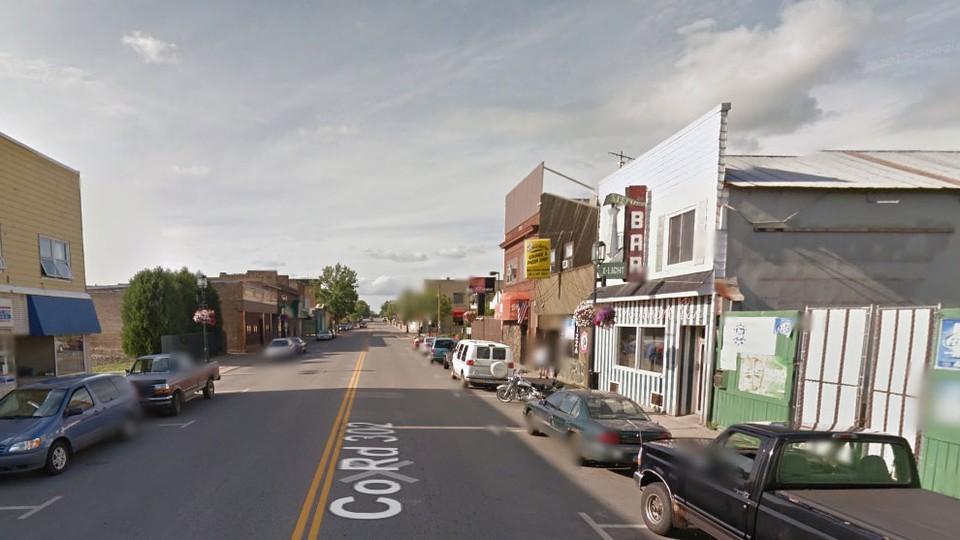 When I first started out in journalism I worked for a website that paid per click and gave readers my email address. This is usually not a good combination for anybody, but especially not for a young, female journalist working on the Internet. Most of the emails I got were terrible in a whole variety of ways, and yet I read them all because I was young and thought perhaps they could teach me something. Then I got an email from a man we'll call Jake.
The subject line read "I'm from Eveleth," and even before I opened it, I could imagine what it might be. I expected some self-satisfied commenter inventing an entire planet named Eveleth—based on my last name—where the rules of gravity and facts don't apply, because clearly I had lost my grip on reality. But that wasn't what it was at all.
Instead, Jake turned out to be a nice man in his early sixties who had encountered my work in a strange way. You see, he actually was from Eveleth—the town of Eveleth, Minnesota. He'd moved away decades ago, to Minneapolis, and on a whim decided to set up a Google Alert for "Eveleth" to keep up with the local news of his old town. But all he ever got were my articles (which he liked, thankfully).
This is how my obsession with Eveleth, Minnesota, began.
I don't know a lot about my family's history. Like most people, I had an intrepid, if eccentric, aunt who got really into genealogy in the 1990s, and, like most people, I never really paid attention to her. But one thing she said always stuck with me: All people with the last name Eveleth are related. According to family legend, the surname was made up at Ellis Island when our original moniker—Eveleigh—proved too hard for the immigration officer to spell. So when Jake asked me if I was related to Edwin Eveleth, the lumberjack after whom his hometown is named, I felt pretty confident saying yes.
Then it was my turn to ask Jake questions. Tell me about Eveleth, I said. What's it like?
Eveleth was once a boomtown. Seated at the foot of Minnesota's Iron Range, the town was one of eight outposts that supplied 90 percent of America's iron ore in the 1930s and 1940s. The city's first indoor hockey rink went up in 1918. The schools were built in the 1920s. In 1973, the U.S. Hockey Hall of Fame opened, and downtown Eveleth still boasts the world's largest hockey stick—110 feet long and weighing in at 10,000 pounds.
But Jake also told me that things in Eveleth aren't as rosy as they used to be. In what was once a lively town, the mining industry collapsed, the population thinned, and businesses went away. Between 1900 and 1910, Eveleth's population grew 155 percent, according to U.S. Census Bureau figures. At its peak, the town held about 7,500 people. Today there are just 3,000. The main street, Jake told me, is almost all empty buildings now.
So I went to look at them.
Okay, I didn't go to Eveleth. It was winter and I couldn't justify the cost of flying from New York City to Range Regional Airport in Hibbing, Minnesota, and then renting a car to drive east to Eveleth. But, then again, I didn't have to. Google had already driven the streets of Eveleth for me.
I spent the better part of a day walking around Eveleth in Google Street View—mostly oblivious to the irony of navigating a collapsing mining town with my mouse, a symbol of the era that destroyed Eveleth's main industry.
It probably would have taken me less time to actually walk through town—the whole city is less than seven square miles, and the downtown area is only a handful of streets. I saw the church, city hall, and the giant hockey stick.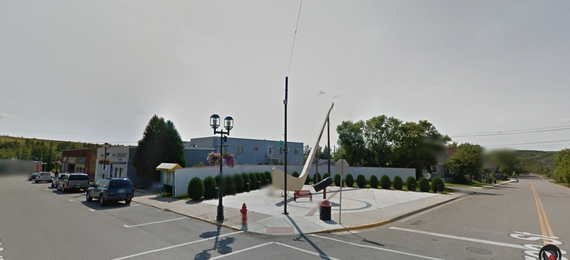 I saw cute little houses with weather-worn siding, yards full of dirt and broken down trucks, cars decorated with American flags, and Marge's Drive In Liquor Store lined with planter boxes full of flowers.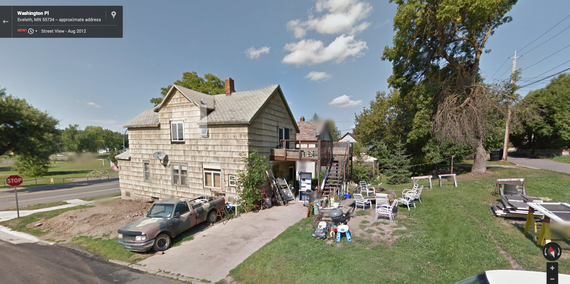 I saw people walking dogs, and a woman giving a Google car the middle finger outside Lenny's After 4-Eva Tat-2's, the town's sole tattoo shop.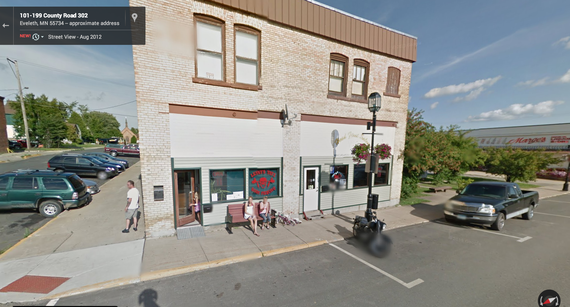 (She is, right?)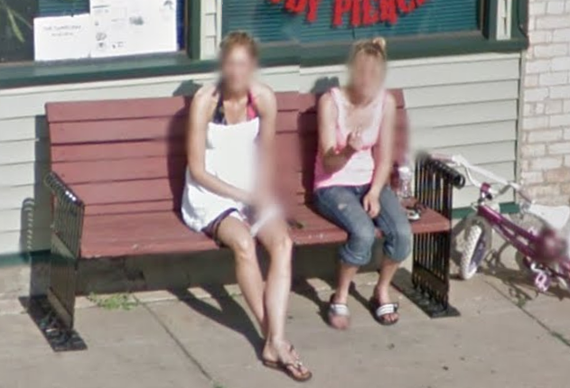 I also saw the empty buildings Jack described—some windows blocked by broken curtains, others uncovered, letting you peer into abandoned, dusty spaces. There's the empty short brown building sitting empty next to Penalty Box, a hockey themed bar. (When I called Penalty Box to ask if anything had moved in next door, no one answered. I'm always going to be years behind on Eveleth because Street View offers just a snapshot from a moment in the past.)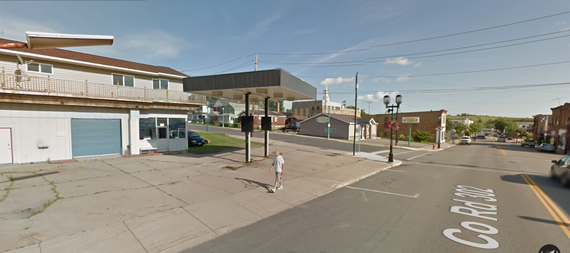 There's the boarded-up brick storefront next to Grant Avenue Station, a restaurant that boasts a "full menu" on its awning. The neon signs from Tuna's hangs half broken over the closed door, and across the street is a shuttered gas station. Eveleth has been left behind, no longer pumping out iron ore, and without a place in the increasingly digital economy.
I've still never been to Eveleth, but after two years of consistent, idle research, I can tell you an awful lot about it. I can tell you how much an apartment there costs (about $600 for a one-bedroom), and which plots of land are for sale near Lake Augusta. I can tell you that the most prolific Yelp reviewer in Eveleth is named Inga. "This place is the best," Inga wrote of the Eveleth Elk's Club. "Old school bar/lounge and tons of free popcorn. I think my old band teacher used to bar tend here on Friday nights, but hey, in a town of 3000, what do you expect."
From Inga's Yelp reviews for Snicker's Lounge: "This is a great place to see the clown band on the fourth (If you don't understand, you may never know!)" Which is how I discovered the Eveleth Clown Band—a group founded in the 1940s at the veterans club by four music teachers, a pharmacist, and a handful of other guys. In 1949, one of the founding members borrowed $3,000 from a car dealer to take the group to Miami, where they won the $1,700 first prize. The Eveleth Clown Band still exists, and is the highlight of the upcoming Eveleth Fourth of July parade, where they generally stick to "polka classics" like In Heaven There Is No Beer, Just Because, Julida, You Are My Sunshine, Roll Out The Barrel, and The Key's In The Mailbox. The Eveleth Band's bass drum was once showcased at the Smithsonian, as part of an Iron Range folklore exhibit. Thanks to this oral history of the group, I now know it is a band tradition to play You Are My Sunshine while lying on the ground. Just look at these guys tearing it up:
There's a reason that Jake only got my articles, and nothing about the town he loved. The fact that a young journalist's Internet footprint was bigger than that of an entire mining town is a testament to our time, and shows just how little is going on in Eveleth. But that smallness has a way of surfacing gorgeous, intimate details about the place.
In Eveleth, town hall meetings begin at 5:27 and end at 5:45. In May, they decided to finally replace the town's snowblower, first purchased in 1961. The "Culture," section of Eveleth's Wikipedia page notes that Eveleth was one of just a few cities to have side-by-side water towers labeled "HOT" and "COLD." In an oddly fitting update, Wikipedia notes that "Eveleth no longer has two such water towers."
In some ways I wish that Eveleth were a little more exciting—that the town I've spent more hours than I care to admit researching had more going on than updating liquor licenses and looking forward to the Fourth of July parade. But in other ways I love the nothingness. Eveleth has become a way I procrastinate, an escape when I'm stressed. I know that I'm not really seeing a living town, that I'm looking at a time capsule, a collection of notes and images and records that were created months or even years ago. But still, when I look up housing prices, or skim town meeting minutes, or check in on the woman flipping off Google outside of Larry's, it's oddly reassuring to know that, in my snapshot version of Eveleth, nothing really changes.
Sometimes I daydream about going to Eveleth. I think about reserving a room at Koke's Motel, a squatty joint with a moose-shaped coat rack in its tiny office. I imagine how, when I check in, the person behind the desk would notice my last name and we'd talk about it. But despite all the Internet time I've spent in Eveleth, I have no idea what else we'd talk about. Technology can deliver Eveleth to me through a serendipitous Google Alert, and it can lead me through the town piece by piece, but it still can't quite let me feel what it's like to live in a place that's being left behind.