Meet the Old, Best Wearable: The Panasonic Toot-A-Loop
It was a radio, a bracelet, and a transformer.
Hardware makers are hoping your computer, which jumped into your pocket as your phone, will soon leap from your pants onto your wrist or become your shirt. It's the wearables revolution, we read.
But this is not the first time that gadget makers have traveled down the mobility path. Making electronics smaller and smaller was a big part of the second-half of the twentieth century. And what you see above is a great example of the result of those efforts.
This is the Toot-A-Loop (say it yourself: Toot-A-Loop!), from Panasonic. The Toot-A-Loop could transform from a loop that fit (kinda) around one's wrist into a shofar-like horn contraption. It was a radio. "Simply by twisting the swivel joint at its thinnest point," the Cooper Hewitt Museum explains, "the radio opens out into a snake-like 'S' shape with a bold, circular station selection dial at the top and the speaker grill at the bottom."
(Toot-A-Loop! It's almost as fun to say as Rooty Tooty Fresh 'N Fruity.)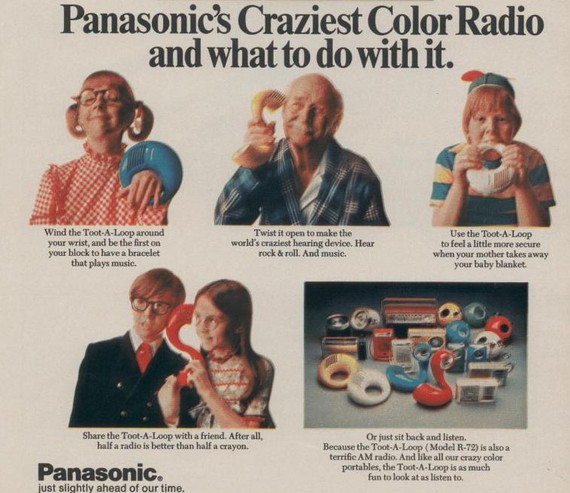 In advertisements, Panasonic emphasized how crazy such a radio was. It was no gray box. No, it was "as much fun to look at as listen to." And, to my taste, at least, they succeed. These things are actually kind of beautiful: smooth, interesting curves, a glorious typeface. I just want to touch it.
The bold colors Panasonic chose were part of a larger marketing effort to make these electronics fashionable first, and useful second. The marketing tagline for the "Crazy Color Portables" was "They even play music."