Meet Soundhawk: The Tiny Device That Gives You Bionic Hearing
Soundhawk is a little ear piece with a big job. About the weight of an earring, and half the size of a Bluetooth device, it takes on the task of getting you to hear as well as possible.
This article is from the archive of our partner
.
Soundhawk is a little ear piece with a big job. About the weight of an earring, and half the size of a Bluetooth device, Soundhawk fits right in your ear. Once it's situated in there, it takes on the task of getting you to hear exactly what you want to hear, and as clearly as you can possibly hear it.
In an interview with The Wire, the team behind Soundhawk gave us the details on the company and let us test run the product. Soundhawk is the brain child of Rodney Perkins, who is an ear surgeon turned startup guru. Perkins has launched twelve start ups, three of which went public. Soundhawk's design came from a team of about 25, half of whom have scientific expertise in the hearing industry, and half of whom have worked on commercial technology products for the likes of Apple, Amazon, and Motorola. Thus far, it's raised $11.2 million in funding and signed a strategic partnership with Foxconn, the manufacturer producing the large majority of iPhones. 
Now, Soundhawk isn't for people with hearing impairments. It's for people that want to hear as well as possible in their surroundings, be that a crowded bar, talking on the phone when there's street noise, or when your TV is turned down super low so as not to upset your sleeping spouse one room over. Soundhawk just wants you to hear as well as humanly possible.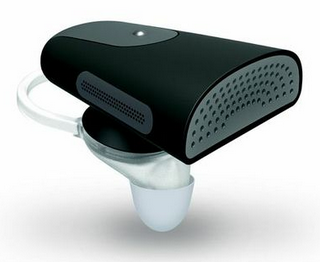 I gave Soundhawk a test run of my own. I am in my 20s, so my hearing is at least average, though living in New York has dulled it a bit through daily subway commutes and my affection for blasting music in my earbud headphones. When I first looked at Soundhawk's Scoop (that's the earpiece) I was a little intimidated by the size. I have tiny ears, so it seemed a little menacing. Luckily, there are four different sizes to choose from. I popped in the smallest of the four, and that did the trick. It didn't flop around — I was expecting the Bluetooth "floppy effect" — because the mass of the device is centered over the ear canal. 
Then, it was time to calibrate the device to my preferences. This is personalization of sound. Soundhawk connects to your Android or iOS device, and there's a nifty app to go along with it. The app is really straightforward: You set your environment (indoors, outdoors, dining, etc.) and then you calibrate the device for the usage you need. If your surroundings or noise level change, you can adjust your preferences in real time. The app also allows you to accept calls and listen right in the earpiece, as well as bring up Siri on iOS and Google Now on Android.
My first test was for a regular, indoor setting. I was speaking with three people, members of the Soundhawk team. I turned on the app and got to calibrating. At first, I set it way too high — the sounds were almost piercing, but they were definitely clear. Just quite loud. I played around with the settings a bit, and found a middle ground that made the sounds not much louder, but much sharper.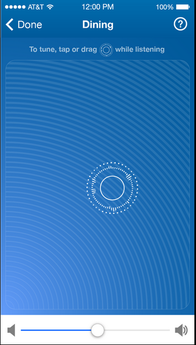 Next, I tested the dining mode. There was serious background noise; think a busy restaurant on a Friday night. It was hard to hear who was near me. Again, I calibrated Soundhawk (more carefully this time) and found a setting that worked best for hearing the people further away from me. The sound quality was impressive, but it did seem a bit robotic. There wasn't any delay, which was also an initial worry.
The second piece of the Soundhawk experience is the microphone. It comes in a little carrying case, about half the size of a sunglasses case, which also doubles as a charger. The mic can be left far away from you, where it picks up the voices around it, carrying them back to your earpiece. This definitely made me feel kind of like a spy.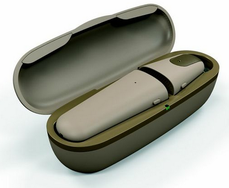 I gave this a test run in two scenarios: a conference room style setting, where someone was speaking to me from the end of a long table, and watching a quiet television across a living room. This TV feature was my favorite thing about Soundhawk, and likely the most common real world usage for many people. If you want to watch TV late at night, or watch some show you love but your roommate hates, turn your TV volume to just 2 or 3 and place the mic next to the speakers. The sound will get carried to the earpiece, with no delay. This delivered the best sound quality of every scenario I tested.
Initially, I was worried about the "Glasshole" effect. Would people think I was a weirdo with this thing attached to my head? But Soundhawk is quite small. I have long hair, and it was completely hidden behind it. It got tangled a bit, but no more than an earring might. Even uncovered, it isn't any bigger than a typical Bluetooth headset, which have been in wide use for years. I had the device in my ear for about an hour of continuous conversation, and about half an hour in, I forgot it was there. It was not only lighter than a Bluetooth, it was much less... floppy. It just stayed put, tucked in your ear, waiting to relay messages to you.
As for the price, Soundhawk is going to cost you a pretty penny. It's $299 for the whole system, though the pre-order price is $279. Then again, it's an investment in preserving your hearing. 
Overall, Soundhawk made me feel like the Bionic Woman, not a Glasshole. 
This article is from the archive of our partner The Wire.