The Forgotten Stars of Silent Film
The Library of Congress wants film buffs to shout out who—and what—they know during a series of special screenings.
The majority of silent films are long gone.
Some 70 percent of the movies made in the United States between 1912 and 1929—nearly 8,000 titles—are lost to history, according to a study last year by the Library of Congress. Even many of the existing films from the pre-talkie era are mysteries to today's scholars.
Once-famous starlets are no longer widely recognizable. Films that wowed audiences a century ago have been all but erased from collective memory. And so, for the third year, the Library of Congress is calling on film buffs, historians, and members of the public to help search for clues in old reels. The smallest fragment of a detail—like the furniture used in a film's set design—may be the key to unraveling a forgotten work's origins.
Over the course of a weekend-long series of screenings at the National Audio-Visual Conservation Center in Culpeper, Virginia, next month, attendees will be asked to shout out potentially meaningful details in film as the watch—names of actors, locations, car models, and other clues that might help reveal a film's origins. Film conservationists already know this approach works. After 204 such screenings so far, more than 100 films have been identified.
From The Atlantic's coverage of the effort last year:
"Somebody will recognize an actor, somebody will recognize an automobile," said Ben Model, a historian and pianist who will be playing musical accompaniment to many of the silent films on display. "People are looking things up frantically on iPads, calling out, 'Okay, between 1923 and 1926 so and so was at this studio.'"
You can browse through the Library's complete database of silent films, which details the 11,000 films made between 1912 and 1929, including the 3,300 that are known to exist. Here's a graph showing films lost (red) versus those that are still around (blue), based on what year they were made:
For this year's screening, films come from the library's own collection of unidentified movies, along with reels from the George Eastman House, the UCLA Film & Television Archive, EYE Film Instituut Nederland in Amsterdam, Royal Belgian Filmarchive, USC SCA Hugh M. Hefner Moving Image Archive, Lobster Film Archive, and the Newsfilm Library at the University of South Carolina. (Most screenings are free to attend but you have to register by July 1.)
And though many historians have accepted the dismal state of preservation in early film, there's optimism that as more films are catalogued, more previously forgotten works will emerge—either from private collections or from other countries.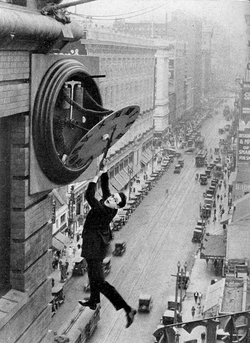 Already, the Library of Congress has found more than 800 American-made silent films in overseas collections. In the past decade, there has been a "groundswell of discoveries of silent features that had been thought lost," especially as archives take steps to identify unmarked reels.
"It can be argued that no films are lost—they just haven't been found yet," wrote David Pierce in the Library's preservation report last year. It's a lovely thought, but perhaps—and Pierce says as much—an overly romantic one. While some 100-year-old nitrate film still exists, much of it has already deteriorated badly.
Of course, once you know what you have, you get a clearer sense of what you're still looking for.