Your Next Shot Might Be Inspired by a Spider
A study of prey-catching arachnids sheds new light on the biomechanics of venom-injection.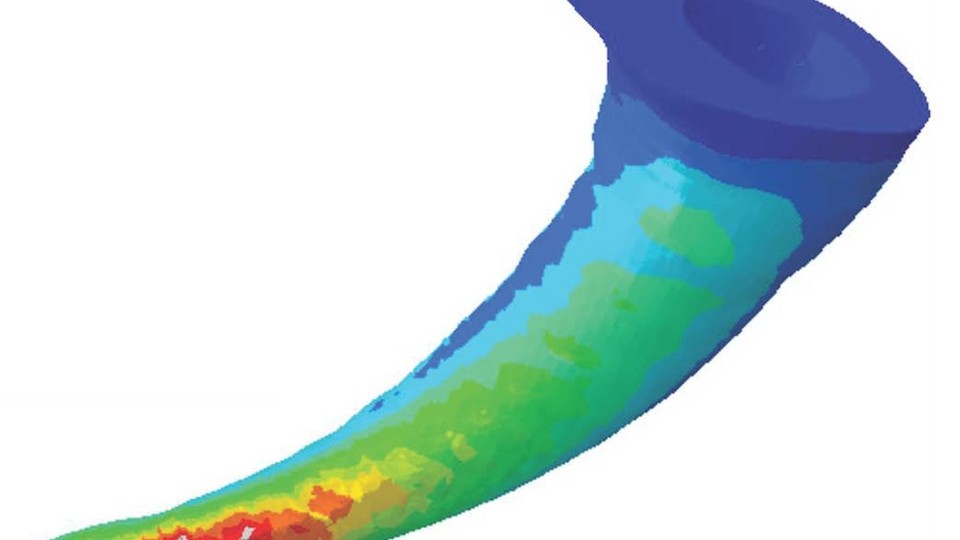 A spider fang is a small wonder of engineering. If you're a venom-injecting arachnid—the kind that actively kills live, struggling prey*—the things you use to inject that venom need to be, on the one hand, thin enough to penetrate the external skeleton of your meal (usually an insect). But they also, however, need to be strong enough to execute that penetration without deforming or, worse, breaking.
There's a species of spider, researchers have found, that seems to have a struck that balance particularly well, via a particularly well-evolved fang—one that could serve as a model for the needles used by humans. A
study published today
in the journal 
Nature Communications
 explores the biomechanics of the fangs of 
Cupiennius salei
(a 
wandering spider
 that lives mostly in South America). The paper's authors studied the fangs in detail, then modeled them—via both physical model and computer simulation—to subject them to varying conditions.
The findings? 
C. salei
's
 fangs are curved. That distinguishes them 
from the biological injection needles of animals like mosquitos and bees, and allows the spiders not only to attack their prey from different directions, but also to hold them in place as they inject their venom. Think of it like a hollow fish hook. 
Furthermore, the study found, the spiders' fangs, composed of protein and chitin, are conical in shape. Which
 gives them nearly optimal stiffness per unit volume (a measure of an object's ability to resist deformation under forces). 
Which helps them, in turn, to remain intact
 as they
 pierce the bodies of prey. 
Those features make useful information for anyone who has ever hated getting—which is to say, for anyone who has ever gotten—an immunization.
"For biomedical applications, for example, the spider fang may lead to the design of new infusion techniques, new blood-bypassing instruments and many other life-saving technologies," Benny Bar-On, a biomaterials scientist at the Max Planck Institute of Colloids and Interfaces and co-author of the study,
told Live Science
.
Spiders, in other words, might help us to design a better shot. They also might help us to bypass shots altogether. 
---
* This sentence updated to clarify that web-weaving spiders, like wandering spiders, use venom to kill their prey.