Why the French Are Building Solar-Power Plants in California
Time is running out to cash in on a lucrative subsidy for renewable energy.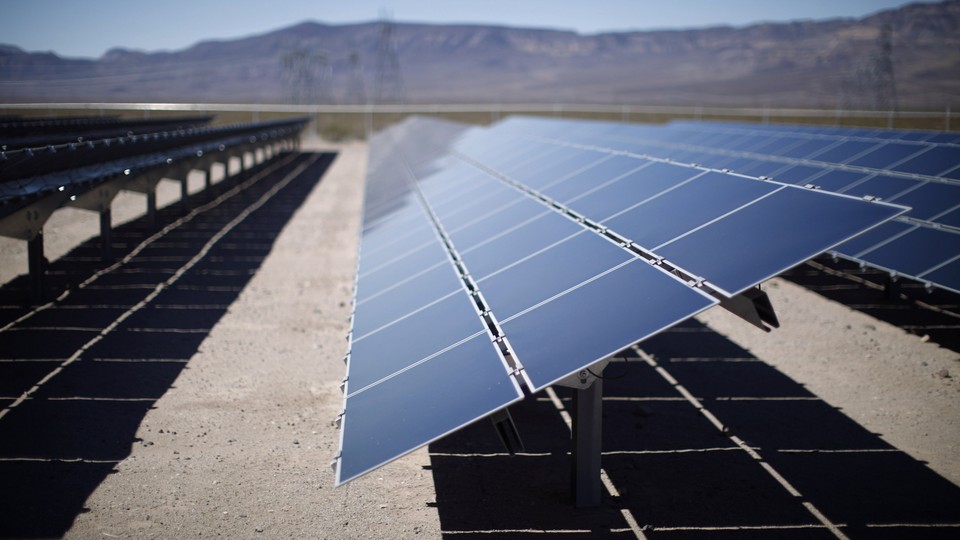 For most of the past decade, if you put solar panels on your roof or built a massive megawatt photovoltaic power plant, the federal government slashed the cost by 30 percent in the form of a tax credit.
The investment tax credit, or ITC, has proved wildly successful, helping spur a huge expansion of solar energy in the United States. A record 4,751 megawatts of photovoltaic power capacity went online in 2013, a 41 percent jump from the previous year and 15 times as much as was installed in 2008, when the ITC went into effect.
Now the party is almost over.
At the end of 2016, the ITC will only be worth 10 percent of a project's cost. And it helps explain why the solar arm of French energy giant EDF on Tuesday said it has hired First Solar to supply photovoltaic panels and build three power plants in California's Central Valley that will generate about 43 megawatts of electricity for utility Pacific Gas & Electric. As solar projects go, this is rather small pommes de terre. But speed counts as much as size these days. On a conference call with investors Tuesday, First Solar chief executive Jim Hughes said the French projects will be finished in early 2015, easily beating the 2016 tax credit deadline. On the other hand, a so-called utility scale power plant – 100 megawatts or more – can take far longer to build.
First Solar is the largest solar panel maker and developer in the United States—and the world's sixth biggest—so its fortunes are a bellwether for the global industry. The company makes most of its money building and operating photovoltaic power plants and Hughes said demand is growing across the U.S. as 2016 approaches. For instance, First Solar will soon announce a new 150-megawatt power project to be built in California, he said.
But the real action is happening overseas. Hughes said that 57 percent of First Solar's 12.2 gigawatts of potential future projects are outside the U.S., in burgeoning markets like Latin America, the Middle East, and India.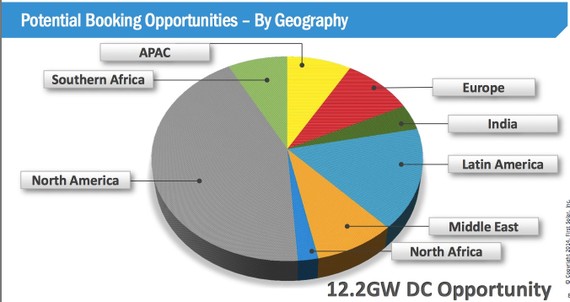 Even the mining industry—not known for its clean and green reputation—is going solar. First Solar has signed a deal with an international mining company in Australia, which Hughes did not name, to build a 5-megawatt solar power plant at a mine site to reduce the company's reliance on heavily polluting diesel generators.
"We see the hybrid market as an emerging business opportunity," he said. "This marks just the beginning of our expansion in to this high-growth market."