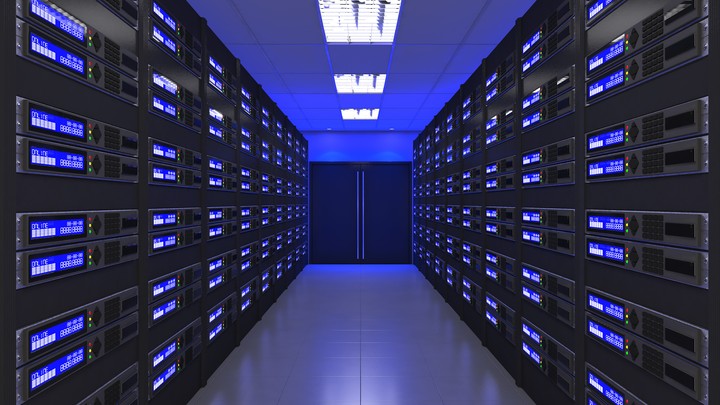 In a cavernous facility at Birmingham City University in the U.K., the Internet is not so much a grand idea as it is a great machine. And as a machine—as a beast that hulks and hums and whines and whirs—the Internet is loud. It emits a noise that manages to be low-pitched and high at the same time. 
As Slate's Lily Hay Newman points out, that noise can be extremely grating to the workers who are forced to endure it every day. The Internet's data centers are both "LOUD and COLD," one of those workers put it on a messaging board. As another wrote on a Quora thread, "Think of the sound from the fan on your computer. Multiply that by 20 times or more. Think what thousands of those all going at once would sound like."
But what does that actually sound like? How do you hear the cloud? The sound artist Matt Parker has been, on behalf of the rest of us, finding out. Parker has been touring data centers—the physical grounds of the ephemeral cloud—and recording the results, painstakingly compiling a collection of the audible Internet. He has also been converting the raw recordings of those data centers into sound compositions that are equal parts haunting an ethereal—musical renderings of the great churn of an Internet whose workings are otherwise silent to us. 
The goal of the project, as Parker told the blog Cities and Memory, is to "remind people that whilst their phones might be sat silently in their pockets, somewhere out there, a huge hive of hard drives and fans is spinning around frantically; managing our digital identities." 
Here's a raw recording of Birmingham's Data Center. It is, Parker notes, "an incredibly loud and obnoxious place filled with white noise and buzzing hard drives." (Adding to the din? "One of the drive panels within the array is faulty and keeps beeping to alert the engineers but nobody comes.")
And here's a remixed composition of the Birmingham Data Center's rattle and hum:
The takeaway? The Internet, in all its silence, is loud. And it sounds a lot like Sigur Rós.
Via Slate
We want to hear what you think about this article. Submit a letter to the editor or write to letters@theatlantic.com.