Warren Buffett Shuts Down One of the Dirtiest Power Plants in the U.S.
Solar energy will replace coal as a notorious Nevada power plant is shuttered.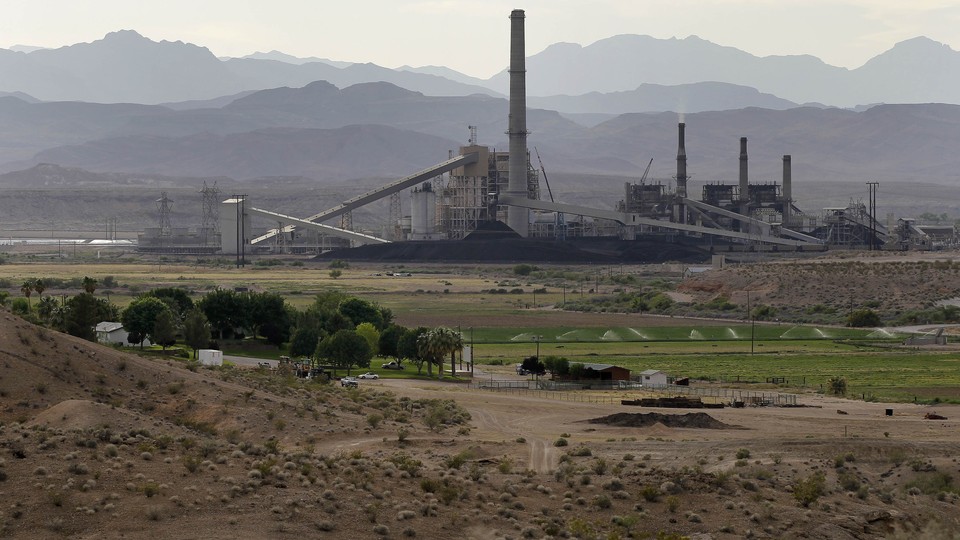 When Warren Buffett's Berkshire Hathaway acquired Nevada's biggest utility in 2013, it also picked up Reid Gardner, a 557-megawatt coal-fired power plant outside of Las Vegas that regularly tops lists of the most toxic sources of carbon pollution in the United States.
In a plan filed with state regulators last week, the utility, NV Energy, proposed to shut down three units at Reid Garner that generate 300 megawatts by the end of this year and retire the other 257 megawatts in 2017. As Reid Gardner is mothballed, the utility will acquire two existing natural gas power plants as well as photovoltaic power plants producing 215 megawatts of carbon-free electricity, and will put out bids for the construction of another 300 megawatts of renewable energy. NV Energy will also sell its ownership stake in another coal-fired power plant that routinely ranks as one of the nation's worst polluters.
Buffett's energy endeavors have taken on a green tint in recent years. Berkshire Hathaway's MidAmerican Energy is building more than a gigawatt of wind farms in Iowa, for instance, and has invested in the world's largest photovoltaic power plant in Arizona.
NV Energy's move to shutter Reid Gardner is not entirely altruistic, though. The Moapa Band of Paiutes, a Native American community that lives in the shadow of Reid Gardner, and environmentalists have battled for years to get the power plant closed. That fight came to a head last year when the Nevada Legislature passed a law requiring the elimination of 800 megawatts of coal-fired electricity capacity and the construction of renewable energy capacity.
In a bit of a twist, Reid Gardner will be replaced in part by a 200-megawatt solar project on Moapa land. Native American reservations in the Southwest long have been sites for some of the nation's biggest and dirtiest coal-fired power plants. The Moapa Band of Paiutes, however, plan to build as much as 1,500 megawatts worth of renewable energy projects on their land.
With the U.S. Environmental Protection Agency imposing new restrictions on coal power plants, and as California bans its utilities from buying out-of-state coal-fired electricity, Nevada lawmakers clearly see the future is not fossil fuels.
Last October, for instance, solar energy was the sole source of new electricity generating capacity that came online that month. In February, half of new electricity capacity was from solar. Market research firm SNL Energy, meanwhile, expects a whopping 64,002 megawatts of coal-fired electricity to be retired by 2021.