The Number of Humans in Space Doubled Today
It went from three to six in a couple hundred seconds.
Just after midnight local time on Thursday, a Soyuz rocket with three men aboard lifted off from the Baikonur Cosmodrome in Kazakhstan. Minutes later, as it departed Earth's lower atmosphere and crossed the Kármán line, something  spectacular happened:
The number of humans in space doubled.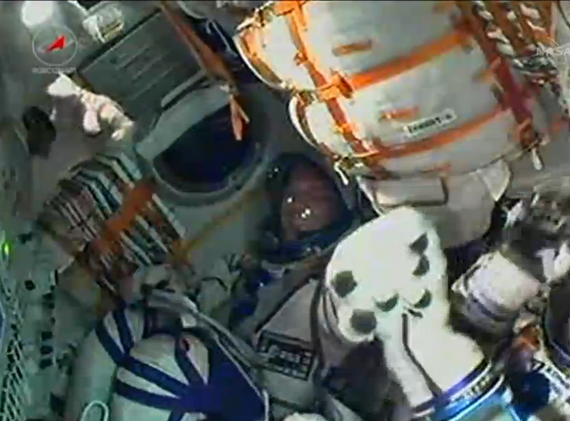 Not that this isn't a regular occurrence. The three men on the Soyuz—Russia's Maxim Suraev, the European Space Agency's Alexander Gerst, and the United States' Reid Wiseman—joined three men who have been living on the International Space Station for two months. Every time a new ISS crew cycles through, the population of space doubles like this. That doesn't reduce the coolness of the moment, the fact that three humans are now in space, two of them for the first time. (Nor does it reduce the need for more diversity among the astronauts who can make the trip—and who can become astronauts in the first place.)
These three new space sojourners will physically join the pre-existing three very quickly, in fact. In a procedure pioneered last mission, the Soyuz will rendezvous with the ISS after just six hours in space (or four orbits around Earth). This replaces an older system that kept the tiny Soyuz in orbit for two days before it docked with the station, which—as Pete Harding and Chris Bergin write—could lead to some problems:
The desire to dock to the ISS after just six hours stems from the fact that spending two days in the cramped interior of the Soyuz along with two other crewmates is known to be a stressful and uncomfortable time for astronauts and cosmonauts, many of whom are suffering from symptoms of space sickness at the same time.
The three men already aboard the ISS are two Russians, Oleg Artemyev and Alexander Skvortsov, and an American, Steve Swanson. The six will live and work together on the ISS until mid-September, when Swanson, Artemyev, and Skvortsov will hop down to Earth and return the human population to three. A few weeks later, a new three-person crew will blast off and enter Earth's orbit—and double it again.