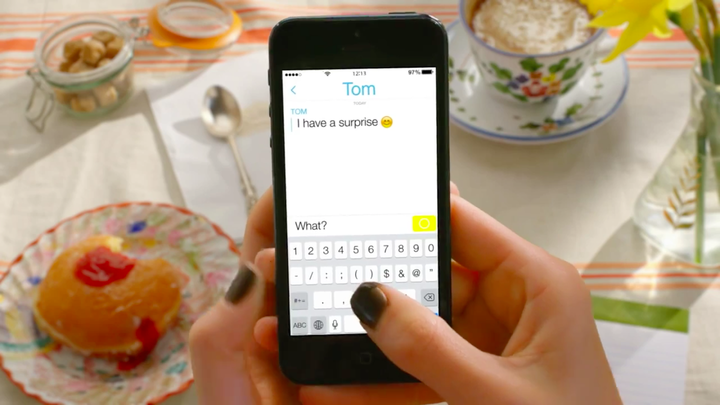 What is the thing you send on Snapchat?
Since time immemorial (or fall 2012), I would've answered: a snap. The first syllable of the service's name—denoting a picture-with-a-half-life—was Snapchat's unambiguous atomic unit, its clear medium of exchange. "I saw that snap you sent me." "Did you get his snap last night?" "She sends such good snaps."
Snap especially leant itself to superb portmanteau: Snaps that featured a canine were dogsnaps; snaps from the male parent of newborns were dadsnaps. We might bicker over whether the word should be capitalized, but its reign was clear. On Snapchat, you sent snaps.
Then, last October, Snapchat announced a new feature, Stories. Snaps could now be strung together into public slideshows, visible to all one's friends. Snapchat blandly instructed us what to call this kind of communication—stories, duh—even though the best use of the medium didn't seem to be narrative so much as braggartly; "stories" were where you sent snaps that you wanted everyone to see.
And now we have—well, what, exactly? Yesterday, the company updated its eponymous service with the ability to send text and pictures to other users. It also lets you video chat with friends when both of you are simultaneously online. Also, you can now save certain text messages from friends by clicking on them (and you can still, of course, screenshot anything).
Snapchat, in other words, now lets you send more than snaps, accrete more than stories. It's received a major update—which so far has been delightful to use if a little confusing—and you know what that means. Just as Ellen's indelible scrum shifted our sense of selfies, Snapchat's lingo needs a major update, too.
snap, snaps (n.) — An ephemeral picture message sent to another user on the ephemeral picture messaging service Snapchat. Example usage: "Did you see he got a snap of the exploding whale? Gross—yet unforgettable!"
snapchat, to snapchat, snapchatted, snapchatting (v.) — To send an ephemeral text message to another user on the ephemeral picture messaging service Snapchat. Ex.: "Yes, he chatted the address to me, but I forgot to save it and now I don't know where the party is. And it has begun to rain."
videosnap, to videosnap, videosnapped, videosnapping (v.) — To videochat on the ephemeral picture messaging service Snapchat. Ex. "I tried to videosnap him, but the connection kept breaking up, and meanwhile chunks of whale, falling from the sky, have splattered themselves across my Macklemore haircut and parachute pants." 
We want to hear what you think about this article. Submit a letter to the editor or write to letters@theatlantic.com.
Robinson Meyer
is a staff writer at
The Atlantic.
He is the author of the newsletter
The Weekly Planet
, and a co-founder of the COVID Tracking Project at
The Atlantic
.