Telling the Difference Between Danger and Fear
Bathtubs should be 365 times more frightening than sharks. So why aren't they?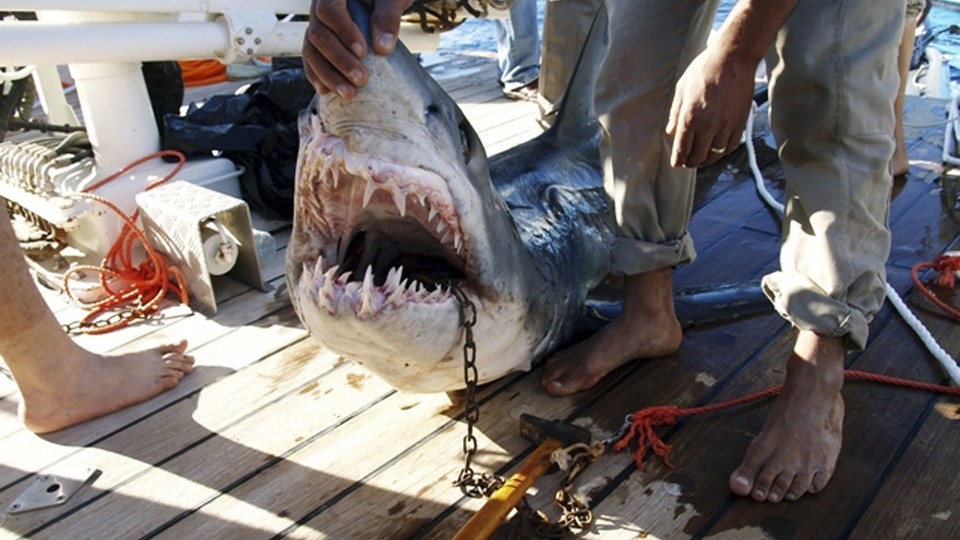 A few days ago I pointed out that yet another popular news item had described how frightened an airline passenger was, about a situation that was objectively not dangerous at all."Yet another" because stories like this -- there we were, about to die! -- are journalistic staples, now as much as ever. (Two examples from the NYT, here and here.)
In part this reflects the bone-deep suspicion that people shouldn't be sitting and reading in a tube 30,000 feet above the ground. In part, it's the famous human difficulty of distinguishing things we're scared of from things that really threaten us. On average, one American dies each day in a bathtub accident -- and one American dies each year from a shark attack. Bathtubs should be 365 times as frightening as sharks, but it's the reverse. We don't have "Bathtub Week" on the Discovery Channel.
David Ryan, who under his previous pseudonym Tony Comstock was a guest blogger here, talks about this fear-versus-danger confusion, as it shows up in his work as a charter-boat captain. After reading about airplanes that (allegedly) came within "scraping distance" of each other (actually 5+ miles), Ryan wrote:
We use an AIS (Automatic Identification System) transponder for identification of nearby traffic and collision avoidance. Here's my "scraping distance" story. [And a recent photo of his craft, crew, and passengers en route.]

In May of 2010 after 13 days at sea, during which time we rarely saw more than one vessel a day, on AIS or visually, we found ourselves just south of the Nantucket traffic separation zone (shipping lane) running east and west out of New York Harbor. Now, rather than one or no targets of interest, we had a dozen vessels, some very large and moving very fast, to keep on eye on.

It was dusk and the light was fading when we ID'd a west-bound freighter on a course that would make a close pass with us as we headed north towards Montauk. 

This is what we did:

Using the AIS we ascertained the vessel's name, course, and speed.

Using our VHF radio we made contact with the bridge of the other vessel and inquired whether or not they could see us. The replied they had us on radar, AIS, and visually.

I communicated our concern that our courses might bring us closer than comfortable. Being a sailing vessel, we were the stand-on vessel, but the Law of Gross Tonnage ultimately rules. We asked the freighter if he would like us to adjust our course to ensure we took his stern.

The freighter replied that we should stand-on and he would increase his speed to pass in front of us well before we were anywhere near each other.

We thanked him, stood by on #16 and then watch the freighter pick up it's pace and pass in front of us about three miles ahead.

The entire encounter was, for us, tense. We wanted to be sure there were no misunderstandings, or if there were, that we would be ready to respond sufficiently to get out the way of the much larger vessel.

The next day I was in the front passenger seat of our family minivan taking crew to various airports and train stations so they could find their way home and I was TERRIFIED!!!

Just 12 hours earlier I had been in a tense situation where my boat was going about 5kts, the other vessel was going about 20kts, and the distance between us was measured in 1000s of yards.

Now I was barreling down the highway, at closings speeds in excess of 100 miles per hour, sometimes with mere inches to spare. In other words, we were driving down a two land country highway at 55mph with on coming traffic. I resolved my terror by closing my eyes and going to sleep.

In case my point is not clear, we are more comfortable with familiar sensations and risks than unfamiliar ones. Two weeks on a nearly empty ocean made the shipping lanes seem like rush hour traffic, and the "rush-hour" traffic of the shipping lanes made a drive down a country highway pure terror (I really did close my eyes and go to sleep because I couldn't just sit there flinching in horror every time we closed with another car). No doubt the  author of "I almost died" felt as scared during the plane's descent as I did as we barreled down Route 27 at 10am. The fear is real. The danger not so much. 
We all know what he means. For me, it's the contrast I feel at the end of every trip in my small airplane. Over the previous few hours, I've been in the middle of an activity that is objectively dangerous -- but from which I could safely turn my attention for 30 seconds at a time to look at a chart or check the weather, except during the couple of minutes of approach and landing. (Or on an instrument procedure, or inside the clouds, or on takeoff, or in other "high-workload" phases of a flight.) Then when I get in the car to drive home, other vehicles are whizzing past me with very small clearance, and if anyone stops paying attention for even a few seconds, the results can be dire. Yet we all treat this as routine.
Main lesson for writers and editors: If you want to talk about an experience that was frightening, talk about how scared you were. That's real. Not about how close you came to dying, because that probably had no relationship with how you felt.