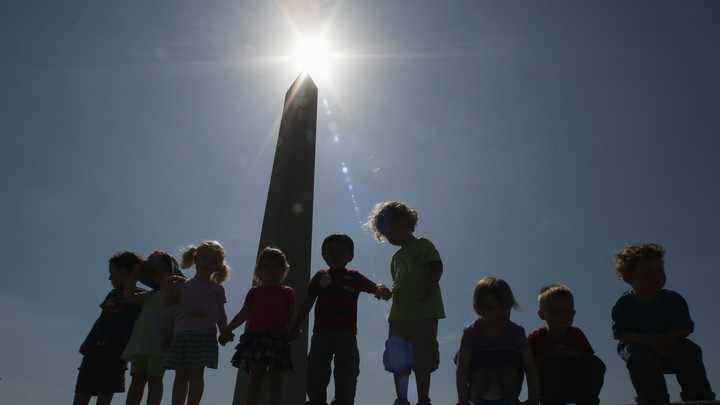 For nearly as long as there have been maps, mapmakers have ornamented them. Sometimes these ornaments took the form of dragons or beasts and reflected that parts of the map were unknown. Sometimes they looked like made-up towns, meant to catch other cartographers stealing their work. No matter their form, these filigrees and fictions reflected that the maps didn't portray immutable truth: They were imperfect tools crafted by imperfect human beings.
They were made.
A somewhat different artifact of craftsmanship caught my eye earlier today—an especially digital one. Look up the Washington Monument in Google Maps, and the software will show you the obelisk's shadow. The shadow even moves to reflect the position of the sun.
At nearly 5 p.m. here in D.C., according to Google Maps, the shadow will point east, toward the Capitol Building. The blogger Jason Kottke and a number of Twitter users collected other orientations:
Ken Norton, a partner in Google Ventures, reports that the digital shadow has reflected the real shadow's position for about three years.
It's a fun accent, possible only with the kind of live, dynamic map that Google deploys. (The digital-ness of Google's maps allows the company to edit its own maps at will, to add previously unknown features or to erase previously known ones.)
Google didn't need to add the monument's shadow, but it did, as a kind of homage to the world's hidden-in-plain-sight details. Of course, Google's unknown mapmaker wasn't the first to notice the monument's shadow.
"As an artist, one of the things that I do—and I think most artists traditionally have done—is point out things people don't see."
That's what Yuri Schwebler—he was, by day, a newspaper layout designer—told the CBS Evening News. Before Google made its sundial for the screen, Schwebler turned the monument into a real (gigantic!) one in the winter of 1974:
One day I realized I'd never seen the shadow of the Washington Monument, because it's so huge. And then one day I looked for it, and I saw it, and it moved. I was at the end of the shadow, and it moves about four feet every minute.
His materials for such a transformation? According to CBS, $24, six feet of snow, and a plow on loan from the National Park Service. During the report, Schwebler—who died in 1990—is asked why he turned the monument into a sundial at all. His answer?
"You can actually see the Earth move, or feel it move, by watching that shadow."
We want to hear what you think about this article. Submit a letter to the editor or write to letters@theatlantic.com.
Robinson Meyer
is a staff writer at
The Atlantic.
He is the author of the newsletter
The Weekly Planet
, and a co-founder of the COVID Tracking Project at
The Atlantic
.