Offshore Wind Farms Could Supply Much of the U.S.'s Electricity (If They Ever Get Built)
While Europe powers ahead, the U.S. government tries to jumpstart offshore wind technology.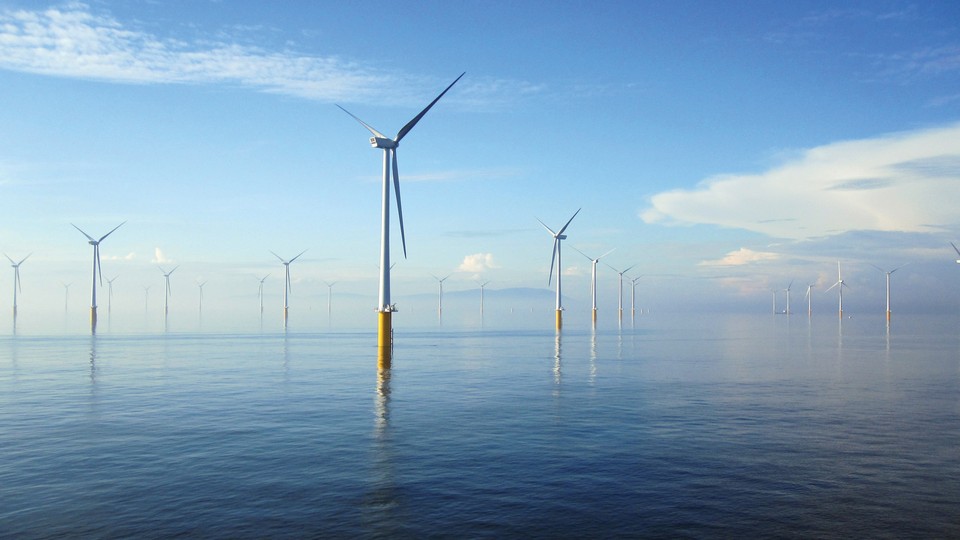 When I flew into Copenhagen in 2007, the jet passed over a gleaming array of white wind turbines arranged in a necklace in the city's harbor. Since then, Denmark's offshore wind farm building boom has continued. Last December, for instance, wind farms supplied more half the country's electricity demand.
In England, the London Array went online in 2012, its 175 turbines generating 630 megawatts of electricity from the Thames Estuary.
The United States, on the other, is generating not a watt from commercial offshore wind farms, despite 80 percent of its electricity demand coming from coastal states, according to the U.S. Department of Energy. In fact, the offshore wind capacity of the country has been estimated at 4 million megawatts, or four times the entire generating capacity of existing U.S. power plants.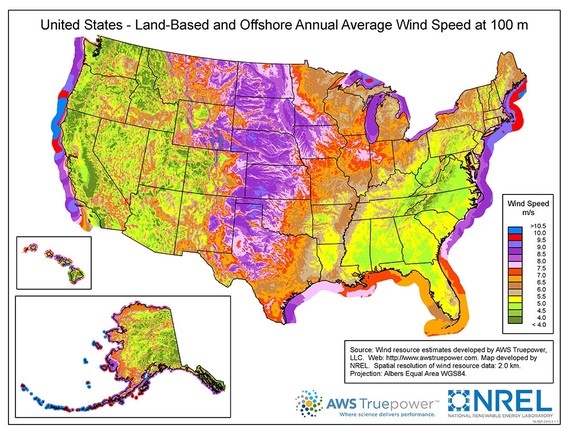 The nation's first offshore project, Cape Wind, has been mired in litigation and bureaucratic red tape since 2001. Just on Friday, a federal judge dismissed the latest legal challenge to the 468-megawatt wind farm that would be built in Nantucket Sound off Cape Cod, Massachusetts.
The Energy Department took a small step on Wednesday, however, to spur offshore wind, awarding $47 million for three experimental projects to test new technology to take advantage of the strong winds that blow in coastal waters.
A New Jersey company called Fishermen's Energy scored cash to build five, 5-megawatt turbines three miles off Atlantic City. The project will test a twisted jack foundation, which is a new type of offshore platform that is cheaper to make and install than traditional platforms.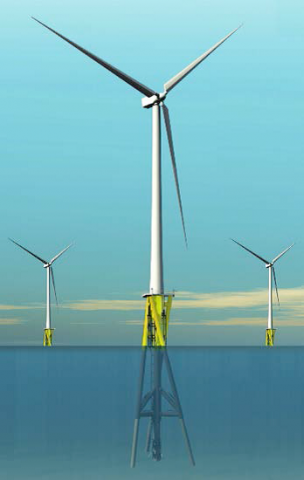 On the West Coast, Seattle-based Principle Power will deploy five 6-megawatt turbines 18 miles off Coos Bay, Oregon, to test its semi-submersible floating wind turbine platform. Developing such technology is crucial if wind farms are going to be built in the deep waters off the West Coast, where anchoring platforms to the seabed would be prohibitively expensive. According to the Energy Department, more than 60 percent of the U.S.'s offshore wind capacity is in the deep ocean.  The Principle Power turbines, for example, will be installed in the ocean where depths reach 1,000 feet.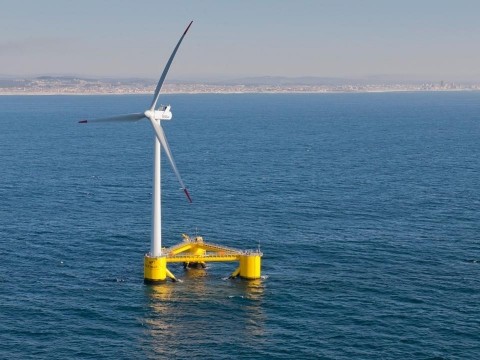 Even further from shore, Dominion Virginia Power will test a hurricane-proof design for two 6-megawatt turbines and platforms to be built 26 miles off Virginia Beach as well as demonstrate the viability of installing, maintaining and operating projects so far from land.
All the projects will deploy next-generation direct drive turbines from Alstom, Siemens and XEMC that use fewer moving parts than conventional geared turbines. Given the high cost of fixing turbines far from shore, the fewer breakable parts the better.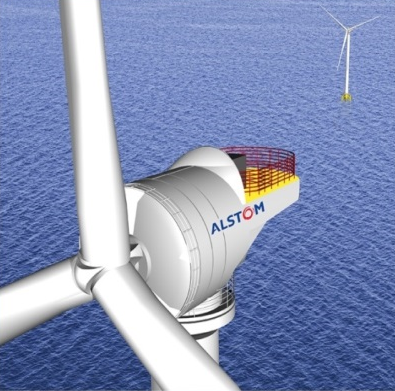 "The three projects selected today are aimed at deploying offshore wind installations in U.S. waters by 2017," the Energy Department said in a statement.
But don't hold your breath.