Kids Are Using Bitcoin to Buy Fake IDs Online
And it's no surprise: Bitcoin is an ideal currency for people who want to buy something they shouldn't.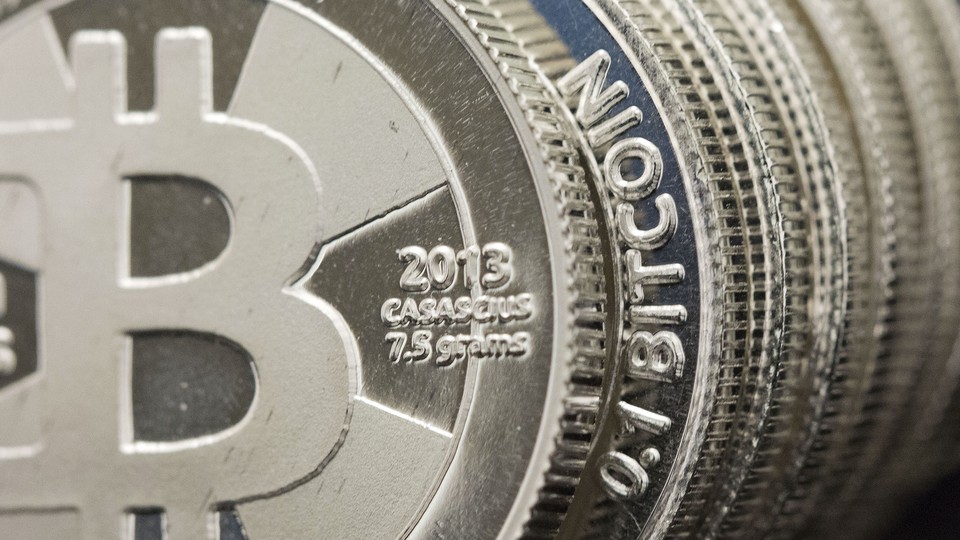 The beauty of bitcoin, many of those who use the currency will tell you, is that it's decentralized. You don't have to bother with a bank, which means you don't necessarily leave the kind of paper trail that many other transactions produce. From the user perspective, paying with bitcoin is basically like using cash—only you can do it online.
So it's fitting that bitcoin is the currency of choice among online vendors of fake IDs, some of whom now offer discounts to customers who pay that way. Other vendors have gone bitcoin-only, according to a subreddit discussion of popular fake ID sites.
It must be noted that bitcoin isn't just an underworld currency—in fact, not everyone agrees that it's currency at all. While the Federal Election Commission decided this week that bitcoin can be used to make political donations, the IRS defines bitcoin as property. And many retailers have yet to make up their minds. President of eBay Marketplaces Devin Wenig told me earlier this month that he sees bitcoin as three things simultaneously—"a currency, a store of value, and a network"—and yet eBay still hasn't decided whether it will accept bitcoin as payment. As one of the websites that revolutionized the way we buy, eBay knows that a bitcoin-like disruption to the norm is worth tracking closely.
And yet bitcoin—backed by a community a people who are often vigorous in defending their rights to privacy and attracted to cryptocurrency as a way to disengage with established government systems—doesn't really want to be tracked. The promise of anonymity, tenuous though it may be, is what makes bitcoin an ideal currency for someone who wants to buy something they shouldn't.
* * *
Like virtually every other realm of commerce—legitimate or underground—the Internet has upended the fake ID business as we once knew it.
A dozen years ago, you could still buy a fake ID by walking into a nondescript luggage store in midtown Manhattan and saying the word "Arkansas." Store employees would pull camera equipment out of a suitcase right there on display, photograph you in front of a blue fabric backdrop, type up a fake birthday and address on a typewriter, then laminate the thing on the spot. You'd be out $50 but into any number of dive bars in the area.
Today, like everything else, these sorts of transactions have moved online. "The subreddit for fake IDs is how I found the places I wanted to order from," said Jake Ryan, a marketer who ordered two fake IDs at about $150 apiece as part of a project for the website detox.net.
One of the IDs never showed up. (The company that didn't deliver is called, ominously enough, DarkMark IDs.) The other ID arrived embedded in one of the pages of an air-conditioning manual.
"I don' t know how they sealed it," Ryan said. "If you just gave someone this manual, they may have never seen it." Though Ryan says the ID appears to have been sent from Taiwan, the website where he placed the order—new-ids.com—is registered with a San Diego address.
And the ID looked only semi-passable compared with a real Florida license, Ryan says, or, it would have if it didn't feature Family Guy protagonist Peter Griffin, who is a cartoon. Ryan deliberately ordered the ID with Griffin's face on it so that it was clearly novelty item. The Secret Service has orchestrated stings selling fake IDs online as a way to catch the people who try to buy them.
Here's a real Florida license compared with the the fake that Ryan ordered:
Plus, check out some of the other states advertised on the same site—if you know what these state's licenses actually look like, you can probably tell the fakes look familiar, but aren't exactly matches.
"The immediate first impression was that even if it wasn't a cartoon character, the colors were kind of off," Ryan said. "You could tell it wasn't 100 percent passable."
Bartenders and bouncers generally agreed with him. (This wasn't a perfect test, though, as the people he asked knew what they were about to see was fake.) Curiously, however, Ryan says the fake easily passed a scan test. When he ran the ID under a scanner app on his iPhone—technology similar to the kind used to check driver's licenses at some bars and clubs—the details he had entered when he ordered online appeared. "It had all the information: name, date of birth, address, all that stuff," he said.
In other words, the fake could trick a robot but not a human—which seems counterintuitive at first, but makes some sense. Algorithms can be more predictable than people. Besides, attempting to get past a bouncer with a fake ID has always been an uncertain pursuit. 
 
Ryan paid for both licenses using bitcoin, which he says was clearly the "No. 1 method of payment" for fake ID sites he found online. But just like cash, when you lose bitcoin, it's likely gone. Not surprisingly, the site that accepted Ryan's bitcoin payment but never sent him an ID kept the money.