GoPro Is Turning into a Media Company, $100 Million IPO Filing Shows
The camera maker will distribute a mix of professionally produced and user generated content.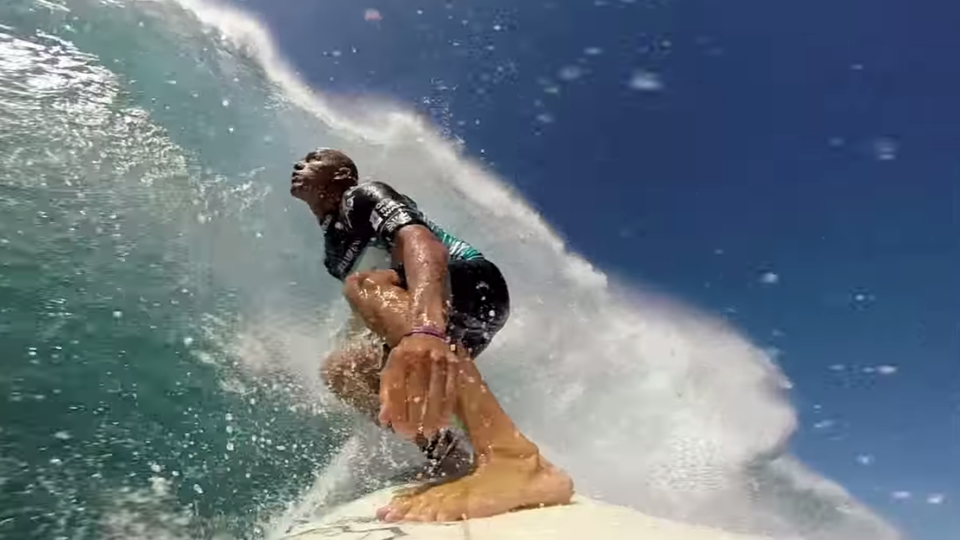 GoPro is best known for its hardware. The camera maker is a favorite among surfers, bikers, skydivers, pretty much anyone who's looking to strap a camera to her person—or drone—and capture an adventure.
But the company's recent IPO filing reveals a broader ambition: GoPro wants to be a media company. That transformation—physical goods to digital media—is one that many companies are making these days, and it's an intuitive next step for GoPro.
The convergence of social and mobile publishing has created all kinds of well-defined channels for content distribution, and audiences already congregate around those channels. So why wouldn't a retailer or manufacturer want to put its product in front of them? For GoPro, becoming a media company means tapping into a distribution network with content that makes people want to buy GoPro cameras.
Another way to think about it: GoPro is getting people to buy its cameras, then distributing those customers' footage like ads, which encourages more people to buy GoPro cameras, and so on.
How will it do this? The company plans to develop a platform for editing and sharing videos. But instead of reinventing YouTube, GoPro hopes to use the existing social publishing platforms to its advantage. It lists YouTube, Facebook, Instagram, and Twitter feeds and channels as part of the "GoPro network," according to the 227-page document GoPro filed with the Securities and Exchange Commission on Monday. (It also has a newly launched channel on Xbox Live, as well as a GoPro channel on Virgin America.)
GoPro describes its expanding business model as being supported by "some of the world's most active and influential consumers" and a "massive volume" of user generated content. The company already has marketing partnerships with "120 athletes, celebrities, and entertainers," like snowboarder Shaun White and surfer Kelly Slater. Here's Slater surfing a world-famous break on Oahu's North Shore:
Mixing sponsored, professional, and user-made content is a publishing model that many publishers—think Medium, Gawker, BuzzFeed, etc.—have adopted in recent years, and that's just what GoPro intends to do. From its IPO filing: "We are investing to scale GoPro as a media entity and develop new revenue opportunities by increasing production of GoPro originally produced content while simultaneously increasing the aggregation and redistribution of our customers' 'best of' UGC."
GoPro is already profitable. It raked in nearly $1 billion last year and made a net income profit of more than $60 million. The camera maker nearly doubled its profit last year compared with the year before, but this year has seen a slower start. First-quarter profits were about $11 million this year compared with $23 million in the same period of 2013. That may help explain why GoPro sees now as the right time for a public offering. The camera business is a risky and highly competitive one, so it makes sense that GoPro would seek to expand its business model. In its SEC filing, GoPro repeatedly emphasized that smartphones complement their cameras (rather than compete with them) because people can use the GoPro app on their cell phones as remote controls for GoPro cameras.
We already know that the content business is huge and growing, and user-generated-content platforms are especially attractive to investors. Venture capitalists who invest in content are now attracted to distribution mechanisms as much as they're assessing the quality content itself, according to Andrew Parker, a general partner at Spark Capital. In other words, there are so many people publishing content—and most of them doing it for free—that you're bound to find high-quality material if you know how to look for, package, and distribute it. Here's what Parker told me back in February for a story I wrote for Quartz:
I do think that if you polled a hundred of my VC colleagues and asked them about a social media company focused on the surfing community compared to a journalism company focused on the surfing company, more often than not they're going to say if it's [user generated content], that's going to be a plus.
GoPro's website reveals that it's hiring like crazy, though only three of the positions listed today seem distinctly editorial—an associate producer, a media producer, and a production coordinator. There are more than a dozen listings for marketing jobs, including director of brand, copywriter, director of content management, and social media manager.