Arnold Schwarzenegger's Dream Fuel Makes a Comeback
Former Governor Arnold Schwarzenegger's dream of building a hydrogen highway to fuel carbon-free cars is back in production.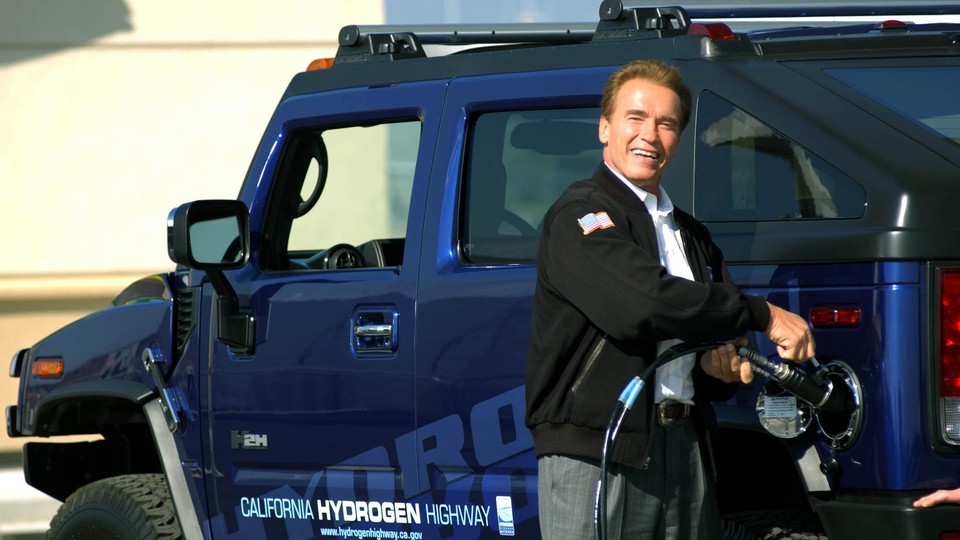 Remember former California Governor Arnold Schwarzenegger's much-hyped hydrogen highway? Back in 2004, the governator, in his typical understated style, rolled up to the state's first commercial hydrogen fueling station at Los Angeles International Airport in a hydrogen-fueled Hummer to publicize plans to build a network of 100 such stations.
"This is a modest beginning, but [hydrogen cars] hold the promise of a revolution," said Schwarzenegger.
The revolution was not to be and Schwarzenegger's dream of Californians zipping from the Oregon border to Mexico in carbon-free hydrogen fuel cell cars crashed and burned along with the state's economy in 2008.
But like the Terminator, the hydrogen highway is back. The California Energy Commission yesterday gave a preliminary award of nearly $50 million to eight companies to build 28 hydrogen fueling stations—13 in Northern California and 15 in Southern California. Along with nine existing stations and 17 currently being built, that means California will have 54 hydrogen fueling stations online by November 2015, which not co-incidentally is when major automakers like Honda and Toyota plan to start selling futuristic hydrogen cars in California. (Hyundai this spring will begin leasing a hydrogen fuel cell version of its Tucson SUV.)
"With this funding, California will accelerate the construction of a reliable and affordable refueling infrastructure to support the commercial market launch of hydrogen fuel cell vehicles," Janea A. Scott, a member of the California Energy Commission, said in a statement.
As I wrote in Quartz last month:
Powered by a fuel whose supply is practically inexhaustible—every nation can be the Saudi Arabia of hydrogen—fuel-cell cars convert pressurized hydrogen gas into electricity that powers the vehicle. The hydrogen cars now coming onto the market have triple the range of most battery electric cars and can be refueled in minutes rather than recharged in hours. And hydrogen technology can be scaled up to fuel buses, long-haul trucks and other big vehicles that most current battery packs are too puny to power. "We don't see any reason customers wouldn't adopt this technology in exchange for a gasoline vehicle as there's no trade-offs," Craig Scott, Toyota's US national manager of advanced technology vehicles, told Quartz.
A 2012 report from the California Fuel Cell Partnership, a coalition of automakers, technology companies and government policymakers, determined that it would take 68 fueling stations to make hydrogen cars commercially viable.
That's because the new generation of fuel cell vehicles can go 300 miles or more on a tank of hydrogen—versus 75 miles for most electric cars currently on the market. That means it will take relatively few stations to create a statewide network. But automakers had been reluctant to make the cars—which cost between $50,000 and $100,000—until they can assure potential buyers that refueling will be easy as finding a gas station. Under the California plan, drivers in major metropolitan areas will only be six minutes away from the nearest hydrogen station.
Under an executive order signed by current California Governor Jerry Brown in 2012, the state will support the building of infrastructure to fuel 1 million alternative energy vehicles by 2020.
That will not include a hydrogen Hummer, though. General Motors killed off the symbol of environmentally destructive automotive excess in 2010.