An Acid-Spewing ATM That Protects Itself From Thieves
How scientists turned a beetle's unusual defense mechanism into technology.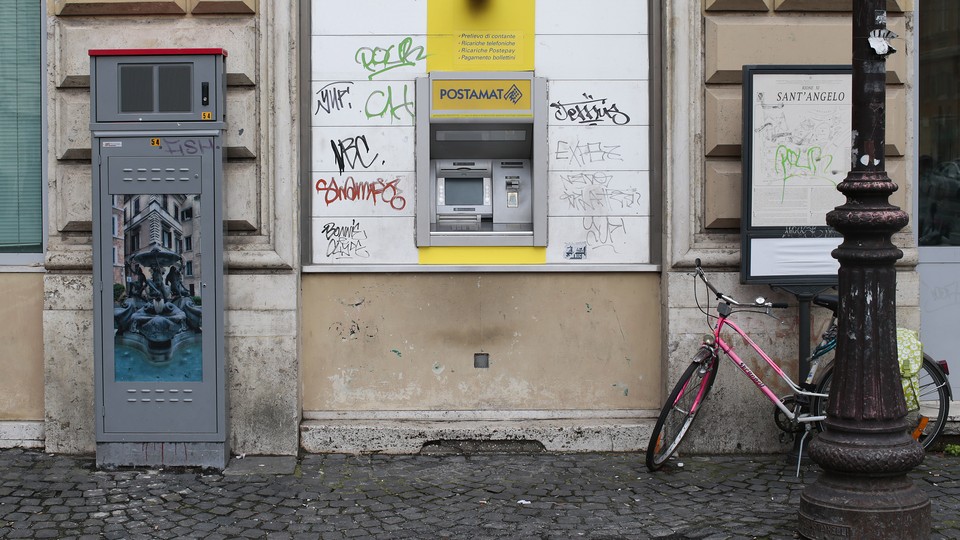 Defense can be a messy business in the natural world. There are suicidal blast ants that explode, horror frogs that create makeshift claws out of their own broken bones, and bombardier beetles that spray near-boiling gas that's noxious enough to burn human skin.
The elegance of the bombardier beetle's defense mechanism caught the attention of scientists in Switzerland, who designed anti-theft technology that works like the beetle's anatomy.
The beetle does its thing by storing two chemicals—hydrogen peroxide and hydroquinone—in separate abdominal chambers. When the chemicals mix, they create a reaction that heats and partially vaporizes the liquids. The resulting gas is what the beetle then sprays. It looks like this:
Skip ahead to the one-minute mark and check it out:
Chemists at ETH Zurich University found a way to replicate this effect using two chemical-filled honeycomb structures. They filled the hollow spaces of one structure with hydrogen peroxide, and filled the hollow spaces of the other with manganese dioxide. Then, they separated the two structures with a thin lacquer that breaks pretty easily on impact. If the two chemicals mix, a reaction occurs.
The scientists say their technology could be built into cash machines that would ooze hot foam when someone tampers with them, according to the university.
"Since the responsive materials presented here do not depend on electricity, they may provide a cost effective alternative to currently used safety systems in the public domain, automatic teller machines and protection of money transport systems," ETH researchers wrote in a Journal of Materials Chemistry paper.
But instead of burning potential thieves the way a beetle would spray a predator, scientists say their device would emit dye and DNA nanoparticles that would render stolen banknotes useless and mark them for tracking.