Want More Renewable Energy? Send in the Drones
Out in the desert it's hard to know when one solar panel among millions has failed. Unless you're a drone.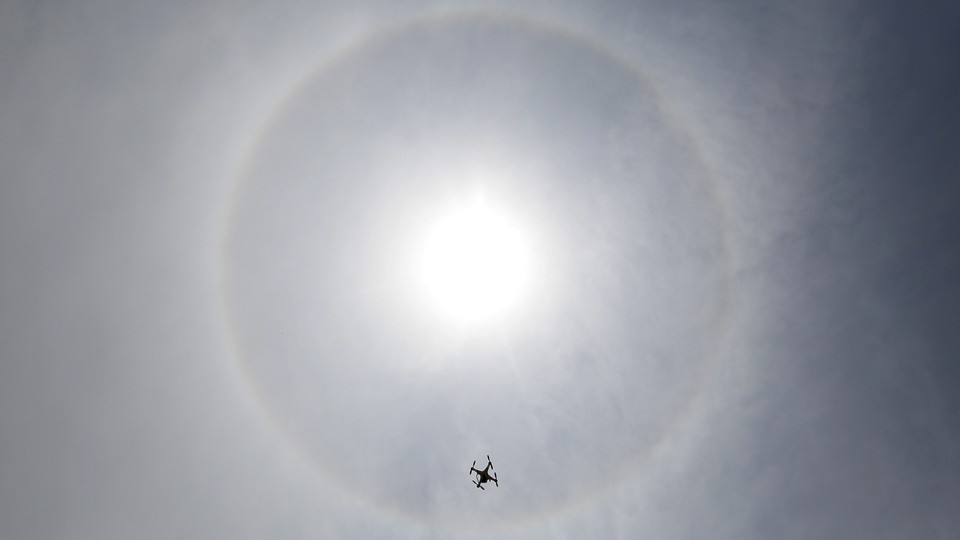 When the world's largest photovoltaic power plant went online this week in Arizona, it began generating 290 megawatts of clean green electricity that's powering 100,000 homes in neighboring California under a 25-year contract with utility Pacific Gas & Electric.
Now begins the much more mundane but no less challenging work of making sure the $1.8 billion Agua Caliente project continues to generate every electron—and saves every dollar—possible over its decades-long lifespan for owners NRG Energy and Warren Buffett's MidAmerican Renewables.
This is no easy task for the project's developer and operator, First Solar. Agua Caliente consists 5.2 million photovoltaic modules spread over nearly 10 square miles. Over time, modules will inevitably fail, which will depress electricity production. But finding a finding a faulty module is a time and labor-intensive endeavor, given that many solar power plants are built in remote areas of the desert. And as the number of big photovoltaic power plants proliferate, the stakes in the climate-change fight grow.
Enter the drones.
A Google-backed San Francisco startup called Skycatch, for instance, has developed a small and cheap drone outfitted with a high-resolution camera and various sensors. Failing solar modules emit a distinctive heat signature, which means a Skycatch five-pound quadcopter equipped with a thermal sensor can easily spot malfunctioning modules. These quadcopters fly low over solar arrays, going as fast as 50 miles per hour.
"The commercialization of these solar projects is based on output and automation," says Christian Sanz, Skycatch's chief executive, who counts First Solar, Bechtel, and solar panel installer First Solar as customers for his aerial robots. "The more you can automate their operations, the more they're viable."
The company built its drones to minimize human involvement. As I wrote recently in The New York Times:
Skycatch drones are designed to operate autonomously. When a drone completes a mission, it flies back to a ground station, a 100-pound, 2-by-2-foot box with a circular opening on top. As the drone nears, guided by its camera, G.P.S. and a sonar sensor, the ground station uses its own sensors and a radio signal to guide the approach. Once the drone has landed, a robotic arm removes the battery, which also stores 15 gigabytes of data, and replaces it with a fresh one from a 10-battery carousel. The data is then beamed up to Box, a cloud computing service.
Other drone companies are dispatching unmanned aerial vehicles to detect defective blades on wind turbines, to suss out leaking oil pipelines, and to inspect power lines.
But drones may prove most useful in boosting solar energy production and helping to resolve thorny disputes over power plants' impact on endangered wildlife.
In California, several multi-billion-dollar projects have been scuttled in recent years because of the potential harm they could do to the imperiled desert tortoise. And developers of those power plants that win regulatory approval have spent tens of millions of dollars conducting surveys for tortoises and other protected wildlife, relocating the animals and then monitoring their health for years after. Once a project is completed, critter controversies continue. The 377-megawatt Ivanpah solar thermal power plant went online in January in Southern California, and is now is under fire for incinerating birds.
Sanz envisions his drones conducting wildlife surveys and detecting when a protected animal has wandered onto a power plant site so it can be removed before it's hurt. "With a UAV flying close to the ground they can find all these endangered species that can shut down a project," he told me at the company's office in the San Francisco.
Whether a drone can stop birds from flying into an 800-degree Fahrenheit "solar flux" field generated by 300,000 mirrors at Ivanpah seems doubtful. And although drones may not be able to end the green-on-green wildlife wars, they could help produce a workable truce.