This Crazy Purple Cube Is 1 Giant Step for Space Agriculture
NASA to astronauts: "Let them eat kale."
"Veggie," it's nicknamed,
is basically a farm in the form of a transportable cube. It provides space crops with lighting and nutrient delivery, taking advantage of the Station's cabin environment for temperature control—and for carbon dioxide. The farm-in-a-box is collapsible, the better to facilitate both transportation and storage, but it expands to nearly 12 inches in width and nearly 15 inches in depth—making it the largest plant-growth chamber yet to be sent into space. "Veggie" will host science experiments that will feature,
as NASA puts it
, 
"edible results." 
In other words: Earth could soon be orbited by some SpaceKale.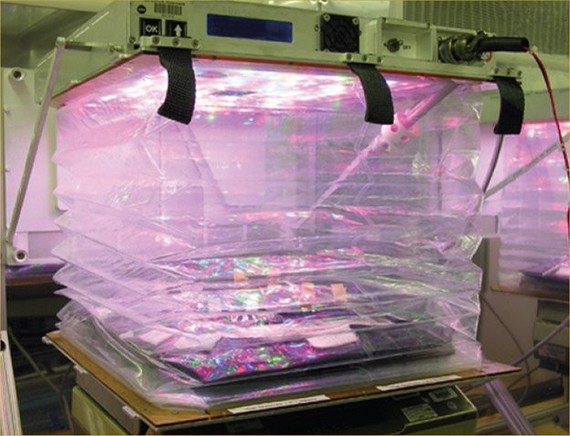 The impact of low-orbit agriculture, NASA claims, isn't simply culinary. While there's certainly a value to figuring out how to foster plants outside of Earth—a long-hoped-for Mars colonization will all but require it—there's also a psychological good, NASA believes, to having living, growing plants as part of the Space Station's setup. "Veggie" will help test that hunch. "Based upon anecdotal evidence, crews report that having plants around [from previous space studies] was very comforting and helped them feel less out of touch with Earth," Gioia Massa, a project scientist at NASA's Kennedy Space Center in Florida,
put it
.
She
added
: "You could also think of plants as pets. The crew just likes to nurture them."