This GIF Shows Just How Good We've Gotten at Planet-Hunting
With the help of a single space telescope, our knowledge of other worlds is exploding.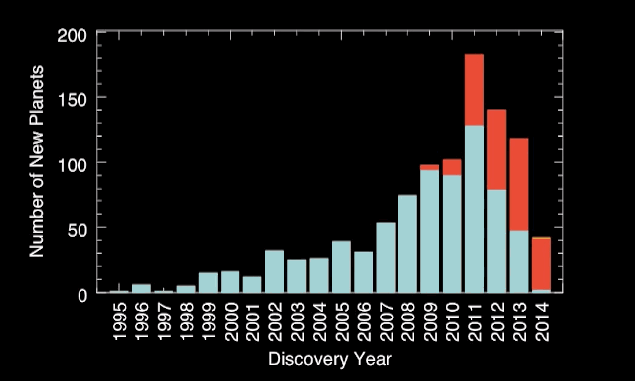 A couple of years ago, I talked with Geoff Marcy, the astronomer whose work identifying habitable-zone exoplanets has earned him the nickname of "the planet hunter." When he started searching for exoplanets in the 1990s, Marcy told me, that search had the air of the quixotic about it. The Times, at the time, noted that "a few skeptics still question whether these objects, called exoplanets, qualify as true planets."
Marcy put it more bluntly: "Everybody," he said, "said I was crazy."
Fast-forward to February of 2014, when NASA's Kepler mission announced the discovery of 715 (715!) exoplanets. (A "planet bonanza," NASA called it.) The new-to-us bodies orbit more than 300 stars. At least some of them—like Kepler 186-f—are strikingly similar to Earth.
Kepler launched in 2009, with a mission to survey more than 100,000 
stars that are similar to our sun for the fluctuations in brightness that may be produced by planetary transits. The goal was to obtain an estimate of the percentage of stars with potentially habitable planets. And while the Kepler telescope experienced a fairly heartbreaking mechanical failure earlier this year, making it unable to continue the search for new exoplanets, it's striking how much we learned from Kepler during the short time it operated. We're still learning from it. (Even though NASA couldn't find a way to repair Kepler, engineers figured out how to repurpose the telescope so that faraway planet detection is still possible.)
Which brings me to the GIF above, via Policy Mic, which captures better than anything I've yet seen the recent explosion of knowledge we've gained about exoplanets. It's knowledge that has compounded exponentially. It's knowledge of worlds that may well be similar to our own—insight that comes courtesy of NASA, a telescope, and some humans who, crazily or not, decided to dedicate themselves to planet-hunting.
Via Laura Olin