The 'Survival Selfie'
Sometimes, a self-taken photo can double as proof of life.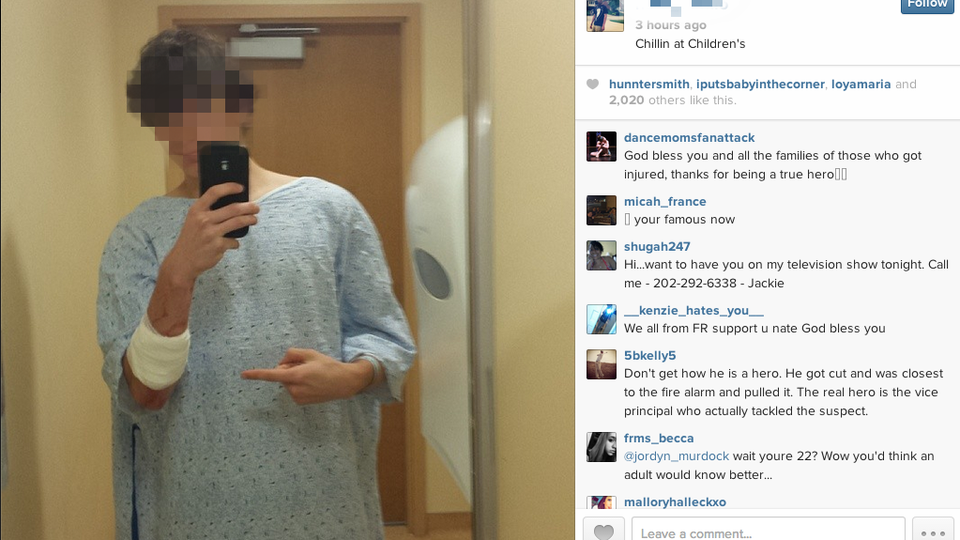 Why do people take selfies? You could say it's because of narcissism. You could also say it's because of insecurity. You could also say it's because of fun and whimsy and anyway let's not overthink it because selfies have actually been around since pretty much man first put paint to cave and we've been doing pretty well so far.
Another theory of the selfie, though, is that they have very little to do with the specific psychologies of their photographers/subjects ... and more to do with the general ones. Selfies are, at their core, an extremely effective way to prove that we humans exist. They don't just validate us, individually; they validate our lives, collectively. Selfie, therefore we are. It's the photographic equivalent of the "Whew! We made it!" that emerges after a scary airplane descent and then a safe landing.
If you buy that theory, then the Instagram above—a classic mirror selfie, shot and posted to Instagram this morning—is its apotheosis. It was taken by one of the victims of this morning's mass stabbing at the Franklin Regional High School in Murrysville, Pennsylvania. He wears a hospital gown and a bandaged wound. "Chillin at Children's," the caption reads.
The image has been liked, at this point, more than 2,000 times (which is notable in part because its poster is followed by just slightly more than 1,500 people). It's gotten more than 400 comments. And that's likely because it's a testament not to arrogance or narcissism or millennialism or any of that, but to something else entirely: survival.