Our Mars Orbiter Looked Down and Saw Our Mars Rover
From space, the U.S. Curiosity rover looks scarab-like.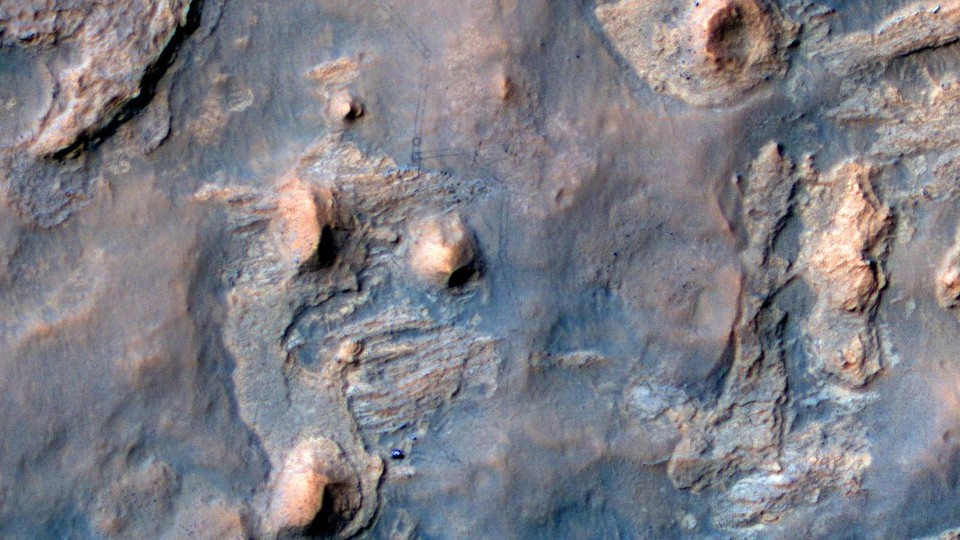 Right now, five human spacecrafts study Mars by hanging out near it. Two do it from the Martian surface—the Curiosity rover, which began its mission in 2012, and the more-than-a-decade-old Opportunity rover—and three do it while orbiting around the red planet.
Earlier this month, one of those kinds of spacecraft happened to see the other.
On April 11, the Mars Reconnaissance Orbiter passed near Aeolis Mons, a mountain near the equator in the planet's eastern hemisphere. It photographed a hilly region nearby known as the Kimberley, and there it caught a robot that's been hanging out among the hills for the past few months: the Mars Curiosity Rover.
That image—which has been slightly color-tweaked—is above. Curiosity is the blue, almost-beetle-like object in the center: It's about the size of an SUV. Behind it, 9-foot-wide tracks snake and curve through the landscape. You can see them enter the picture near the top, and the whole photo captures a little over a month of rover tracks. According to NASA, the rover entered the area being imaged on March 12, 2014.
The entire image is 1,200 feet wide, about a fifth of a mile.
This isn't the first time the Mars Reconnaissance Orbiter has seen Curiosity. In August 2012, it captured the rover parachuting into the Martian atmosphere. And just this January, it caught the rover inspecting a crater nearby.
NASA, in fact, purposefully pilots the orbiter near the rover. Like on Earth, it helps scientists to get a view of the terrain from multiple angles. The rover, too, has been taking photos of this area.
Flyby photos of this type don't just happen on Mars. Earlier this year, the youngest satellite in the Landsat program—a long-running U.S. Geological Survey project to continuously photograph the Earth's surface—captured an image of an earlier Landsat satellite zooming below. Unlike the stable Curiosity Rover, the Landsat craft looked, in the image, like a black smear.