How to Drill for Oil in the Brutal Conditions of the North Sea
The new generation of oil rigs: enormous, energy-conscious, and equipped with Internet cafes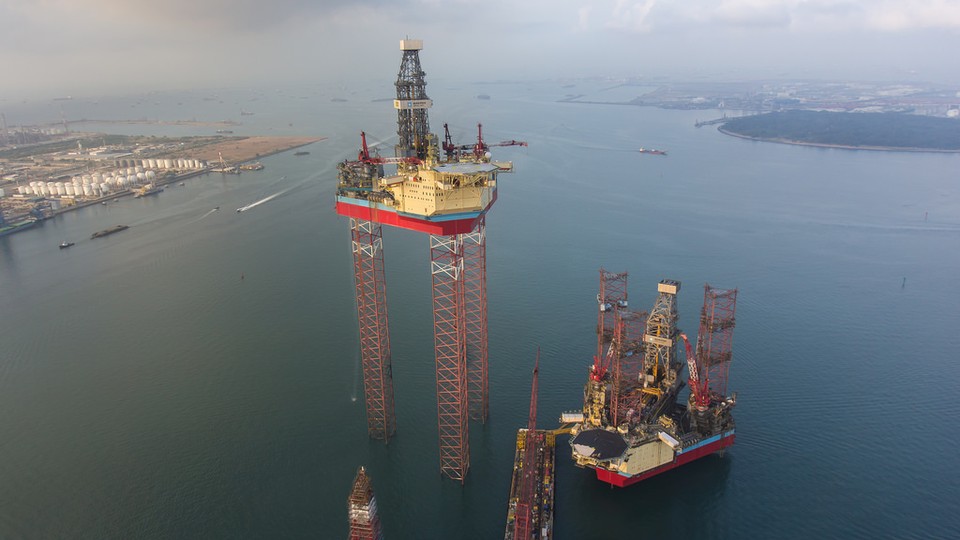 Meet the Maersk Intrepid. It's the first in a series of four "ultra harsh environment XL enhanced jack-up" rigs being rolled out by Maersk, the Danish business conglomerate, through 2016—to be deployed for year-round drilling in the ultra-harsh, but oil-rich, North Sea.
Before last month, when the Intrepid was born, the world's largest jack-up drill rig was the Maersk Innovator.
The Intrepid's legs are just five feet longer than those of the Innovator and its twin rig, the Inspirer, which were built in 2003 and 2004.
Here's another look at the Innovator: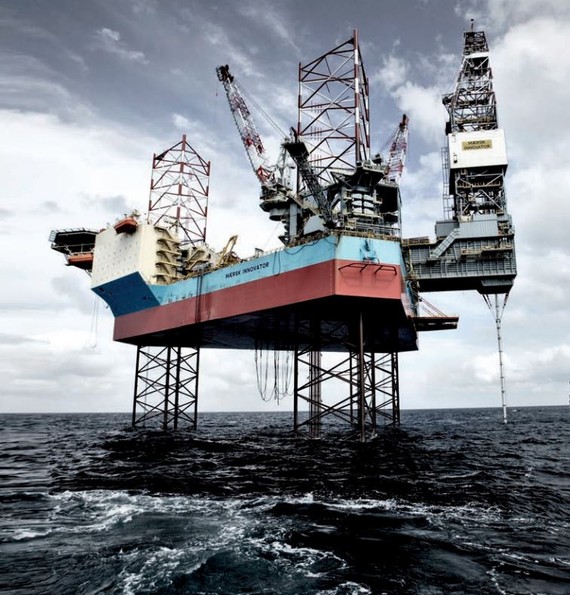 First, a bit of background. A jack-up rig is a mobile drilling unit anchored to and elevated above the ocean floor by extendable legs. The Intrepid is the largest rig of this type ever built. It was built—by Keppel FELS in Singapore—in two parts that will be joined, afloat, at sea. It, and the other three jack-ups in its class, can be used in waters up to 500 feet deep. It can drill wells 40,000 feet deep. Its legs are 678 feet long.
Maersk Drilling, which had its best year ever in 2013, is spending $2.6 billion on these four rigs. Keppel FELS is expected to complete construction of the next one in October of this year, and the third is due in February 2015.  The fourth one will be built in South Korea in 2016. Each is designed to withstand the rough waters of the Norwegian sector of the North Sea, where Maersk and other companies have been investing heavily in oil production—and where 80-foot-tall "freak" waves have been recorded.
Maersk already has six rigs in the region, according to this company-produced video about "Life as a driller in the North Sea." The employee featured here, Chris Hallan, has worked on the Innovator for nine years and will move to the Intrepid this spring.
Each rig in the new class of ultra-harsh environment jack-ups can accommodate 150 people in one-man cabins. Also on board: a cinema, a gym, a game room, and Internet cafes.
These won't be the world's grandest jack-up rigs for long, though. In January, a company called Drill One Capital commissioned construction of the Dubai Expo 2020 NS, also known as the CJ 80, which will be built by the Drydocks World shipyard in Dubai. This will be "the world's largest jack-up rig," and it will compete with Maersk's fleet in the North Sea. It will be almost 100 feet taller than the Maersk Intrepid. According to a Drydocks press release, it will also be "totally environmentally friendly," designed to use 30 percent less fuel and generate 25 percent fewer emissions than other extra-large rigs.
Of the nearly 500 jack-up drill rigs in operation around the world right now, more than 300 are 25 years old or older—making the global fleet in the midst of what the industry calls a "replacement cycle." Shipyards like Drydocks and Keppel FELS are expected to stay busy building rigs for Maersk, Transocean, Ensco, and other companies through 2016.