Hacking the Political Platform: Why One Candidate Is Using Github
This Congressional hopeful believes the code-management service will give voters a voice.
New Jersey's second district lies vast across its south. Atlantic City to the Delaware River, cranberry bogs and the Pine Barrens: Where the state's other districts have been gerrymandered into twiddly bits, the second district seems large, substantial, and plausibly contiguous.
Unlike the state's Gotham-gorged north, south Jersey is known for farmland, shore towns, and a struggling economy. It's not exactly the district where you'd expect a 'coder to run for Congress'—but that's exactly what Dave Cole, native New Jerseyan and Obama campaign veteran is doing.
In fact, that's his core pitch: He began his campaign with a Medium post announcing, "I'm a coder running for Congress." He calls himself an engineer, and he brings a startup's sensibility, systems—and, perhaps, naïveté—to the campaign.
Chief among these? He's placed his full campaign platform on the code management software Github, and he's invited anyone to edit it.
***
Cole should have an easier time than he's having. New Jersey's second district went to Obama by 8 percentage points in 2012 and 2008, yet its seat in the House has been controlled by a Republican congressman, Frank LoBiondo, since 1995.
Cole would like to face LoBiondo, who doesn't exactly seem a friend of the president's. He's called Obamacare an "workable trainwreck." (He also, though, supported the extension of unemployment insurance.) First, though, Cole must defeat Bill Hughes in the primary—Hughes, the establishment Democratic candidate; Hughes, whose father, William J., held NJ-2's Congressional seat for the two decades before LoBiondo won it.
What Cole brings to the fight is an Ur-Millennial resume. A child of the second district, he attended a local high school and Rutgers University, where he served as student council president for two years. While in school, he got caught up in the Obama campaign's New Jersey effort. Work in the White House followed 2008 victory: Cole served as "Senior Advisor to Technology" working to make government "more efficient and responsive."
After leaving the White House, he joined the DC-based startup Mapbox, which creates maps from open-source data for non-profit use. His campaign-sanctioned bio labels him "an entrepreneur and an engineer."
It's that engineering ethos which informs his use of Github. Github, for the uninitiated, is a piece of software and a website that programmers use to manage their code. Companies and organizations often manage their large library of code on the service, which maintains and stores different versions of the underlying text. While it costs money to host code privately on Github, open-source and public software projects can use it for free.
For some startups, Github's built-in messaging features have replaced team email.
Recently, people have started using Github for other purposes. They use the software to manage versions of images, databases, or just plain prose. Github has released new features to make those uses easier, and it's the prose function that the Cole campaign deploys.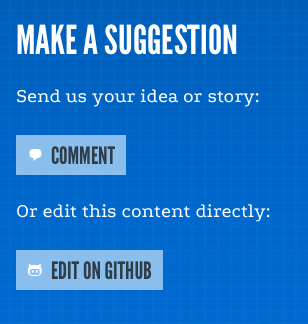 So: Go to Cole's campaign website and you can see his platform and take on the issues. That's not the only place that information resides, though: A clone of the text also exists on Github, where anyone can suggest changes to it. People who dislike some aspect of the platform can also submit a change by leaving a comment on Cole's website.
Cole's platform has been on Github for about a month. So far, three people have requested to change it through Github.
They have made two policy changes and fixed a typo.
J. Renée Beach made one of the changes. Where previously Cole's policy prescription read:
Extend federal non-discrimination laws to include sexual orientation and gender identity.
Beach recommended it changed to:
Extend federal non-discrimination laws to include sexual orientation, gender identity and gender expression.
Beach is a programmer during the day and familiar with Github. Beach regularly works on open-source software projects, including the content management system Drupal.
"When I saw a line in Dave Cole's repo that I thought could be improved, I spent 3 minutes and suggested the change. I am transgender and for me, making a distinction between gender identity and gender expression at a legal level is very important," wrote Beach by email.
"Dave's team could either accept the change or reject it," Beach said. "Either way, I would know where they stand on the issue. For me, this is true democracy—collaboratively solving problems and improving our processes."
When I talked to Cole, he said his campaign puts its platform on Github—and makes it editable—to be more transparent.
"Win or lose in this election, we want to make sure everything we do is open and transparent," he told me. "We wanted to state very clearly what solutions I'd bring."
Cole said that users could submit a comment to his platform if they weren't Github-inclined. And even if they didn't submit a change, Cole said, they can see the entire history of each page and the accompanying issue, Cole said. He said the great asset of making this kind of in-progress historical record was that it could "rebuild trust."
This all fits with Cole's ethos: "As an engineer, I am ultimately judged on results—the product I ship—and not just what I say," he says on the homepage of his campaign site. But I'm not sure that by publishing the haggling over his campaign platform, he's solving the problems of democracy that he thinks he is. Many questions of law or government have no empirically right or wrong answer, or, if they do seem to have a right answer, it's a more efficient one. The asset of Github, as Beach writes, is that it gets Cole's views into plain sight—but I'm not sure the campaign needed a specialized software platform to do that.
Besides, our legislative politics don't glob along molasses-like because there's a dearth of debate or policy proposals. Rather, a whole political party has decided to resist the president in every way they can, even reneging on policy solutions they previously supported.
***
Last weekend, in Princeton, New Jersey—some miles north of NJ-2—I sat in a dark auditorium and listened to the writer and artist James Bridle describe his investigation of Britain's cruel deportation laws. He lauded one of the British government's websites, which put changes to the text of the country's laws side-by-side-by-side.
The website let the reader see exactly how the law's letter had changed—and how that change hinted at shifts in its spirit and execution.
Obviously, Bridle said, we shouldn't use Github to legislate or to write new laws. That, he implied, would be ludicrous. But he wondered if the body of language we've developed around describing version changes on Github might be usefully applied to talking about changes in the law. He asked if the Internet, a thing whose description eludes us, might provide some useful parallels to understanding the law.
Both, after all, are complex, linked systems of text and interpretation, of fluid people and articulated ideas. And while I'm not sure Cole's issue-hub will prove useful to residents of NJ-2, it's an intriguing innovation: a foray forward—and a simple one, at that—as we figure out how best to fit the huge systems of society together.