Zuckerberg Announces More Privacy, Better Ads in Facebook Keynote Speech
Facebook CEO Mark Zuckerberg announced today that the social media company will amp up its privacy protections -- welcome news for users sick of having their personal information mined by advertisers. He also, however, announced that targeted ads will become even more targeted.
This article is from the archive of our partner
.
Facebook CEO Mark Zuckerberg announced today that the social media company will amp up its privacy protections — welcome news for users who have come to think of the site as nothing more than personal information mine for advertisers.
During a keynote speech at Facebook's F8 Developer Conference, Zuckerberg announced the "anonymous login," as a way for users to maintain more control over how much personal information they'd like to share, when they use their Facebook account to log into other apps and websites.
app privacy update: everyone has to choose to share their own data with an app themselves. #f8

— Selena Larson (@selenalarson) April 30, 2014
Now, instead of just logging into an app through FB, a user can log into an app anonymously. #privacy #f8

— Justin Lafferty (@jlaffertyIF) April 30, 2014
Really cool new privacy controls on FB: Anonymous app login. Line-by-line permissions, permissions for your data on friends' apps #f8

— Kenton Jacobsen (@kentonjacobsen) April 30, 2014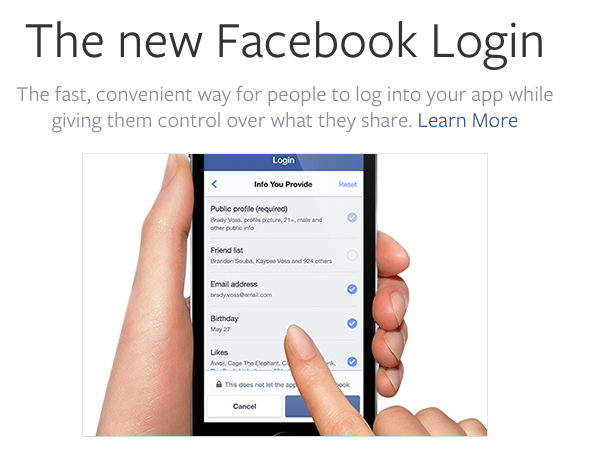 Zuckerberg said during the conference that "we know some people are scared of pressing [the social login button].... if you're using an app that you don't completely trust... then you don't want to give a lot of permissions."
But according to Fast Company's Mark Wilson, Anonymous Login isn't totally anonymous. (Of course.) Wilson writes:
Facebook Anonymous Login is a bit like Google's Incognito browsing they introduced inside Chrome. Except, again, it doesn't appear to be 100% anonymous because Facebook still sees the user going anonymous to check out an app. That would be a bit like Chrome keeping you logged into YouTube when you're browsing in Incognito mode.
He also explains that if, after using Anonymous Login to download an app, you decide that you like it you still do have to log in with Facebook at some point later on. So it's sort of anonymous... temporarily.
Zuckerberg also announced that users would have more privacy options on Facebook.com, too. The Wall Street Journal explains: 
The changes, which Facebook says will be adopted by websites and mobile apps within the next year, will give users more choices about the personal information they share with third parties. By checking or unchecking a box, users will be able to specify if they want to share their friend list, their birthday or their "likes," among others. Currently, people who log in with Facebook Login don't control the information they share, including their email addresses, their friend lists and other personal data. 
The new features mean that users will be able to limit the personal information broadcast to other sites and apps that collect data from Facebook, which is bad news for developers. But another feature, the not-unexpected Facebook Audience Network, should appease that demographic.
The Facebook Audience Network is here, easy integration of Facebook ads (native & IAB) into apps, so there you go. This is a big deal!! #f8

— Brian Blau (@brianblau) April 30, 2014
And today they announced the Facebook Audience Network ... developers can run FB ads and get paid. #f8

— michael lazerow (@lazerow) April 30, 2014
Here's Facebook's video introducing the new feature:
Facebook explains that the Audience Network will help developers "show your audience ads that matter to them with Facebook's powerful targeting," and "display successful Facebook ads in the format that's right for your app."
Facebook also introduced AppLinks, which will allow users to move more easily from app to app, and a mobile Like button. 
This article is from the archive of our partner The Wire.