Drought Now Covers 100% of California
And the snowpack is melting quickly, too.
California's drought has finished its conquest of the state: 100 percent of the land here is now in a drought condition, and 96 percent of it is in a severe, extreme, or exceptional drought.
"This week marks the first time in the 15-year history of the USDM that 100 percent of California was in moderate to exceptional drought," writes NOAA's Richard Heim in a drought monitoring report.
It's gotten this bad, despite March's decent rains.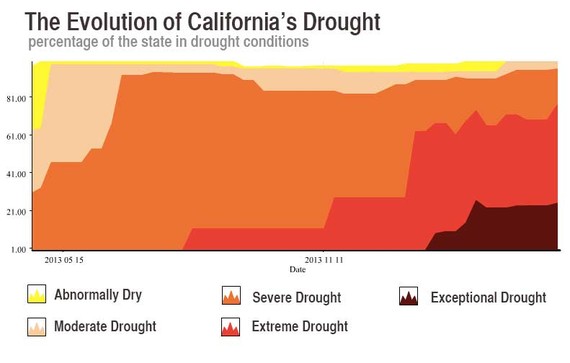 And the state's hydrological conditions might be worse than they look here. Snowpack serves as a natural reservoir, allowing humans to capture the runoff during the long California dry season. If it's warmer, though, more precipitation falls as rain, instead of snow, eliminating the storage in the mountains.
And that's what's happening this year. While precipitation in the northern Sierras is running at 60 percent of normal, the snowpack is sitting at 13 percent of normal in the northern Sierras and 22 percent statewide. It's melting quickly, too, thanks to hotter than normal temperatures.