13 Minutes: The Average Warning-Time Before a Tornado Hits
Unlike other natural disasters, tornadoes can strike any time in much of the country.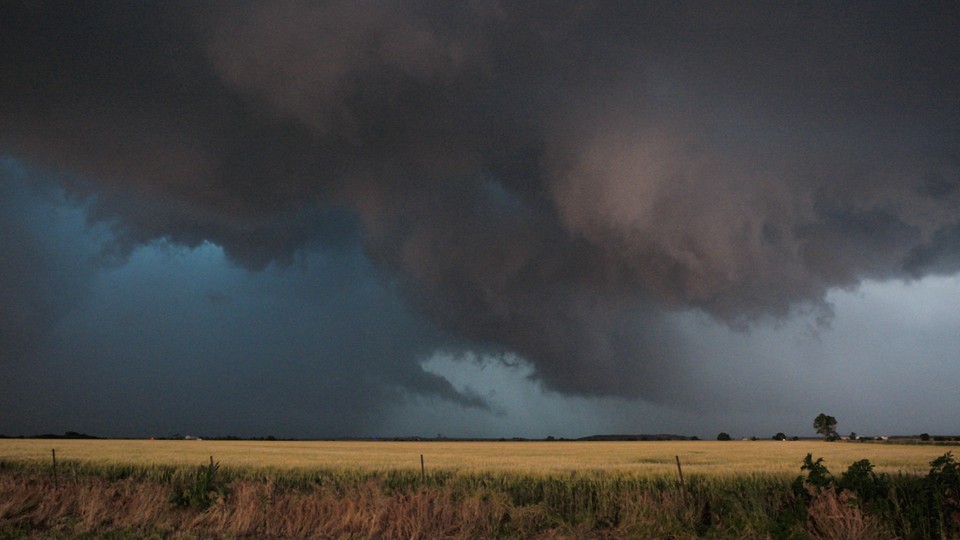 There are a number of regions across the United States that see an exorbitant amount of tornadoes in a given year.
None more so than what's classified as Tornado Alley by the National Climatic Data Center. But on a smaller scale there also exists Dixie Alley in the south, Hoosier Alley in the upper Ohio Valley, and out east the Carolina Alley. While every state in the contiguous U.S. has recorded at least one tornado since 1950, these regions often host the greatest threat in any given year.
Tornado Alley
Roughly 17 million people live in what is widely considered Tornado Alley, an area of approximately 500,000 square miles which spans portions of eight states across the high plains of the United States. Each spring weather enthusiasts, scientists, and extreme weather fanatics descend on the region for severe weather season as nature unearths some of its most powerful, least understood, and beautiful weather phenomena: tornadoes.

No Man's Land

The vast Plains has a long history of extreme weather. Coined "No Man's Land" during the Dust Bowl, in many respects little has changed in the nearly 80 years since. Even with the inclusion of the Dallas metro area in the map above, the population density across the region is just 29 people per square mile.
The people of this land have a longstanding tradition of depending on the weather for their livelihood. Despite the harsh reality of drought and severe weather, the region has the highest percentage of land farmed in the United States, and remains a critical supplier of food for the 300-plus million people living in the U.S.
Tornadic Numbers
Although it covers just 15 percent of the United States, Tornado Alley lays claim to nearly 30 percent of all the confirmed tornadoes in the Storm Prediction Center's database between 1950 and 2012. Of the 58,046 tornadoes on record in that period, 16,674 of those occurred in Tornado Alley, which is a long-term average of 268 tornadoes per year.

A tornado's severity is ranked by something called the Enhanced Fujita Scale (previously just Fujita Scale). This scale ranks tornadoes by estimated wind strength, with EF0 (gusts of 65 to 85 miles per hour) being the weakest, and EF5 (winds over 200 miles per hour) being the strongest.
There are 59 confirmed F5 or EF5 tornadoes on record, and 37 percent (22) of those have occurred in Tornado Alley. In fact, for each strength category the distribution is about the same. Those within Tornado Alley account for about 35 percent. The exception is EF0 tornadoes, with 51 percent of those occurring in Tornado Alley.

Deadly tornadoes happen every year, but they're atypical of your normal tornado—despite how it might seem.
Data obtained from the Tornado History Project shows there were 5,587 confirmed fatalities blamed on tornadoes across the United States between 1950 and 2012. Of those, 1,110 occurred in Tornado Alley. This from just 1,561 deadly tornadoes during the span. While only 2 percent of tornadoes were deadly nationwide, some are hugely devastating.
Injuries caused by tornadoes are much more numerous. For the same period, there were 64,054 injuries reported across the United States, which averages out to just over 1,000 per year. Twenty-four percent of those injuries occurred in Tornado Alley.
The two charts below show total injuries (left) and total fatalities (right) in five year increments between 1950 and 2012. Note the very similar patterns — many lives lost during the sixties and seventies, and seasonal spikes in March, April, and May, as well as well as during the "second season" in November.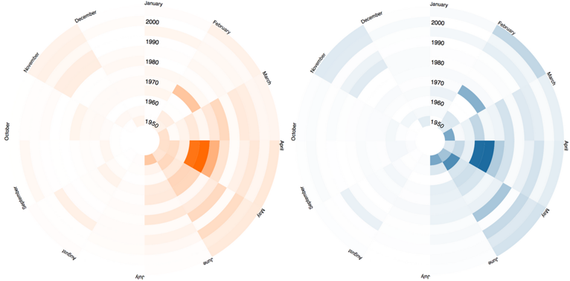 While Tornado Alley can lay claim to the highest count of tornadoes as compared to any other region across the United States, many are weak, short-lived tornadoes. Colorado, for example, though hosting the county in the U.S. with the most tornadoes on record, only two F/EF4 tornadoes have been recorded between 1950 and 2012, and zero F/EF5 tornadoes. The strongest, long-lived tornadoes tend to occur well east of the Rockies, across the eastern two thirds of Tornado Alley and into Dixie and Hoosier Alley.

Dollar Cost
According to the Storm Prediction Center, seven of the 10 costliest tornadoes since 1950 have occurred in Tornado Alley. Topping the list is the deadly Joplin, Missouri, tornado of 2011, an EF5 tornado which caused an estimated $2.8 billion in damages to the town.
The Insurance Information Institute reports the average insured loss per year was $7.78 billion between 1993 and 2012 for severe thunderstorm events, including tornadoes.
The costliest of those years? An estimated $27 billion in insurance claims in 2011 from severe thunderstorms.
While the majority of tornadoes since 1950 have occurred between April and July, destructive and highly costly tornadoes have been recorded in every month of the year. Unlike other natural disasters, tornadoes can hit virtually any time in much of the country. While the various tornado alleys of the country may be particularly prone, the lengthy unrelenting threat often pushes severe weather costs in a given year well ahead of other disasters, like hurricanes.
Some have argued we aren't doing enough to protect those in harm's way of these violent storms, even to suggest the only way to protect against tornadoes is to build row of giant walls across tornado alley. The fact of the matter is, however, that the best protection from tornadoes in this part of the world is preparedness and warning time.
The National Weather Service states the average lead-time for tornado warnings is now 13 minutes nationally, up significantly from the 1980s when lead-times were estimated at less than five minutes. While researchers continue working tirelessly to better understand tornado development and to increase those lead-times even more, it's important that weather consumers continue to be diligent in preparation for such an event.
---
This post originally appeared on United States Tornadoes.