Why Facebook (Maybe) Bought Oculus Rift: The Next Wave of Profits
Companies are desperate for off-screen, non-advertising revenue—wherever they might come from.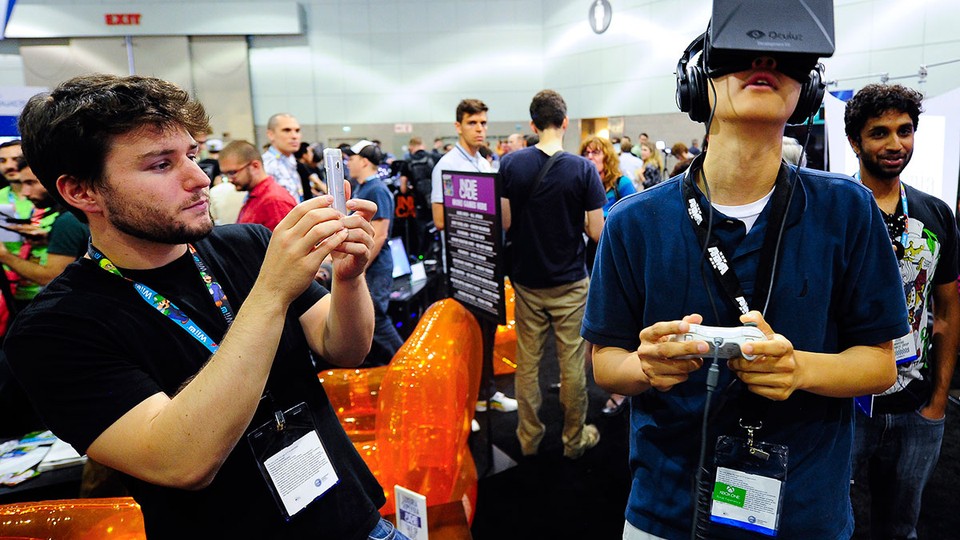 Facebook announced they're acquiring Oculus Rift, a virtual reality platform, for $2 billion.
Yes, the social network is buying a VR helmet-maker.
The dominant reaction to the move could be summed up in three letters: WTF.
We see the acquisition of a piece with recent moves by other technology companies. Google bought Nest, a home automation/robotics company, and a passel of robotics companies. Apple is negotiating with Comcast about building out a TV service on the cable company's pipes. And Facebook itself recently has supposedly been in talks to buy a drone maker.
What do they all have in common?
All these moves are about technology companies looking to create businesses off the computer/mobile screen. In a world where smartphone sales growth is going to level off soon, where social networking growth has already slowed, where everyone already uses Google ... where do companies go to continue the revenue growth that is baked into their current share prices?
Maybe they go after a share of TV money, or bet on the Internet of Things, or get in early with the explosion of consumer robotics.
These massively valuable companies need to grab some land in whatever big technology wave comes next. And they are starting to buy where they think the fertile territory is.
Andreesen Horowitz's Chris Dixon, a venture capitalist, said of Oculus Rift today: "The more we learned, the more we became convinced that virtual reality would become central to the next great wave of computing."
Emphasis on next. Other people seem to think the same thing about the "Internet of Things" (Nest), or robots, or drones. And who hasn't imagined that TV needed to be reimagined, with content discovery occurring outside the current channel structure?
Today's technology companies have lots and lots of cash. What better way to spend it than insulating themselves against possible disruptive technologies down the line, even if today they seem, as Dan Hon put it, "orthogonal" to the company's core strategy?