Where to Get Your Next Fix of MH370 News
Chris Goodfellow, who has offered the so-far least-unlikely explanation of what happened, does a 90-minute Q&A.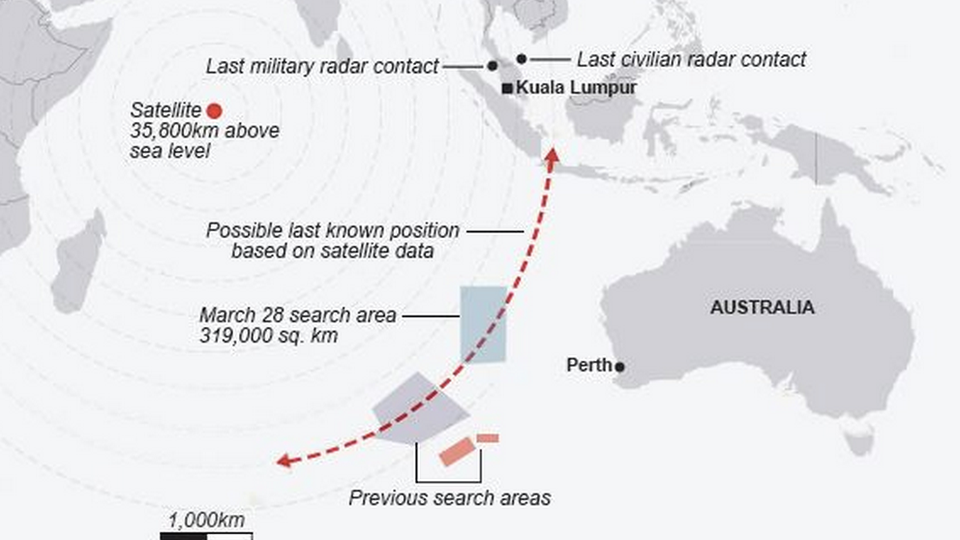 Executive summary of what you'll find below: If you're looking for more discussion of MH370, please swap the first 90-minutes of this "Google Plus Week" (embed below) for the next 90 minutes you would spend with cable news. It features the person who came up with the at-the-moment-least-implausible explanation of what happened, and its BS/insanity quotient is practically nil, in stark contrast to the normal cable level.
Now the details.
---
Yesterday I was on CNN's Reliable Sources, with Brian Stelter (and Poynter's Andrew Beaujon), talking about the way CNN, in particular, has decided to go wall-to-wall in covering the missing airplane. Stelter pointed out that when CNN dealt with MH370, its ratings went up; when it didn't, the ratings went down. Therefore the network had quite rationally decided to make itself into the Missing Plane Channel for the foreseeable future, much as it became the Gulf War Channel in the early 1990s, in the period that first established its worldwide role.
I replied: I understand this business logic, which fits the reality of the modern highly diversified news ecology. If you want to find out, right now, what's up with sports, or weather, or the stock market, or political trends, you know where to go. If you want to find out about the MH370 search, you know you can go to CNN.
But my main complaint was that CNN had been so undiscriminating in filling these hours with nutso speculation -- black holes, "radar shadow," attack on Israel -- right alongside people who kept their discussion within the realm of the plausible. It's one thing to say that almost nothing is known about what happened with the plane. It's something else to have people gas on about things with no evidence to support them and with strong common-sense obstacles to being true.
Political analogy: no one knows who will be elected president in 2016. But if we treated electoral handicapping the way cable news has often treated MH370, we'd have panelists speculating how Megyn Kelly might do against Stephen Colbert in the crucial swing states. ("Kelly will help the Republicans with the youth vote, and women, without in any way depressing interest from their traditional base of older white men. But Colbert, who is from South Carolina, could open new possibilities...") After all, you can't prove they won't be the nominees.
Which brings us to Chris Goodfellow. Nearly three weeks ago, when most discussion concerned hijacking or pilot criminality, he offered on Google+ a different MH370 hypothesis. In essence it was: that some mid-flight emergency (probably a fire) had broken out on the plane; that the pilots had immediately turned back toward the nearest big airport, which was on an island off Malaysia; that for some still-unknown reason they had become incapacitated or disabled; that also for unknown reasons, possibly fire that disabled their radios, they had not been able to communicate; and that the plane, on autopilot, had flown on until it either ran out of fuel or crashed for another reason.
Soon thereafter, I wrote that this was the first hypothesis that made face-value sense to me. Maybe things didn't play out this way --  but this scenario started out with the Occam's Razor advantage of requiring fewer assumptions or suspensions of probability than others.
An item in Slate immediately and with great certainty declared that Goodfellow's scenario could not be true. Its author, Jeff Wise, became a regular on CNN making that same point -- and meanwhile promoting the hypothesis that the plane had landed in Central Asia. Eg, "the 777 is capable of landing on small airstrips and on relatively unimproved surfaces, such as packed dirt and dry lake beds. In such a scenario, the odds are good that, unless they were murdered, the passengers remain alive." (Also here. For the record, in his original anti-Goodfellow item Wise included me among people who he thought had been taken in by Goodfellow. He knows that I disagree with him.)
This weekend Chris Goodfellow did a Q-and-A session on the "Google Plus Week" channel on YouTube. The next time you're looking for 90 minutes' worth of discussion of what could have happened, what we know and don't, and why the plane's reported cargo of lithium ion batteries deserves attention, I'd recommend this over any comparable time with cable news.
It could turn out that Goodfellow's view is entirely wrong, but his pattern of thinking about the puzzle is systematic and worth hearing.