Where Malaysia 370 Might Have Landed: An Interactive Map
Want to find a runway that is 7,000 feet long, and in Burma? You have come to the right place.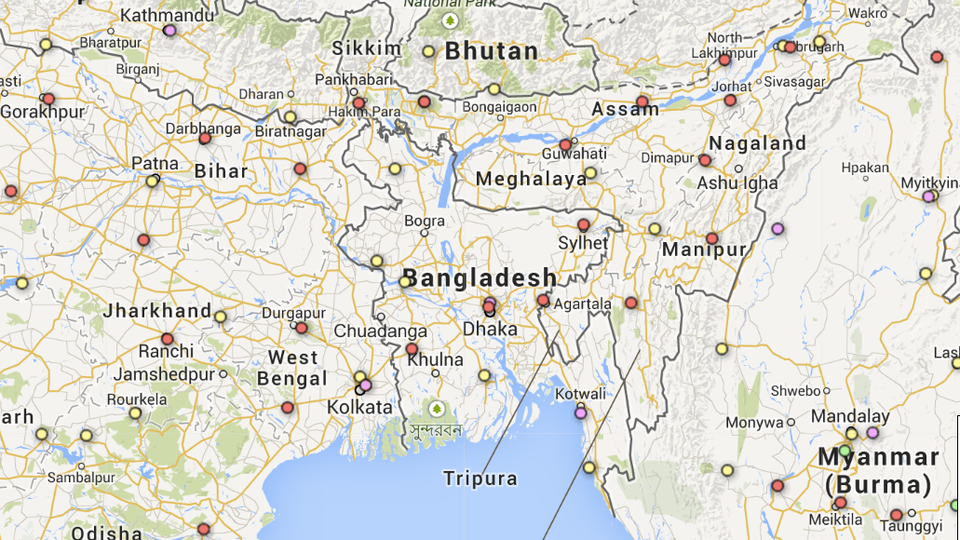 Recently I mentioned WNYC's map of airports where Malaysia Airlines 370 might theoretically have landed, considering how far the plane might have flown and how large a runway it would have required. The map, I said, was great but just short of perfection, since it was static rather than interactive.
Reader David Strip, of New Mexico, has graciously moved us closer to perfection on the mapping front. He has used runway data from OurAirports to populate a map, in a way that represents two big steps forward. First, the runways are color-coded by length. As mentioned earlier, a 777 could, in a pinch, get itself down on one of the tan-colored runways, which are 4,500 to 7,000 feet long. But it would prefer to find a runway that was red, purple or green, with lengths of 7,000 feet and up.
Second, if you click on any of the individual dots on this map, you'll see popup information about the site -- runway length, location, elevation, etc.
You can also zoom in and out of the map, and pan around, for a closer look at places you are interested in.
Strip worked from the same assumptions about airport length and travel directions as in the WNYC map; assumptions and information about the airplane's route may have changed since then. (He also used Google Fusion Tables, rather than our usual Esri map tools; hey, it's a free country.) But this map is a very useful and clarifying addition, for which I thank Strip and invite you to try it out.
Update: To be clear, as mentioned before I think that if the plane had actually landed at any of these sites, we would know it by now. But as an intellectual and cartographic exercise this map is interesting, and it's offered in that spirit.