When the Suburbs Were Exciting
And four other intriguing things: Chinese propaganda, wearable investment, the Nanjing Sifang Art Museum, and a serialized fiction app.
1. A trip into the Chinese propaganda machine.
"I had gone to volunteer my services to the International Channel Shanghai expecting to find the place strange, Orwellian and slightly dangerous. I had naively hoped to ferret out a few state secrets. What I found was not propaganda in the grim midcentury sense. Rather than apparatchiks, we had presenters in miniskirts, faces dewy with an aerosol spray that held their makeup and made them all smell like flour. The scripts I read were not injunctions to follow Mao Zedong Thought but ejaculations of positivity about new products."
2. Research firm reports venture capitalists poured $458 million into wearables last year.
"We dove deeper into financing trends by stage and geography in wearable tech over the past two years. In 2013, investors put $458M into wearable companies across 49 deals. On a year-over-year basis, deal activity to wearable tech startups rose 158 percent while funding grew nearly 80 percent. Stripping out Foxconn's $200M corporate minority round to GoPro in Q4'12, we see that YoY funding dollars actually grew by over 8x."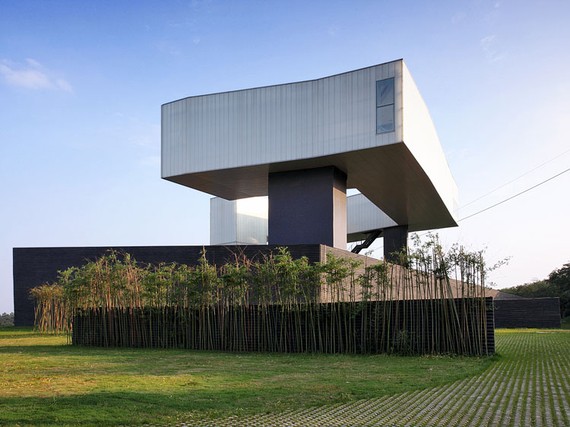 3. The Nanjing Sifang Art Museum.
"The new museum is sited at the gateway to the Contemporary International Practical Exhibition of Architecture in the lush green landscape of the Pearl Spring near Nanjing, China. The museum explores the shifting viewpoints, layers of space, expanses of mist and water, which characterize the deep alternating spatial mysteries of the composition of Chinese painting. The museum is formed by a 'field' of parallel perspective spaces and garden walls in black bamboo-formed concrete over which a light 'figure' hovers. The straight passages on the ground level gradually turn into the winding passage of the figure above. The upper gallery, suspended high in the air, unwraps in a clockwise turning sequence and culminates at 'in-position' viewing of the city of Nanjing in the distance. This visual axis creates a linkage back to the great Ming Dynasty capital city."
4. When suburbs were new: solar housing in 1940s America.
"In the years surrounding World War II, solar house heating was seen by many American architects, journal editors, and policymakers as a necessary component of the expansion into suburbia. As the technological and financial aspects of home ownership came to take on broad social implications, design strategies of architectural modernism—including the expansive use of glass, the open plan and façade, and the flexible roof line—were seen as a means to construct suburbs that were responsive to anticipated concerns over materials allocations, over energy-resource scarcity, and over the economic challenges to postwar growth. As this article demonstrates, experiments in passive solar house design were a prominent means for envisioning the suburbs as an opportunity for new kinds of building and new ways of living. The article documents these developments and places them in the context of related efforts to think about the future."
5. Rooster, a serialized fiction app. 
"The app's approach is to deliver novels in bite-sized chunks. Each segment should take about 15 minutes to read, and they arrive when you choose, whether it's every morning before work; every Monday, Wednesday, and Friday; or whatever. There are two books offered every month — a contemporary title and a classic novel that's supposed to offer 'a conversational counterpoint.'"
Today's 1957 American English Usage Tip:
atom, atomic. Atom is the noun, atomic an adj. If newspapers want to use atom in headlines (atom bomb, atom conference) to save space, it is their privilege, but the use should not creep into the article: Although the actual construction of an atom plane engine was ruled out... As short forms, both A-bomb & atom bomb are current; atomic bomb is best.
Ejaculations of Positivity About New Products