The Uncanny Valley, Interior-Design Edition
Now you can explore Jerry Seinfeld's apartment ... through virtual reality.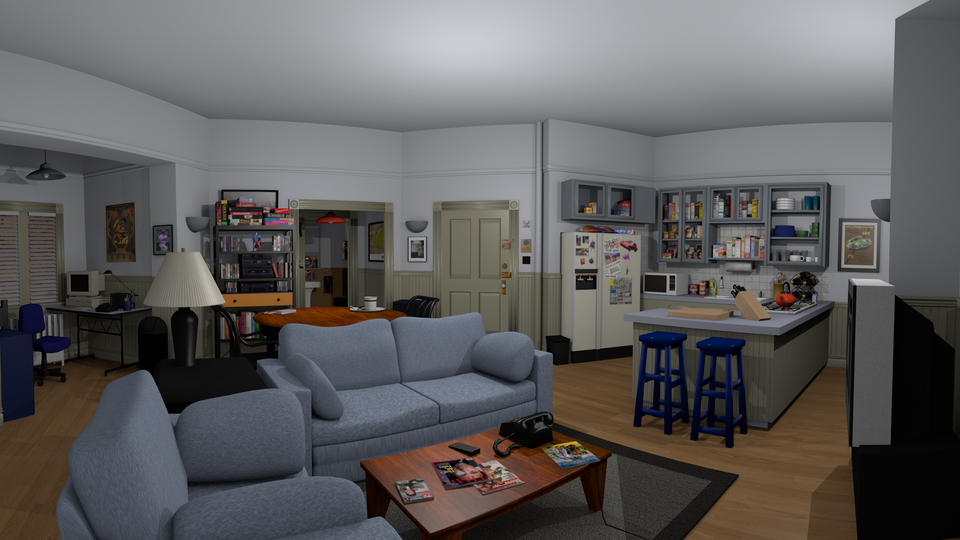 The "uncanny valley" usually applies to human aesthetics. It describes that vague sense of revulsion you get when you see a fabricated person—a robot, usually—who looks aaaaalmost human … but not quite. So, for example,
this lady
.
This dude
. Anything displayed
here
. The "valley" refers to the emotional reactions humans have toward anthropomorphized machines, when those reactions are charted: It's the deep dip in comfort level we tend to experience, based on our finely honed survival instincts, when we humans come face-to-quasi-face with beings that are at once extremely like us and extremely not.
I mention all that because of ... Seinfeld. Or, well, because of pseudo-Seinfeld. You know Oculus Rift, the virtual reality headset? Now there's a 3-D version of Jerry's apartment, created for the platform by the OR designer and Seinfeld fan Greg Miller. Which means, as On the Media put it: "A
nyone with an OR headset can download his project and sit around pretending that they're talking about nothing."
It also means that there is now highly unscientific evidence that the uncanny valley hypothesis can be extended beyond its original meaning and applied to the aesthetics of physical spaces. Because "Jerry's Place"—while it is impressively detailed (look at that photo!)—is also undeniably creepy. And also, arguably, a little bit sad. Either way, it hovers in that real-but-not-real space that is so perfectly captured by the term "virtual reality."