The State of New York City's Infrastructure
And four other intriguing things: shell money, a paean to the iPod Mini, Malaysian punk rock zines, and water quality trading.
1. The state of New York City's infrastructure: better than it was in the 1980s, but 30 years older, too. 
Much of New York City's skeletal infrastructure dates from the first part of the 20th century. As a result, many structures have been in continual service for over half a century. The average age of New York City's 6,400 miles of sewage mains is approximately 84 years, for example. Its 6,800 miles of water mains are approximately 69 years old, and its 6,300 miles of gas mains are 56 years old. Over 41 percent of city bridges were built before 1950. 'In some cases, the infrastructure in New York is so old we don't even know where it is under the street,' notes city planner and historian Alexander Garvin. 'There can be a water main break in lower Manhattan and our engineers won't be able to find it.'"
2. Anthropologist Keith Hart considers what a shell necklace and the history of economic anthropology tell us about money and markets.
"He thought markets were not self-interested, impersonal systems of exchange but they always had a large amount of hidden social and cultural support. For him, the interest of these kula exchange relations was not that they represented an alternative to market economies but that they represented a variety of the same kind of exchange relations that includes markets as well as this. And his basic point and one I have tended to make is that money and markets are both personal and impersonal. "
+ From UCI's online payments archive!
3. A detailed, lush paean to the iPod Mini.
"This is it. The greatest thing mankind has ever made. The iPod mini became available on January 6 2004, meaning that it's over a decade old now - a testament to its timeless design. For the sake of worshiping great design, I've decided to look back at this celestial object... This was the last product in Apple's lineup to use a monochrome display and had a resolution of 138x100 pixels - about the size of a single icon on a modern phone."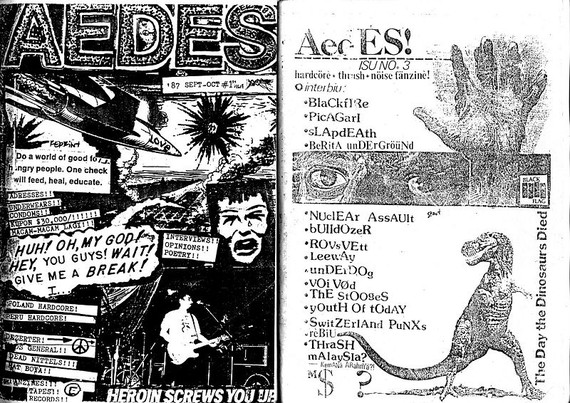 4. The zines of the Malaysian punk rock scene.
"We first heard about fanzines from the punk coverage by British weekly music papers such as NME, Sounds, Melody Maker etc. That was round 1979/80. So later when we started writing to kids overseas, we asked our pen-pals to send zines over from US, Europe or England. And they did. So the earliest punk zines we got include the more pro-printed ones such as Search & Destroy, Maximum RockNRoll, Flipside (California) and also Raising Hell, Across the Great Divide etc. (UK), Artcore (US), Linea Diritta & TVOR (Italy), etc. Our friends who were studying overseas also helped, especially my friends who were in Wollongong, Sydney and also Perth, they both send us a lot of punk zines."
5. Huh: "water quality trading" is a thing. Like carbon credits, but for the pollution that goes into rivers.
"Water quality trading is a market-based approach that could enable facilities to meet permit limits using nutrient reduction credits from farmers who implement conservation practices. Many parties, such as industrial sources, farmers, and the general public, contribute to nutrient loading, which may lead to serious ecological problems. Today's transactions will produce cleaner watersheds, advance sustainability practices, and test more cost-effective regulatory compliance options."
Today's 1957 American English Usage Tip:
authoress is a word regarded with dislike in literary circles—on the grounds, perhaps, that sex is irrelevant in art, & that the common unliterary public has no concern with its superiors' personality. The Brit. public thinks otherwise, & may be trusted to keep a useful word in existence, even though it has so far failed to bring into existence what it needs much more, a handy feminine for doctor. The American public is seemingly less enthusiastic about the word. See FEMININE DESIGNATIONS.
We Asked Our Pen-Pals to Send Zines