The Aquanaut
Sylvia Earle aims to protect the world's oceans, one broken record at a time.
The first thing you should know about Sylvia Earle is that she has a LEGO figurine modeled after her. One that has little yellow flippers instead of little yellow feet.
But you should also, if you don't already, know many more things about Sylvia Earle. You should know that she has been a pioneer of deep-sea exploration—becoming, essentially, the maritime equivalent of an astronaut. You should know that she has spent more than
 6,000 hours underwater, which is more than many fish can claim. And that, i
n 1986, she plunged down 1,000 meters (more than half a mile) into the ocean in a small little submarine, tying the world record for the deepest solo dive (a record set, incidentally, by her then-husband 

Graham Hawkes
). You should know that she is a knight (in the 
Order of the Golden Ark
, in the Netherlands.) 
And that she is the author of
several books about the ocean
—among them several children's books.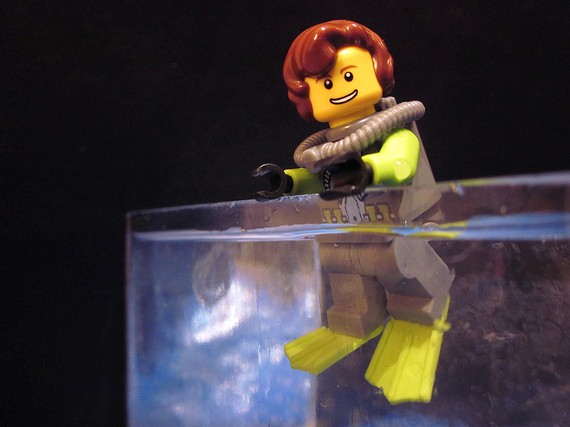 The accolades that have resulted from Earle's wide-ranging relationship with the sea have been themselves wide-ranging. Earle was the first person—not the first woman, the first person—to be named as 
Time magazine's "Hero for the Planet." In 
1998, she was named

National Geographic
'
s
 "explorer-in-residence." In 2000, she was inducted into the 

National Women's Hall of Fame
. She served as the f
irst female chief scientist of the U.S. National Oceanic and Atmospheric Administration (NOAA). In 
In 2009, she won a 

TED Prize
. 
She has been nicknamed, at various points in her career,
 "Her Deepness"
 and
 "The Sturgeon General
." She has been called, unironically, a "Living Legend." 
Now in her 70s, Earle has taken the platform she's built for herself as a public figure and used it to speak for something that can't speak for itself: the ocean. She is a TED speaker. 
She has served as an advisor to heads of state both in the United States and in other countries as they decide how to think—about write laws—about the waters they control. An expert in the effects of oil spills, Earle has also worked at the scenes of marine catastrophes, including the
Deepwater Horizon oil spill
.
As a leader on land, she has founded three companies. 
She has also founded Mission Blue, which aims to establish 

marine protected areas

 around the world. Earle has taken, in other words, that stereotypically feminine trait—caring for others—and found a way to take it to a global scale.
I wish you would use all means at your disposal–films! expeditions! the web! more!—to ignite public support for a global network of marine protected areas, hope spots large enough to save and restore the ocean, the blue heart of the planet.