Refugee Housing by Ikea
And four other intriguing things: Mark Penn at Microsoft, a better virtual-reality headset, feminist data, and the ghosts of Fukushima.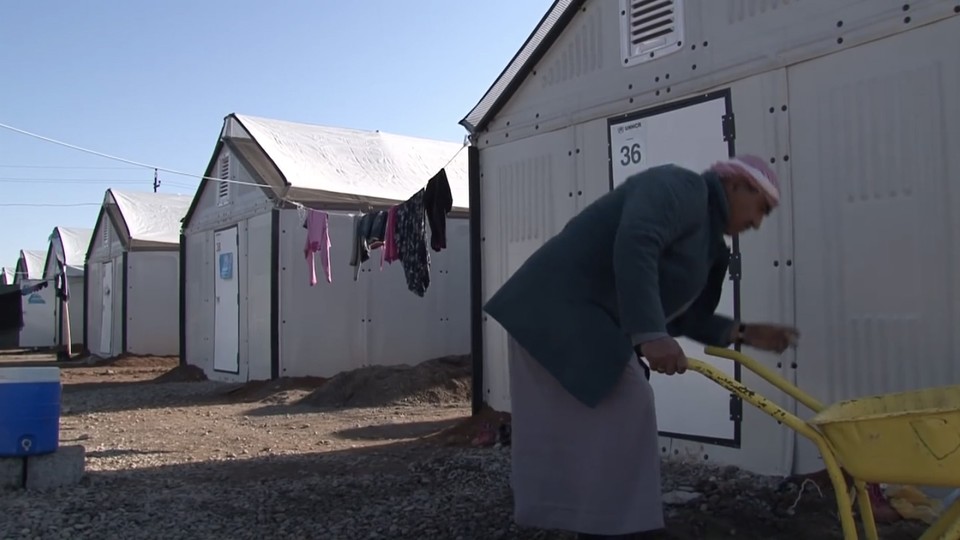 1. Refugee housing developed by Ikea. 
"The house comes in a flat pack that can be put together without tools. It is equipped with solar lighting and is portable... The house weighs 100 kilos and is expected to last three years compared to an average of less than one year for the current family tent."
2. Mark Penn, former aide to Bill Clinton, is now chief strategy officer at Microsoft.
"Mr. Penn's new role at Microsoft is the most surprising, given his background as a political operative and pollster who built his reputation in the other Washington — D.C., not Washington State, where Microsoft is based. While a polarizing figure within Microsoft, as in politics, he became a trusted adviser to Mr. Ballmer, and now is poised to do the same for Mr. Nadella.
It was not immediately clear whether the new job was a promotion for Mr. Penn since he will no longer oversee Microsoft's huge advertising budget. That responsibility will go to Chris Capossela, a longtime Microsoft executive who has been managing its relationship with retailers and distributors, the person briefed on the executive changes said.
Some of Mr. Penn's work at Microsoft has been criticized by people within the company and in the tech industry, especially a negative advertising campaign aimed at Google. The 'Scroogled' campaign, as it is known, has sought to raise privacy and other concerns about Google. While many pundits have derided the campaign as sour grapes, Mr. Penn's supporters within Microsoft say they have data showing it has been effective."
3. A guy demo'd and wrote about Valve's virtual-reality headset.
"The first demo stuck me in a simple room, whose walls were textured with financial data for Facebook from some website. An odd choice, yeah. There was a little red cube bouncing around the room, and the desire to avoid it was *extremely strong*. A dodgeball / laser field game immediately popped into my mind, but as I mentioned before, a tether really hurts this type of idea.

"I want to point out how strong the positional tracking is, here. *I was moving around and dodging something with absolutely zero issue.* Jumping, ducking, Matrix-dodging, whatever. It's bizarre how compelling this demo was, as it could be knocked up in Unity in approximately seven minutes.

"Next was the same room, but now I was placed high up on a ledge. This is what Valve likes to call 'presence.' I have no fear of heights; I've been skydiving, and I have a fairly strong ability to separate reality from unreality, but my body did NOT want to step over that edge. I did it, eventually, it just took me a couple seconds, and it was uncomfortable...
"Starting to lose track of order…at some point was a room (with some sweet global illumination bakes from Maya) with low-hanging pipes. Moving around the room basically forced me to duck my head under and around the pipes, which was extremely compelling. There was also a glowy pit in the floor and I wanted to lean over and look inside, but the positional tracking break kind of threw me off.

"TRON DEMO. Oh, it's all I've ever wanted. Basically just a glowy grid and a sweet holographic Portal Turret display, but so cool. I was mad they weren't playing Daft Punk, but I forgave them, because I'm just that kind of guy."
4. An alternative vision for self-tracking. 
Imagine, workers doing all sorts of labor engaging with their data traces in ways that make their work safer and their efforts better recognized. Rather than seeking to perfect measures and standards of that work through statistical working-over, can we envision workers taking their own data to management to improve working conditions? I want Quantified Self to be a messy space, one where users willingly choose the aspects of their lives they are proudest of, and most troubled by, and allow them to track, and engage with their narratives over time on their own terms.
I wonder if we can ever reach a point where sensor technology and data-mining can be accessible and successful, flexible enough to be genuinely empowering, allowing users to control their own narratives. Is it improbable to dream of a feminist data future?"
5. Rebecca Solnit on Fukushima. 
"I met a graduate student in Sendai who told me that one of the major problems survivors reported was the presence of restless ghosts: the spirits of the dead that were still hanging around in need of comfort and propitiation. Right after the disaster and on Obon, the day of the dead in Japan, huge bonfires were lit on the beaches for the ghosts to find their way to shore. In the Tohoko region, my friend Ramona Handel-Bajema codirects large-scale relief with AmeriCares, an independent humanitarian relief organisation, and I drove out with her to see a small garden project that was not yet planted – mid-March is still wintry in northern Japan. Gardens are one way of restoring people's lives, particularly those of the elderly with time on their hands. Ramona told me about people tending gardens in the foundations of their destroyed houses. To see 'cabbages growing where their bedroom once was' represented a consolation and rebirth of sorts. She also told me about a community she works with where the schoolteachers fell into an argument about evacuating the elementary school. One teacher took a handful of students to safety and the rest were drowned. Another of Ramona's projects is taking care of the older siblings of these drowned children, whose parents are lost in mourning, and teaching them to enjoy the natural world again."
Today's 1957 American English Language Tip
arrière-pensée. 'A hidden of ulterior motive,' 'a mental reservation' are preferable in most contexts. (NOT an afterthought, as some writers seem to think.)
+ I prefer "an Underwood."
Teaching Them to Enjoy the Natural World Again